Finally, the new recipes app from FitTasteTic is here! So healthy eating is finally fun again. More than 100 healthy recipes for free, directly on your smartphone. What are you waiting for? Here you will always find the right recipe for nutrition.
The best fitness recipes app for iOS and Android
Healthy recipes - light and tasty healthy food!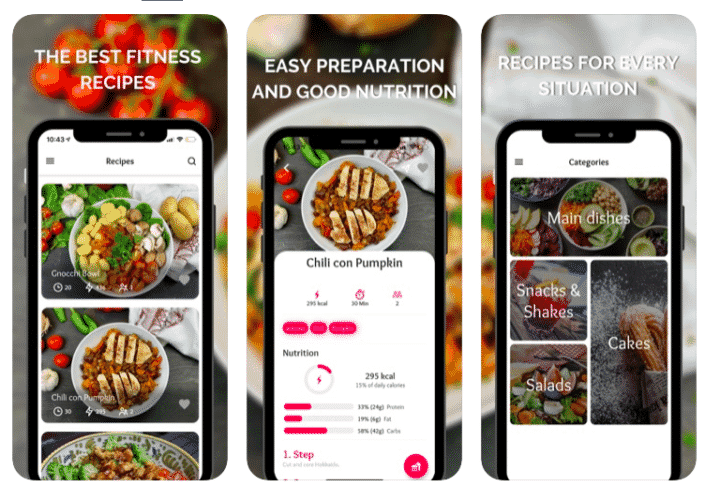 Light, tasty and healthy food! That's our motto and that's what you can expect in the Fittastetic Recipes App! Healthy eating made easy, with a huge selection of healthy fitness recipes. All this and more only in the FitTasteTic Recipes App.
What you can expect from the app:
Healthy recipes of all kinds, from low-carb to high-carb, you will always find what you are looking for here.
A list of Recipes for every kind of nutrition!
Every week 2 new delicious recipes.
Dozens of high protein and healthy recipes.
Clearly arranged fitness recipes.
Easy to use shopping list.
Exact nutritional information per portion, for each recipe!
Many different categories to make the recipe search even easier.
Easy adjustment of the desired portion, thanks to our automatic portioning function
Push notifications when a new recipe is available.
Favorites function to save your favorite recipes.
Healthy cooking made easy with the best recipe for every occasion.
A list of over 100 free recipes.
Filter function for all recipes, so you can always find the right recipe!
NEW: With Darkmode! Search for recipes in the evening as well. Decide yourself which design you like better.
A small insight into the most popular recipes from the app:
Why you need fitness recipes for a healthy life?
Health and nutrition are closely linked. If you eat an unhealthy diet, it is almost impossible to live a healthy life. Most people already know this. But personal performance, mood and self-confidence are also strongly related to one's own diet. This is exactly why we at FitTasteTic believe that healthy eating is extremely important for everyone out there!
But the right nutrition and a fitness fair meal, can be very difficult in everyday life. I think i don't need to list all the thing that can go wrong.
That's why we try to help you achieve your goals as much as possible with the Fittastetic Fitness Recipe App. So that you reach your goals in a healthy and happy way! No matter if we want to lose weight, build up muscles or just live healthier. Here you will always find the right recipe for your next meal.
Healthy nutrition made easy.
As a trained nutritionist, I am aware of how important my own nutrition is. But I also know what a good recipe has to include in order to function well both in terms of nutritional value and taste. 
Because there are many factors to pay attention to. For example, the protein content or the calories of the dishes, to give just a few examples. With this prior knowledge I try to optimize each recipe individually. This includes many classics such as spaghetti bolognese or lasagna.
However, there are no restrictions in the app regarding the ingredients. All ingredients are allowed in my way of nutrition. Therefore, I am open for all types of nutrition. No matter if low-carb diet, vegan diet or a protein-rich diet. The amount makes the poison. 
I am convinced that a balanced diet brings the most benefits.  That's why I'm sure: In this app there is something for every situation, so you will always find something right to put onto your cooking list or meal plan.
Healthy recipes at their best!
All the recipes you find here, offer you simple and quick recipes. Accurate nutritional information for each recipe and delicious options for healthy eating. So you don't have to worry about your food anymore.
Of course, we know that there are dozens of such offers out there. However, such a wide selection can quickly become overwhelming. Which doesn't make it any easier to decide what to eat. That's why we decided to offer you 3 recipes a day in the app and make your decision a little easier.
Nevertheless, we also offer access to all other recipes and a well sorted recipe category. So you can choose the right recipe for every situation. Download the free Fittastetic: Recipes app now and cook only healthy and delicious meals. Eating healthy doesn't have to be hard! In this app you'll find everything you need to get started in a healthy way!

Meal Planing at its best
You have been trying to keep track of your meal plan goal, but struggle to find an easy way to plan ahead? No Problem! With our recipes app you will have over 100 easy to use recipes. With our grocery list you will have a good overview of everything you need. Simply add our ingredients to your shopping and you can start meal planing. No matter what type of diet you are trying. We have lots of gluten free, vegan, vegetarian, low-carb and so on recipes for you.
Download now! Its free anyway...
What our users have to say...
Many varied recipe ideas, which are also easy to prepare thanks to step-by-step instructions. For some recipes you need a Premium Account. You don't need very unusual ingredients for the recipes, which is very important for me. The app is great for a balanced, healthy and above all varied diet. From low carb to vegetable pan with noodles everything is included.
Just what I was looking for! I have tried many recipe apps, but I was often disturbed by the overview and usability. But this app convinced me directly, at first sight. Apart from the clarity, the recipes convince me of their creativity, variety and of course the taste. I have already tried out many recipes and I am looking forward to try the others.
A great recipe app for healthy eating. Simple and very appealingly designed. You have a photo and the nutritional information. If you need to buy another ingredient, just tap on it and a shopping list is created. You can also create a personal shopping list. The recipes are not complicated and varied. I am enthusiastic and cook diligently to 😊
The best 🥇 Healthy Recipes App for iOS and Android 📱
The Healthy Recipes app from Fittastetic gives you a huge selection of varied, light and healthy recipes! Fitness recipes at their best!
Price Currency: USD
Operating System: Android, iOS
Application Category: Mutlimedia
There are of course many more great things in the app. But I don't think I have to explain cooking apps to you any further.
The best thing is to try it out directly and see for yourself. Because there is still a lot to discover. Healthy eating can be really fun. Go and eat healthy again! It's free.
How much does the app cost?
The app is basically FREE of charge. However, some functions and recipes are reserved for premium users.
Premium subscription: (1,69 $ per month or 9,99$ in a yearly subscription)
You have access to all premium features. Including filter function, premium recipes and many other functions. We are constantly developing our app and adding new features.
Alternatively, we also offer Lifetime Premium Version, which you can purchase for a one-time fee of 16,99$. This gives you access to all premium features as well.
Learn more about subscribing:
When you purchase a subscription, you click the "Buy" button to request that we provide you with subscription services immediately, and you enter into a contract with us for a subscription for the period of time you choose. You also authorize us to charge you a subscription fee in the amount specified at the time of purchase. For your subscription, your iTunes account will be debited for the total amount for your chosen subscription period and the payment terms of the platform will apply. Please check the payment terms of the applicable platform for additional information.
You can manage your subscription through your iTunes preferences. You can also cancel your subscription there.
Your subscription will automatically renew at the end of the subscription period until cancelled from your site or ours.
You must cancel your subscription at least 24 hours before the end of the subscription period or your chosen payment method will be automatically charged for the next period.
Do you have suggestions, feedback or ideas?
Then feel free to send an email to Feedback@fittastetic.com or use the contact form in the app (you can find it in the settings under contact)
You can find our terms and conditions here. We take data protection seriously! If you want to know more about this, you can find more detailed information here.
© rights reserved by fittastetic.com