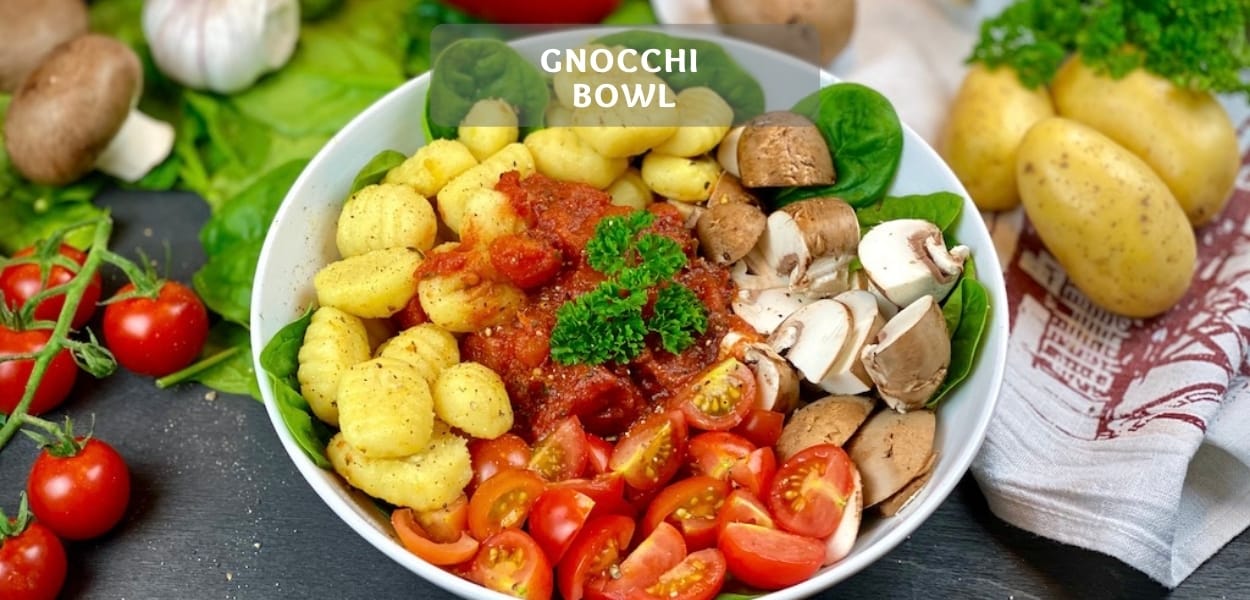 Gnocchi Bowl – Healthy Bowl Recipe
My new healthy gnocchi recipe: The Gnocchi Bowl. So light, but still so delicious. Today I've got something very light, but extra delicious again. A healthy gnocchi bowl with mushrooms, tomatoes and spinach. What more could you want?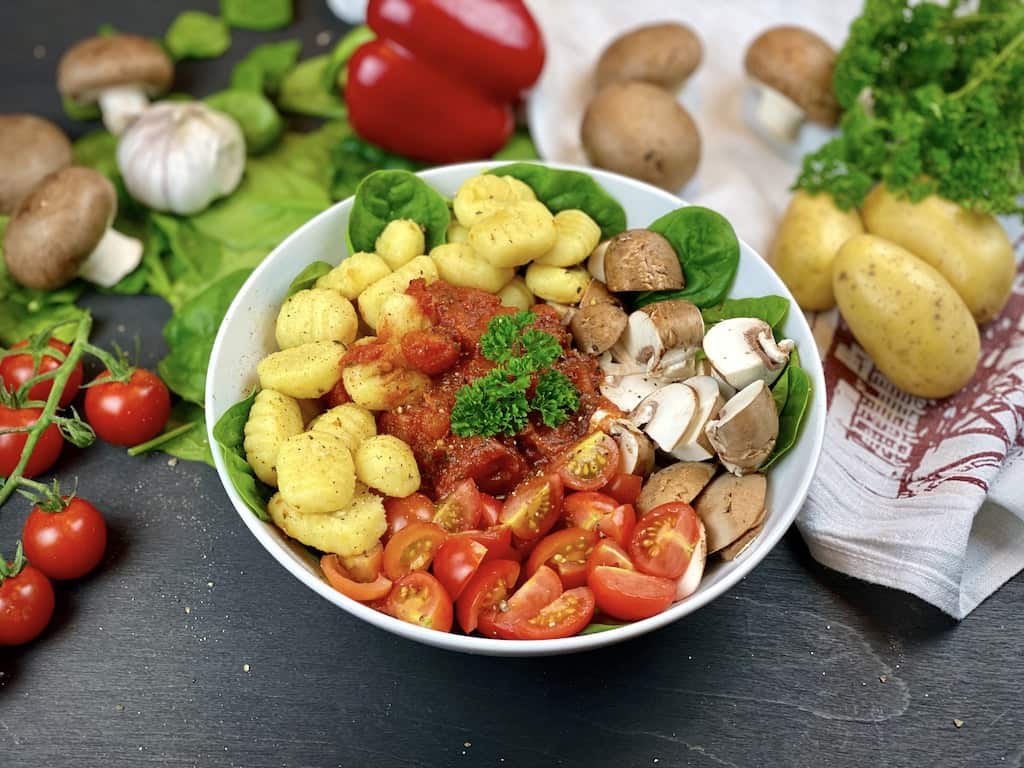 Fresh spinach, fresh tomatoes, crunchy mushrooms and some really delicious gnocchi. This is how you create your healthy gnocchi recipe. I believe that prepared gnocchi are absolutely sufficient. But you can also easily make them yourself.
Sounds mouth-watering? Together with lots of parsley, salt and pepper you can create a really healthy bowl recipe for your next lunch.
Are gnocchi healthy?
Generally speaking, no food is healthy or unhealthy. It always depends on the quantities and use. It is exactly the same with gnocchi. In combination with fresh vegetables they are healthy. But eating too many at once can be unhealthy.
Are gnocchis a calorie bomb?
A recipe with gnocchis can contain many calories very quickly. I'm not going to lie. This is because potato dumplings are among the foods who are rich in calories. But no need to worry, with my bowl you will be in safe hands! Together with the vegetables and the delicious sauce, gnocchis will be healthy! So let's just start with the recipe for our delicious bowl.
Gnocchi Bowl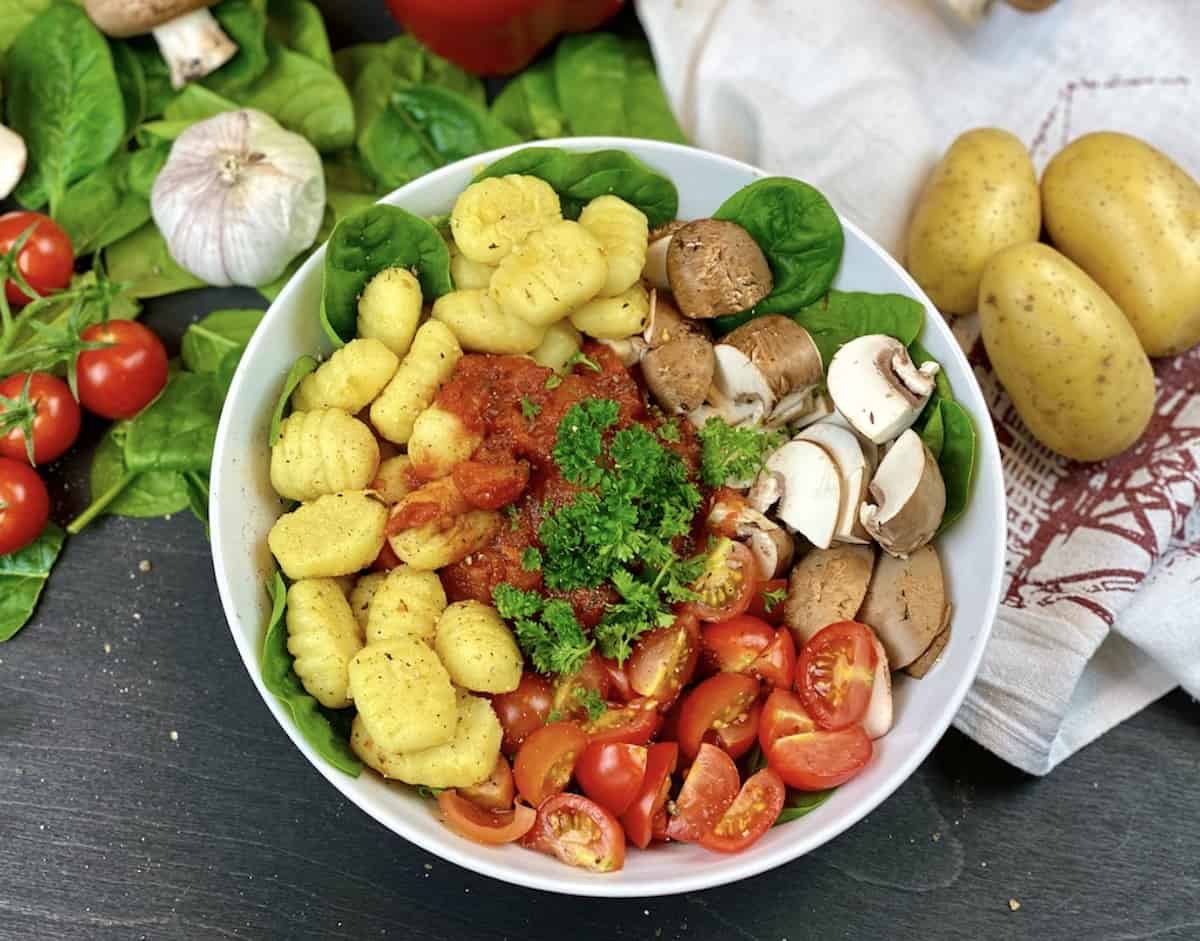 My new healthy fitness bowl recipe: Gnocchi Bowl. So easy and yet so delicious. My beloved healthy gnocchi bowl. Your new lunch!
Print
Save for later
Ingredients
150

g

gnocchi

200

g

cherry tomatoes

150

g

chopped tomatoes

1

Hand

parsley

150

g

mushrooms

100

g

spinach

10

g

olive oil

pinch

salt

pinch

pepper
Instructions
Heat the oil in a frying pan.

Add the spinach to the pan and heat for 1-2 minutes.

Pour the spinach into a bowl and add the gnocchi to the pan.

While the gnocchi are heated (for 5-6 minutes), cut the cherry tomatoes & mushrooms into small pieces.

Arrange cherry tomatoes, mushrooms and gnocchi on the spinach in the bowl.

Add chopped tomatoes and spices to the pan and heat for 1-2 minutes.

Fill the rest in the bowl, decorate it nicely with some parsley and enjoy 😉

Optionally make a photo and post on Instagram (don't forget @fittastetic), so you can enjoy it cold.
Nutrition
Calories:
436
kcal
|
Carbohydrates:
63
g
|
Protein:
16
g
|
Fat:
13
g
Looking for even more delicious bowl recipes? Then try out my healthy Kebab Bowl recipe!
Your opinion about my Gnocchi Bowl Recipe.
That's it with my healthy Gnocchi Recipe! However, I would be interested in your feedback on the Healthy Bowl! So if you tried the recipe, I'd love to see your feedback or photos. Just leave me a comment or hit me up at jonas@en.fittastetic.com.
You want this and other recipes for healthy weight loss, fast and easy on your phone? No problem, just download my free Fitness Recipes app.
Download the Fittastetic Fitness Recipes app now
Here you can find the Fittastetic Fitness Recipes app for iOS
Here you can find the Fittastetic Fitness recipes for Android
You might also like