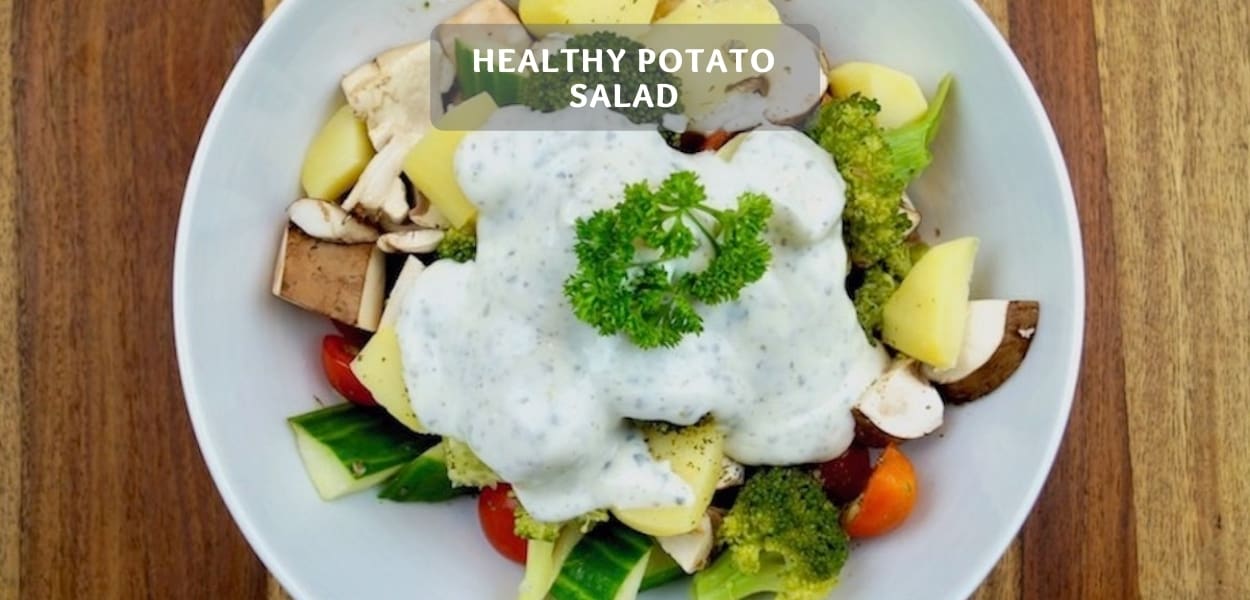 Healthy potato salad – Fitness potato salad with vegetables
Light and tasty fitness potato salad with vegetables! My healthy protein potato salad recipe. You love potato salad, but are still looking for a healthy alternative? Well, then my healthy potato salad is just right for you!
The perfect high protein alternative to the traditional potato salad for every fitness maniac.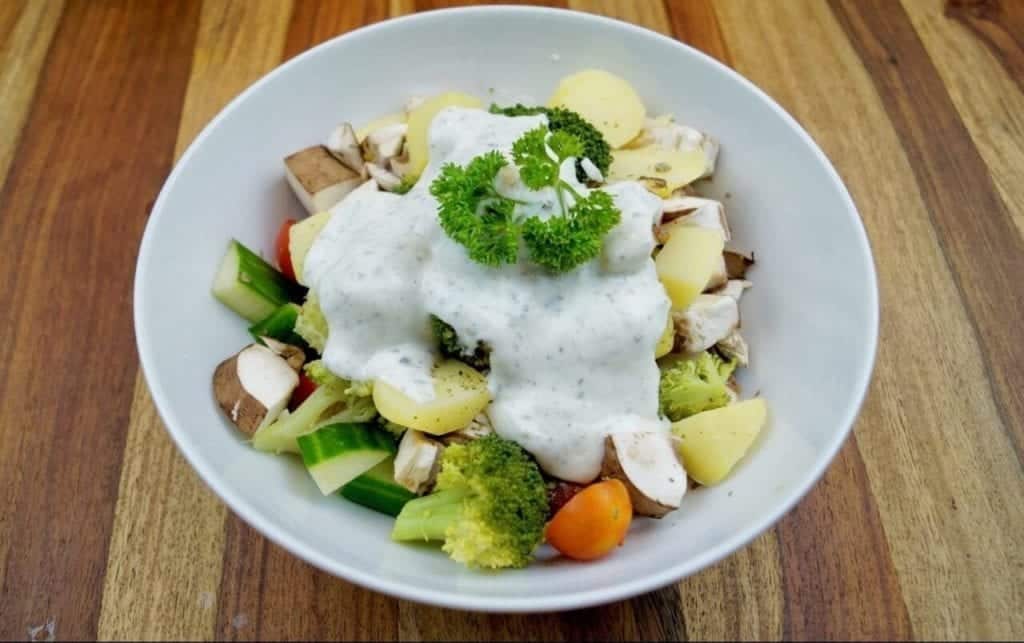 The special thing about the Fitness Potato Salad
This salad is not only extremely delicious, but also really healthy and filled with valuable protein! Because the ingredients include not only the classic potatoes, salt and pepper, but also a lot of healthy vegetables.
Among other things, this potato salad contains: potatoes, fresh broccoli, crunchy mushrooms and juicy pieces of cucumber. In this way we make sure that our salad is rich in vitamins and minerals and is really healthy. Of course salt and pepper are also a must!
In addition to that, we create a really delicious protein-rich dressing. This ensures a balanced amount of protein in our salad. Much better than the greasy mayo that is usually added. So we save a lot of fat at the same time! But it's best to just try it out and see for yourself with this super healthy potato salad with vegetables!
Protein Potato Salad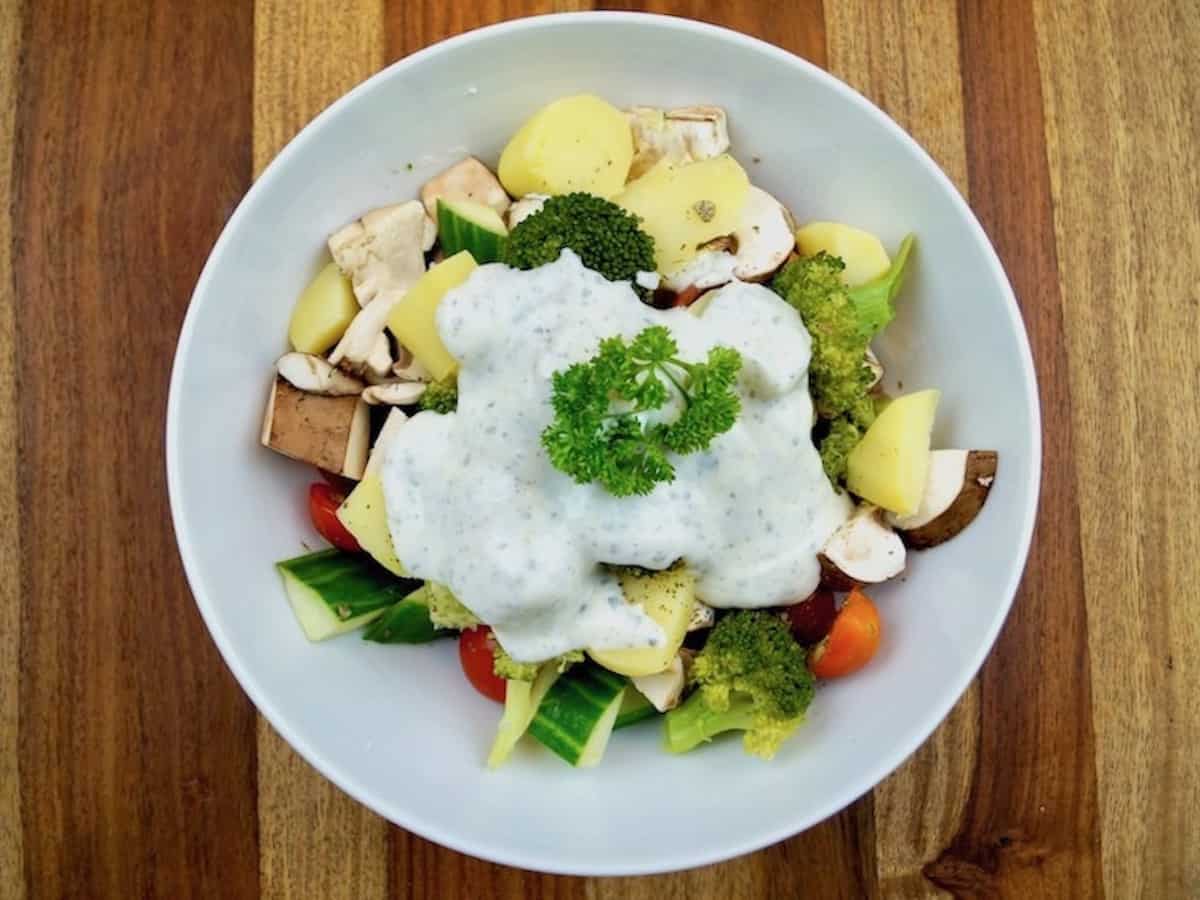 Light and healthy fitness potato salad with vegetables! My healthy potato salad recipe. Healthy salad for every fitness crazy.
Print
Save for later
Ingredients
500

g

potato

250

g

tomato

400

g

cucumber

300

g

broccoli

500

g

mushrooms

100

g

cream cheese (0.2%)

30

g

balsamic vinegar

1

tsp.

Pepper

1

tsp.

paprika powder

1

pinch

salt
Instructions
Start boiling some water and pour it in a pot and add some salt.

Cut the potatoes into cubes and add them to the pot. Let them cook for 20 minutes.

Cut tomatoes, cucumber, broccoli & mushrooms into bite cubes or slices and fill them in a bowl.

Steam broccoli for approx. 7-8 min.

Rinse the finished potatoes with cold water and leave it to cool together with the finished broccoli.

Add potatoes & broccoli to the tomatoes, cucumber and mushrooms.

Mix the cream cheese together with the balsamic vinegar and spices and add to the salad.
Nutrition
Calories:
198
kcal
|
Carbohydrates:
33
g
|
Protein:
14
g
|
Fat:
1
g
As you may have noticed in the ingredients of the recipe, I am a fan of adding lots of vegetables instead of just potatoes. This way we save a lot of calories and at the same time make sure that our salad is still really healthy.
You want even more delicious healthy salad recipes? No problem at all! Try my healthy 10-minute garden salad or my fruity lamb's lettuce. Both recipes are made superfast and taste great!
For all vegans among you, I recommend trying my vegan potato salad with radishes and without cucumber. If you are looking for the perfect recipe for barbecuing, I have summarized my top 7 barbecue salads here.
Your opinion on healthy potato salad
That's it for my high protein potato salad recipe! But I would be interested in your feedback on this healthy salad! If you have tried it, I would be very happy about your feedback or photos. Just leave me a comment on here or on Instagram at @fittastetic
Download the Fittastetic Fitness Recipes app now
You want this and other recipes for healthy weight loss, fast and easy on your phone? No problem, just download my free Fitness Recipes app.
Here you can find the Fittastetic Fitness Recipes app for iOS
Here you can find the Fittastetic Fitness Recipes for Android
You might also like