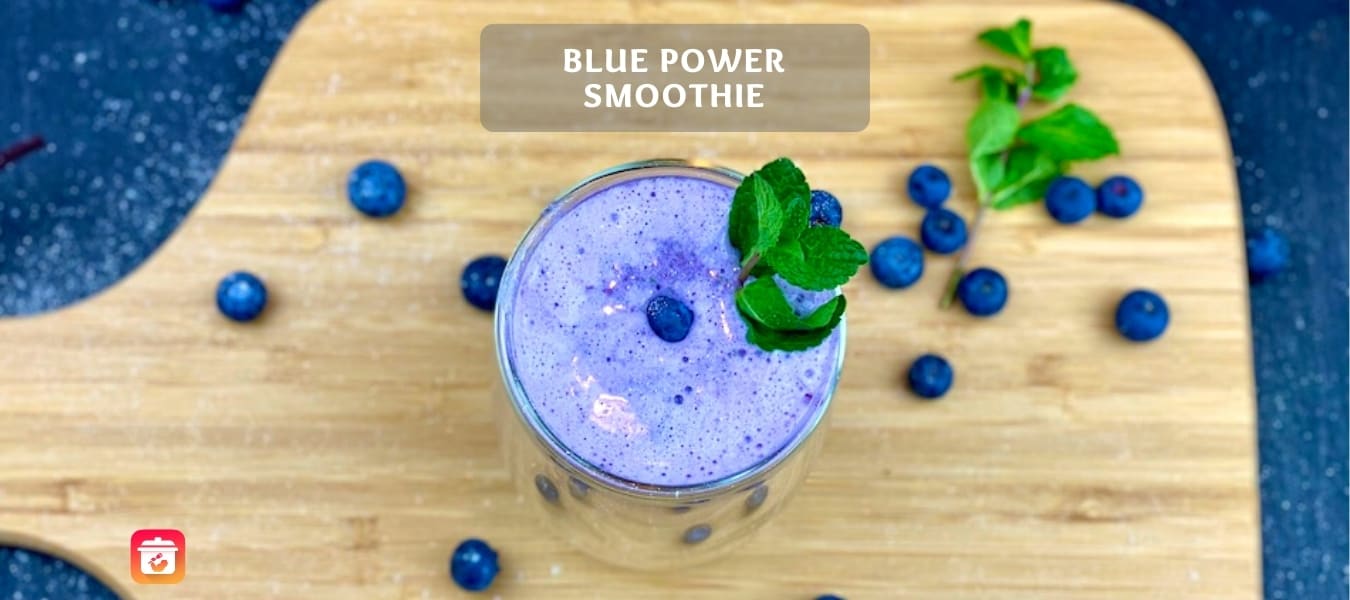 Blue Power Smoothie – Blueberry Protein Smoothie Recipe
My Blue Power Smoothie! With this healthy and tasty blueberry protein smoothie you can perfectly start the day.
Personally, I love starting the day with a healthy power smoothie. Because that's how you start with a lot of energy and good nutritional values. So the rest of the day can't go wrong!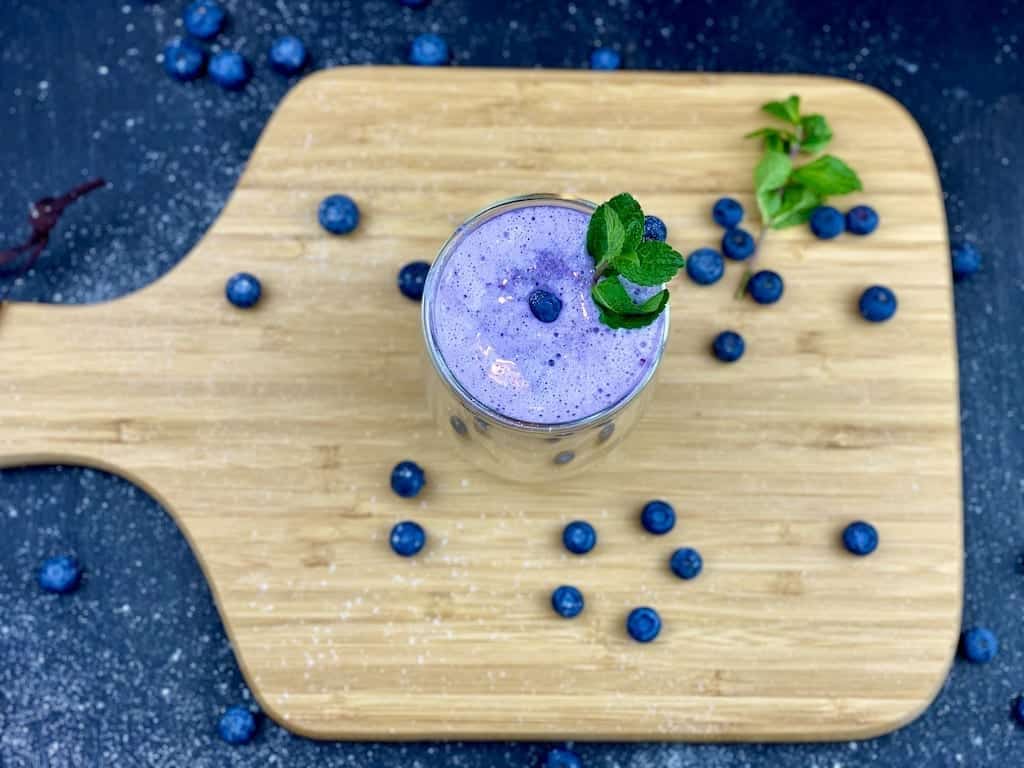 Who is this protein smoothie suitable for?
Of course, you can also enjoy the smoothie as a small health booster, between meals or as a lunchtime replacement. Because, thanks to the healthy ingredients, such as blueberries, we have many good vitamins in our smoothie.
In addition, the whole thing is also very rich in antioxidants. Which is why this blueberry protein smoothie is not only good for your muscles after training, but also contributes to a healthy immune system.
Overall, these homemade blueberry protein shakes / smoothies are much better than all the protein shakes you can buy in the supermarket. But also way better than just water or milk with protein powder. Because protein powder alone does not provide sufficient minerals and vitamins.
Blue Power Smoothie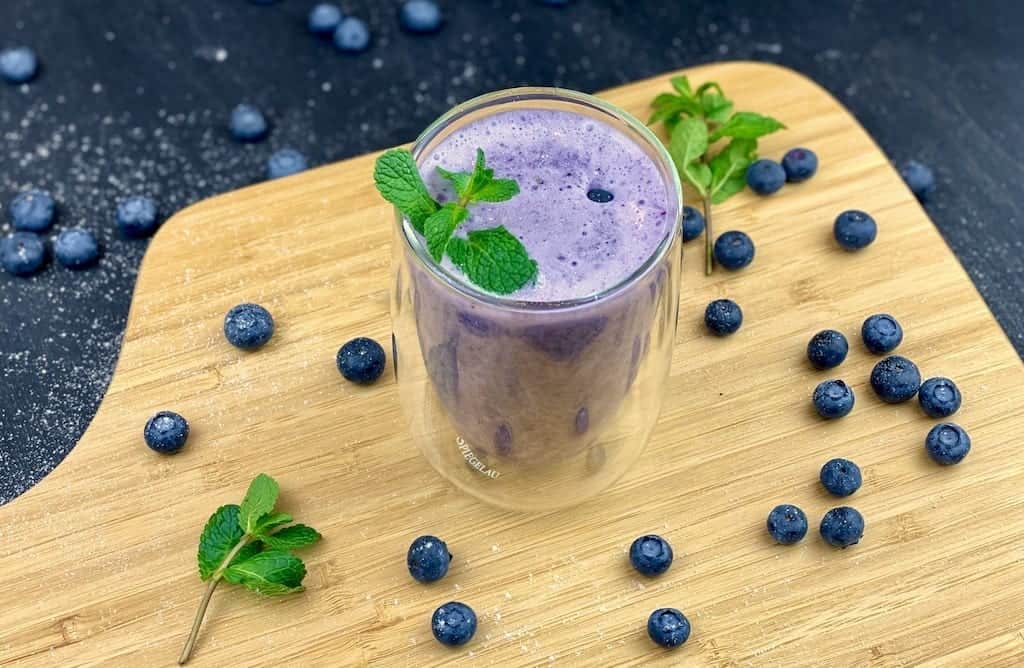 My Blue Power Smoothie! With this healthy and tasty blueberry protein smoothie you start the day perfectly. Very easy and quick to prepare. Power Smoothie Recipe
Print
Save for later
Ingredients
150

g

frozen blueberries

150

g

frozen broccoli

500

ml

water

40

g

protein powder

vanilla

optional

sweetener
Instructions
Put all ingredients in a blender.

Mix for about 2-3 minutes.

Optional: Add a little sweetener for more sweetness.
Nutrition
Calories:
135
kcal
|
Carbohydrates:
6
g
|
Protein:
20
g
|
Fat:
2
g
If this delicious smoothie already really convinced you, then you must try my red vitamin bomb. It is at least as tasty and maybe even a little healthier!
You don't have protein powder at home? No problem! You can easily replace the protein powder with Greek Yogurt or Skyr. They have just as much protein and also ensure that the protein shake has a nicely creamy consistency.
But the other ingredients are also theoretically super easy exchangeable. You might fancy some spinach? You can substitute the broccoli with it at a ration of 1:1, as listed on the ingredients.
The whole thing should not make a difference and might be even more delicious, if you only own a slightly less powerful blender. That's because frozen broccoli can be a challenge for a weak blender. Just like your previous workout 😉
Your opinion about the Power Smoothie!
That's it! As always, I would be interested in your feedback on the blueberry smoothie! If you tried the Protein Shake recipe, I would be very happy about your feedback or photos of your homemade Protein Shakes. Just leave me a comment on here or on Instagram to @fittastetic_App.
Download the Fittastetic Fitness Recipes app now
You want this and other recipes for healthy weight loss, fast and easy on your phone? No problem, just download my free Fitness Recipes app.
Here you can find the Fittastetic Fitness Recipes app for iOS
Here you can find the Fittastetic Fitness Recipes for Android
* The links provided with an asterisk are affiliate links. As an advertising agent, I receive a commission for mediation on these links. There are no additional costs or disadvantages for you, you only take some money out of Amazon's pocket and put it in mine, as long as you order via the link.
You might also like