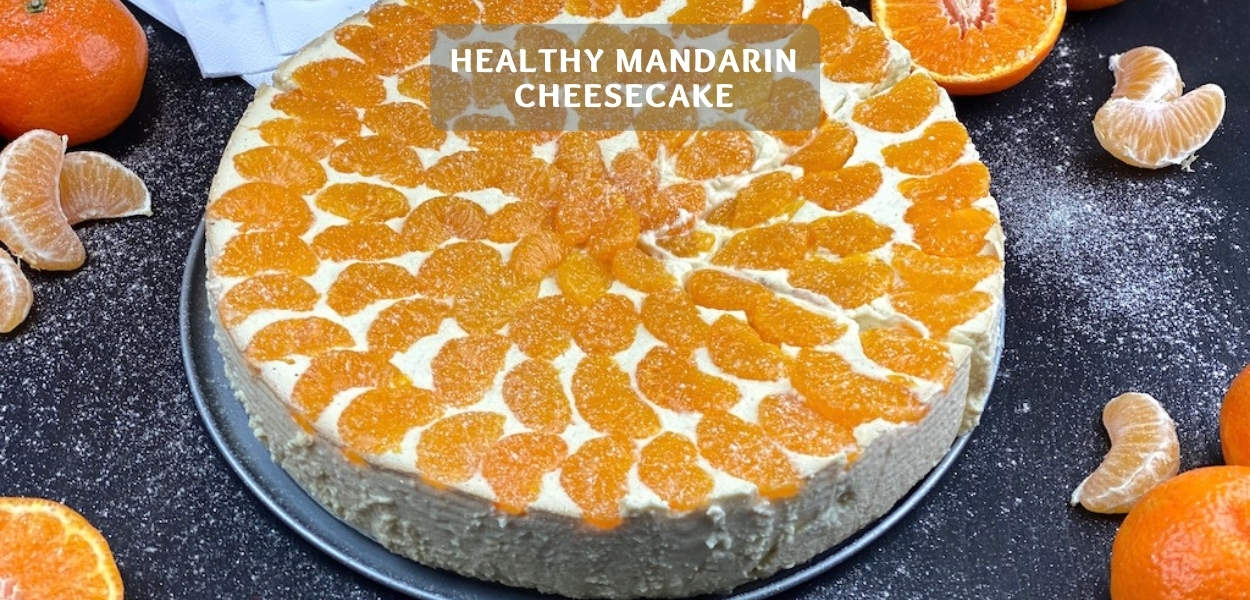 Healthy Mandarin Cheesecake Recipe – Vanilla mandarin cheesecake
A healthy and tasty Mandarin Cheesecake you're going to love. Fitness and cake isn't that a contradiction, you think? Well, it seems you haven't heard about this mandarin Greek Yogurt cake then. With this mandarin cheesecake you can have a fit and healthy dessert at any time!
With this light cheesecake recipe, you can create an incredibly tasty and healthy fitness cheesecake with 0 g of sugar in no time! Start the day with a delicious cheesecake with mandarins.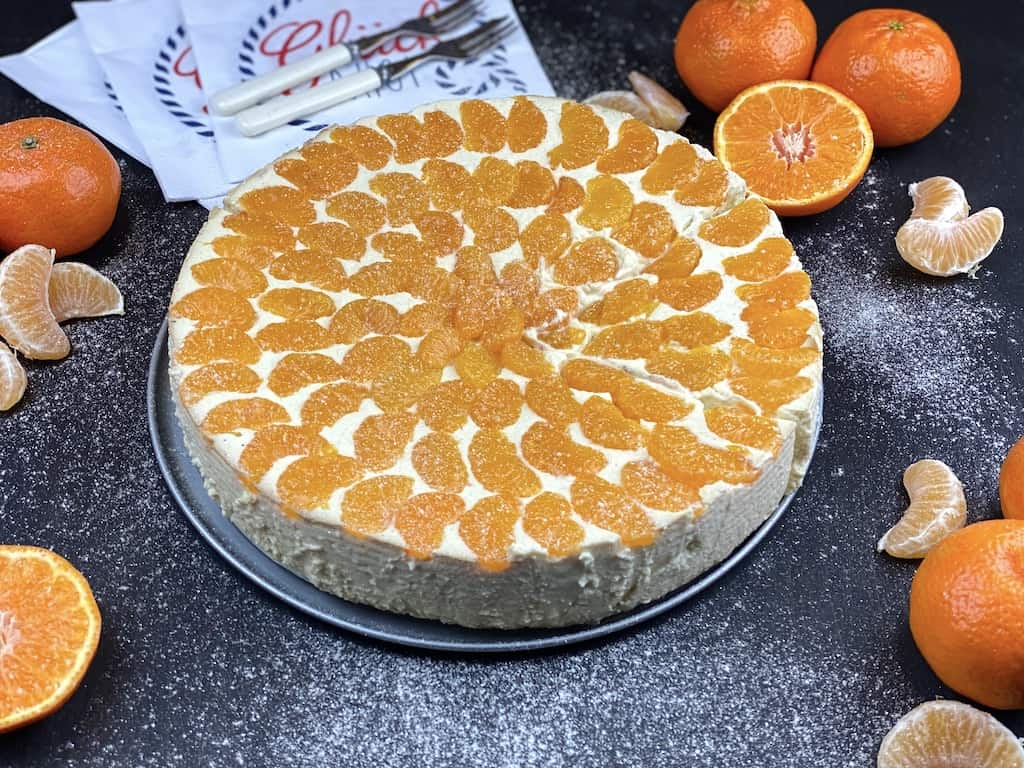 The cake is not only a super protein source, but is also very low in calories! Therefore, this Mandarin Fitness Cheesecake is also perfect as a snack after training. I mean, let's be honest, is there anything better than a really nice piece of cheesecake after a hard workout?
Mandarin cheesecake without a base?
What makes this mandarin cheesecake so special is that it is a light cheesecake without a base. So no complex pre-baking! This may be a bit strange now. But it makes the whole thing incredibly easier! We don't have to worry about anything, just mix all the ingredients together and pour them into the mould. The light cheesecake will be ready.
Now let it cool down a little and enjoy! So, let's not talk for long and start with the actual cheesecake recipe!
The recipe for fitness cheesecake:
Mandarin cheesecake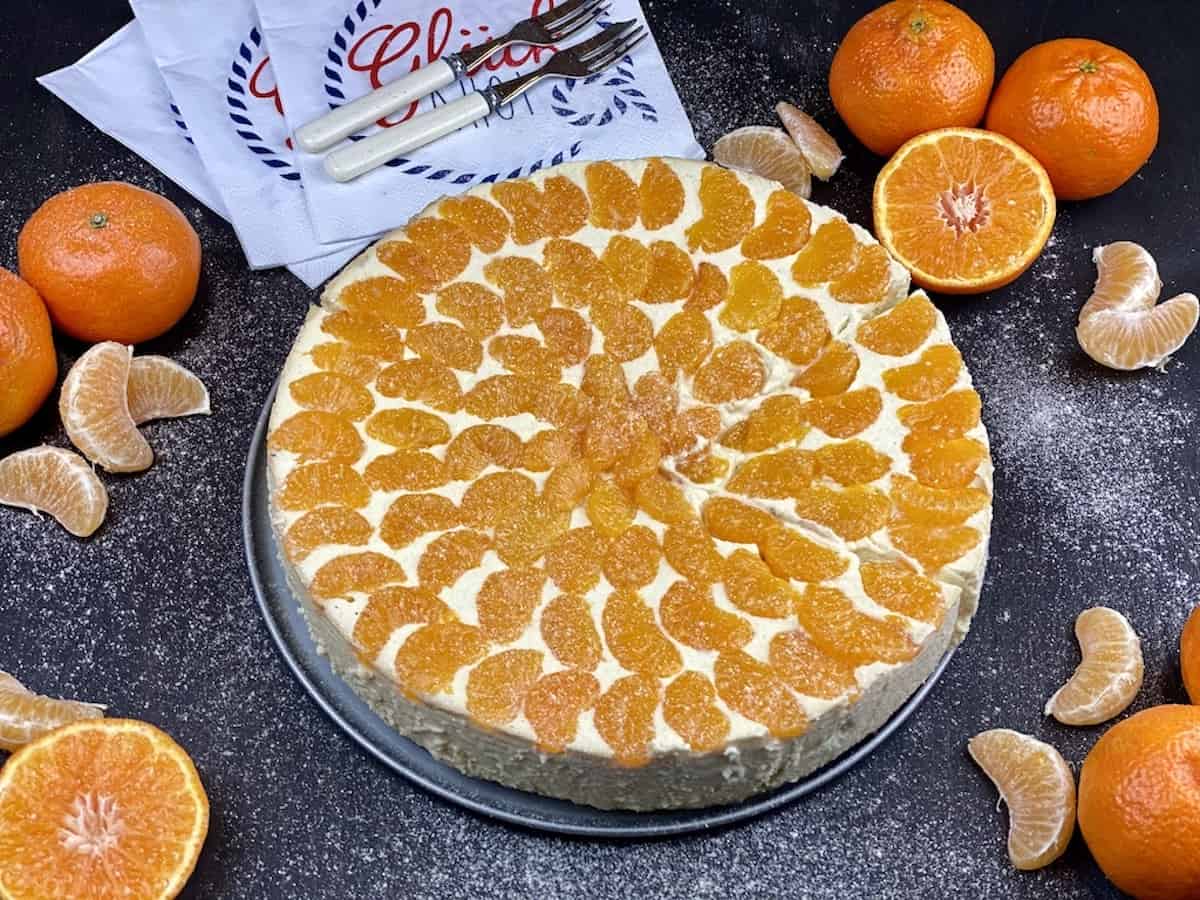 Healthy and tasty: My mandarins cheesecake. With this mandarin cheesecake you can have a fit and healthy dessert at any time! Easy to make and low in calories. Try it out now!
Print
Save for later
Ingredients
1750

g

Greek yogurt (Low Fat)

Vanilla

100

g

protein powder

Vanilla

1

egg(s)

450

g

mandarin (canned)

Canned

1

vial

butter-vanilla flavor

1

vial

almond flavor
Instructions
Preheat the oven to 220 °C (430 °F).

Mix the Greek Yogurt together with the protein powder.

Add the egg to the dough and continue mixing.

Slowly add mandarins and continue mixing. (Leave a few mandarins for decoration)

Fill the dough into a suitable baking-dish.

Bake the cake in the oven for about 20 minutes at 220 °C (430 °F).

Set the oven down to 150 °C (300 °F) and leave to bake for another 20 minutes.

Let the cake cool down for at least two hours.

Enjoy, preferably cooled.
Nutrition
Calories:
199
kcal
|
Carbohydrates:
18
g
|
Protein:
28
g
|
Fat:
2
g
---
My tip for the perfect cheesecake
I think that your cheesecake without a base should be baked for a little more than a normal cheese cake. But you should also let it cool down a little longer! So that the cake does not get too wobbly.
I always recommend: Let the cake cool down for about 3 hours. You should also make sure that you bake the cake with top and bottom heat. This way the cake will not get too dry.
If you are looking for more inspiration for a delicious Greek Yogurt cake, I can only recommend this super easy Strawberry Fitness Cheesecake recipe or my healthy cheesecake. It not only has great nutritional values, 0 g sugar and it also tastes just as good! Otherwise, I recommend my light Skyr casserole for all those Skyr fans out there.
I would be happy if you leave me feedback or your own variations of this recipe. After all, this recipe can be varied very well with different kinds of fruit.
Your opinion about the Cheesecake
That's it for my healthy mandarin cheesecake! However, I would be interested in your feedback on the healthy cheesecake! So if you've tried this recipe, I'd love to see your feedback or photos. Simply comment on here or message me on Instagram at @fitnessrezepte_app.
You want this and other recipes for healthy weight loss, fast and easy on your phone? No problem, just download my free Fitness Recipes app.
Download the Fittastetic Fitness Recipes app now
Here you can find the Fittastetic Fitness Recipes app for iOS
Here you can find the Fittastetic Fitness recipes for Android
You might also like