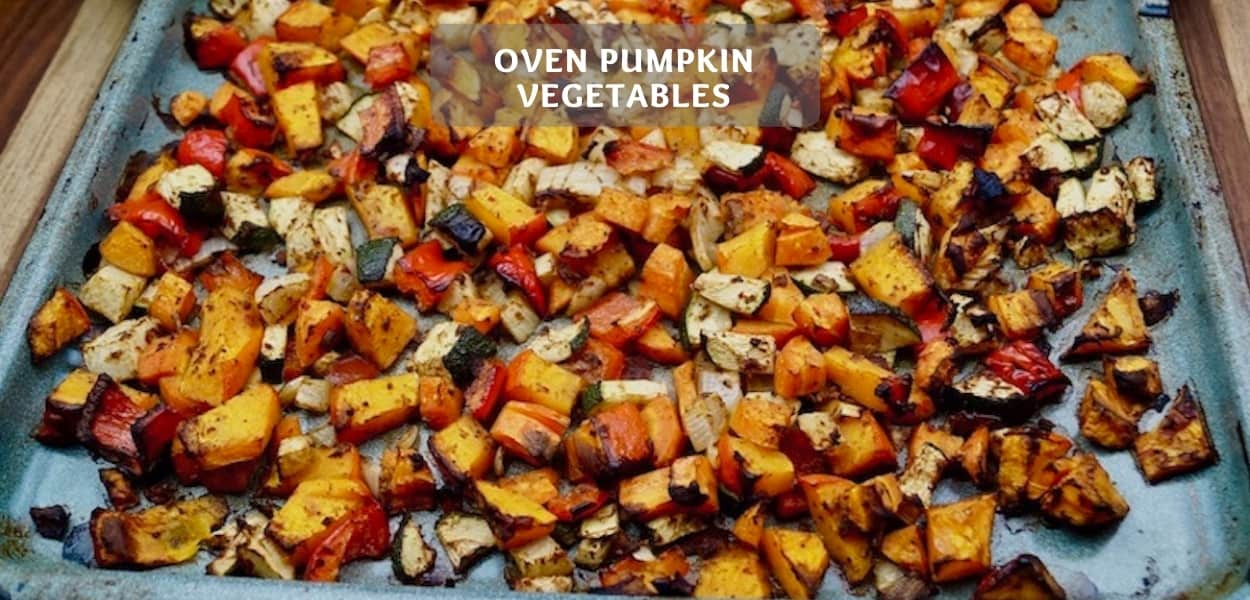 Oven Pumpkin Vegetables – Healthy Oven Vegetables with Pumpkin
Oven Pumpkin Vegetables – Healthy oven vegetables with pumpkin. Healthy and tasty through autumn with delicious oven vegetables and pumpkins! Especially when you are running a little short on time but you still want to eat something tasty, this recipe is just right! Because once sliced and thrown into the oven, you're already pretty much done. Now you can calmly finish up everything else, while your food sizzles over time. Just perfect for me!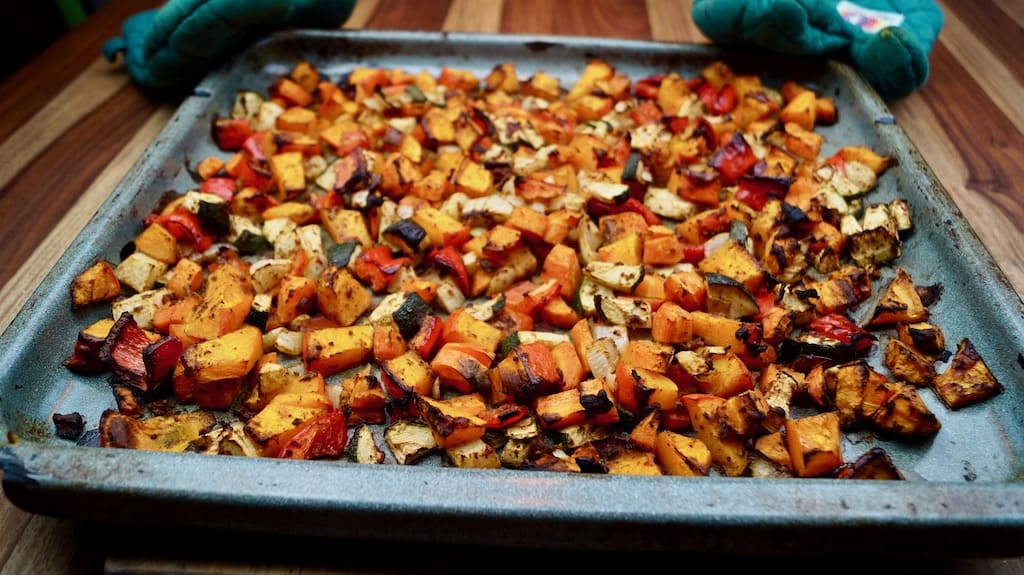 Vegetables from the tray, perfect for the cold days
Oh well, the days are getting colder and it is getting uncomfortably dark and greyish outside. What could be better than a tasty healthy pumpkin-vegetable mix from the oven for dinner? I mean, let's face it, autumn time is pumpkin time! But since I'm not a big fan of soups, the classic pumpkin soup is not very interesting for me. A delicious pumpkin from the oven, on the other hand, is just right!
These were exactly my thoughts when I created the recipe for my oven Pumpkin Vegetables. But as always, we don't want to waste too much time and start with the recipe right away. After all, that's what you came here for 😉
Oven Pumpkin Vegetables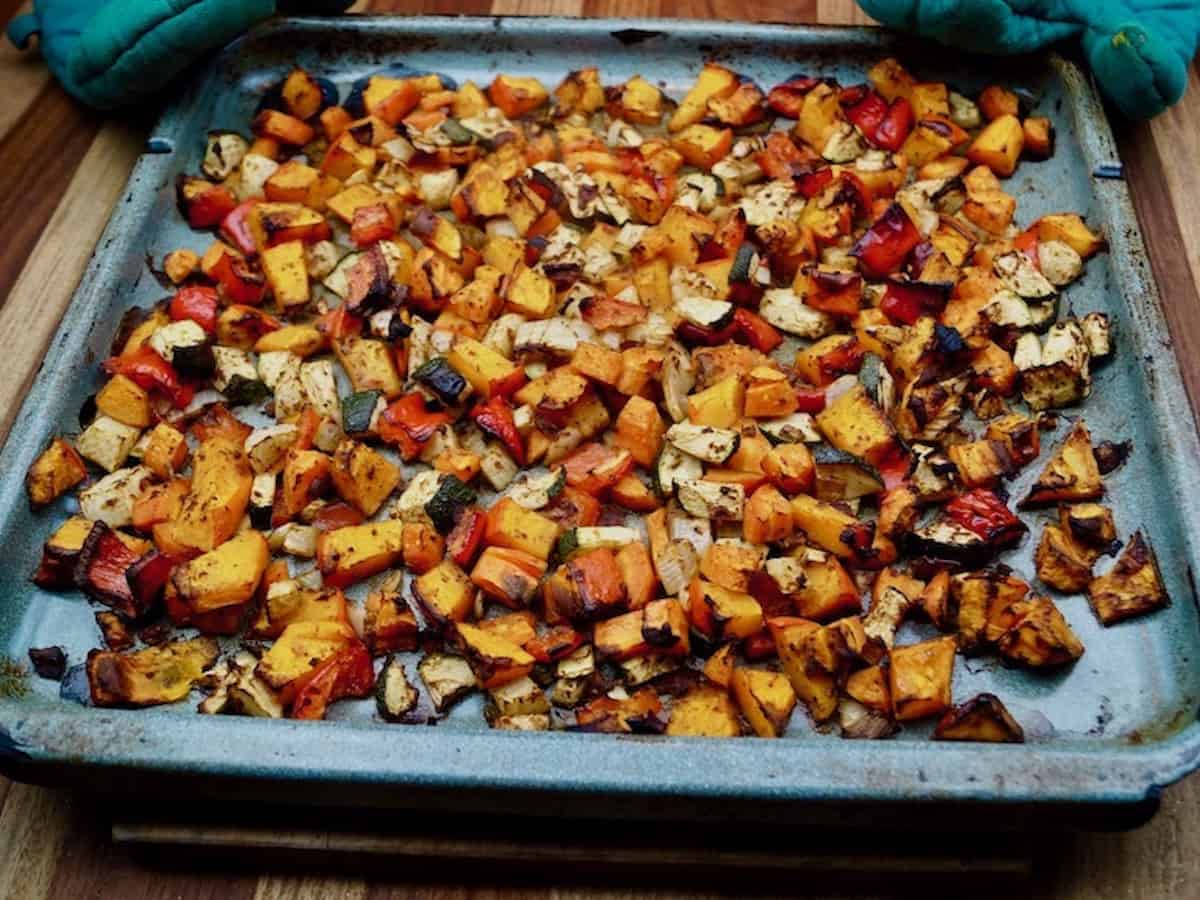 Oven Pumpkin Vegetables! My oven vegetables with pumpkin. Healthy and tasty through autumn with delicious oven vegetables and pumpkin!
Print
Save for later
Ingredients
200

g

Onion

600

g

Hokkaido Pumpkin

250

g

carrots

200

g

zucchini

150

g

paprika

100

g

turnip cabbage

1

clove(s)

garlic

20

ml

pumpkin seed oil

1

tbsp.

pepper

1

pinch

salt

1

tbsp.

rosemary
Instructions
Remove the core of the Pumpkin and cut the Pumpkin into pieces

Preheat the oven to 200 °C (392° F).

Cut the pumpkin, carrots, zucchini, peppers, kohlrabi and onions into small pieces.

Put everything together in a large bowl and mix with oil and spices.

Spread everything on a baking tray and bake for 20 minutes at 200 °C (392° F).
Nutrition
Calories:
252
kcal
|
Carbohydrates:
39
g
|
Protein:
8
g
|
Fat:
2
g
So why don't you try it out and convince yourself of my favourite autumn oven recipe.
If you're a pumpkin fan like me, I recommend you to try my festive pumpkin cheesecake recipe. This is just the perfect dessert after such delicious oven baked vegetables.
Your opinion about the healthy oven vegetables:
That's it to my Oven Pumpkin recipe! As always, I would be interested in your feedback on the healthy Vegetables Recipe! So if you've tried the recipe, I'd love to see your feedback or photos. Simply comment on here or email me at jonas@en.fittastetic.com
Download the Fittastetic Fitness Recipes app now
You want this and other recipes for healthy weight loss, fast and easy on your phone? No problem, just download my free Fitness Recipes app.
Here you can find the Fittastetic Fitness Recipes app for iOS
Here you can find the Fittastetic Fitness recipes for Android
You might also like