Oven Pumpkin Veggies – Healthy oven vegetables with pumpkin. Healthy and tasty through the autumn with delicious oven veggies and pumpkin!
Oh yes the days are getting cold and outside it's getting so uncomfortable. What could be better than a delicious healthy oven veggies for dinner?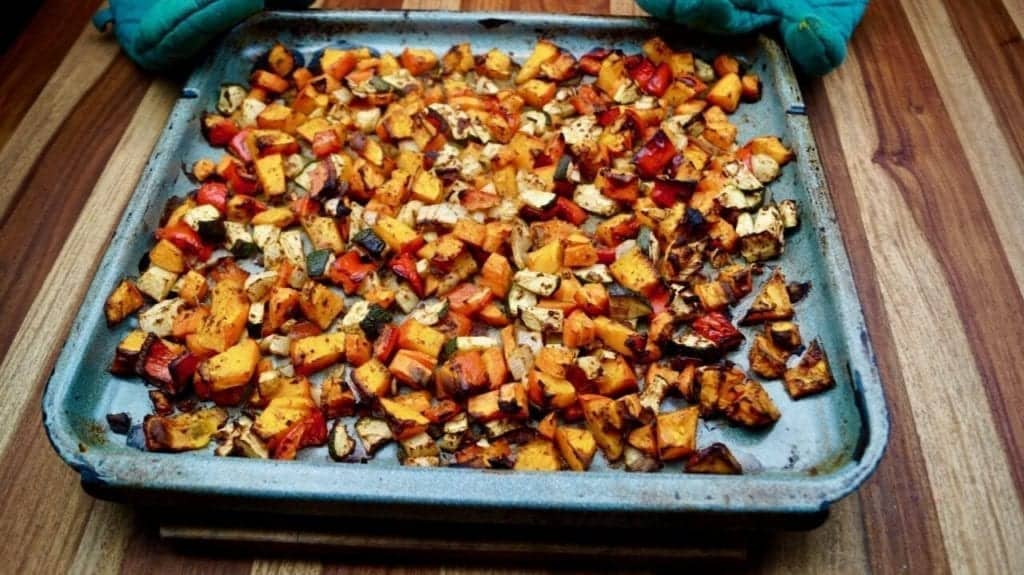 Since autumn time is also pumpkin time, it would only be appropriate in our delicious oven vegetable mix also pumpkin. That's exactly what I thought when I conjured up the recipe for my healthy pumpkin veggie mix. But as always, we don't want to lose too many words and dedicate ourselves to the recipe. After all, since she came here 😉
The oven pumpkin recipe:
Oven Pumpkin Vegetables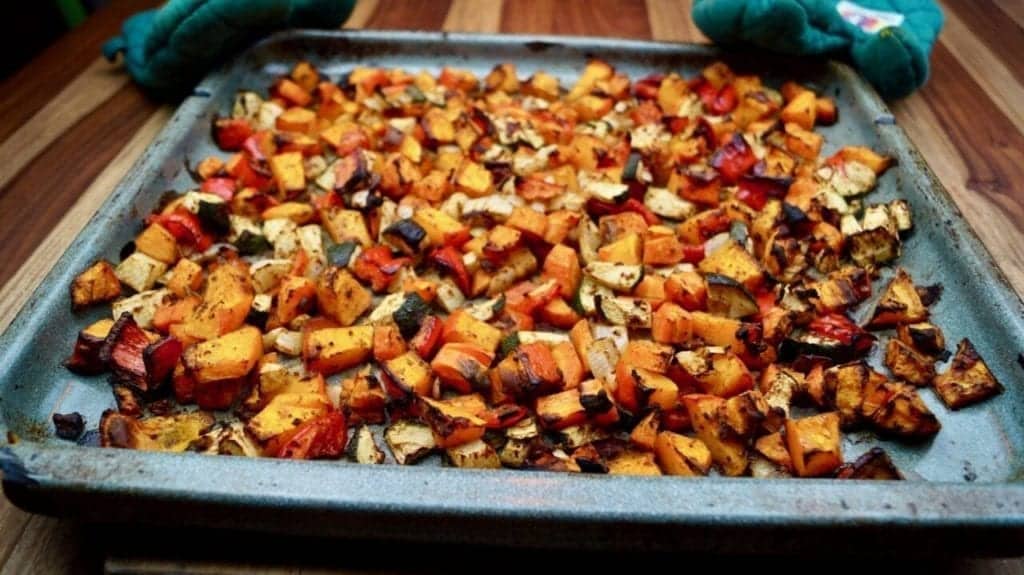 Oven Pumpkin Vegetables! My oven vegetables with pumpkin. Healthy and tasty through the autumn with delicious oven vegetables and pumpkin!
Print Recipe
Pin Recipe
Ingredients
200

g

Onion

600

g

Hokkaido Pumpkin

250

g

Carrots

200

g

Zucchini

150

g

Paprika

100

g

Turnip cabbage

1

Clove of garlic

20

ml.

Pumpkin seed oil

1

Tbsp.

Pepper

1

Pinch

Salt

1

Tbsp.

Rosemary
Instruction
Remove the core of the Pumpkin and cut the Pumpkin into pieces

Preheat the oven to 200 °C.

Cut the pumpkin, carrots, zucchini, peppers, kohlrabi and onions into small pieces.

Put everything together in a large bowl and mix with oil and spices.

Spread everything on a baking tray and bake for 20 minutes at 200 °C.
Nutrition Facts
Calories:
252
kcal
|
Carbohydrates:
39
g
|
Protein:
8
g
|
Fat:
2
g
So just try it yourself and convince yourself of my autumnfavourite oven recipe
Related Posts
Your opinion about the healthy oven vegetables:
That's it to my Oven Pumpkin recipe! However, I would be interested to know your feedback on the healthy Vegetables Recipe! So if you've tried the recipe, I'd love to see your feedback or photos. Simply, here as a comment or by emailing me at [email protected]
You want this and other recipes for healthy weight loss, fast and easy on your phone? No problem, just download my free Fitness Recipes app.
Download the Fittastetic Fitness Recipes app now
Here you can find the Fittastetic Fitness Recipes app for iOS
Here you can find the Fittastetic Fitness recipes for Android
Zuletzt Aktualisiert: