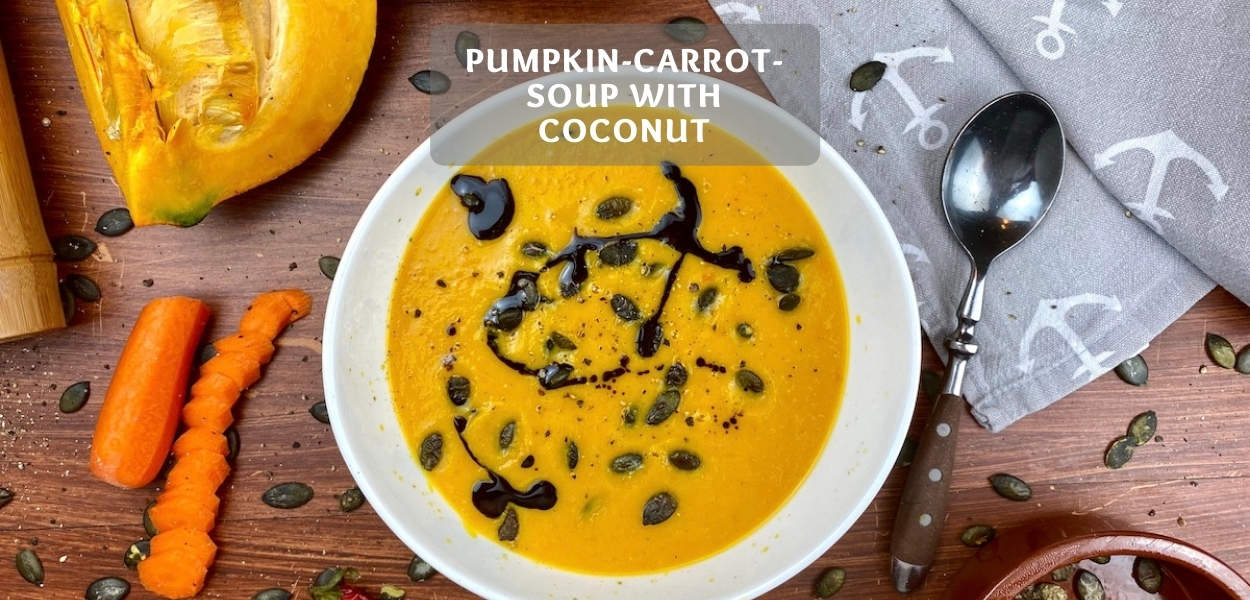 Healthy Pumpkin Soup – Pumpkin-Carrot-Soup with Coconut
How about delicious and healthy pumpkin soup? Sounds good? Then you've come to the right place! Today I have my absolute favorite recipe for a healthy pumpkin and carrot soup for you.
The special thing about it: We also add coconut milk. This ensures a super delicious creamy consistency and at the same time an absolutely excellent taste.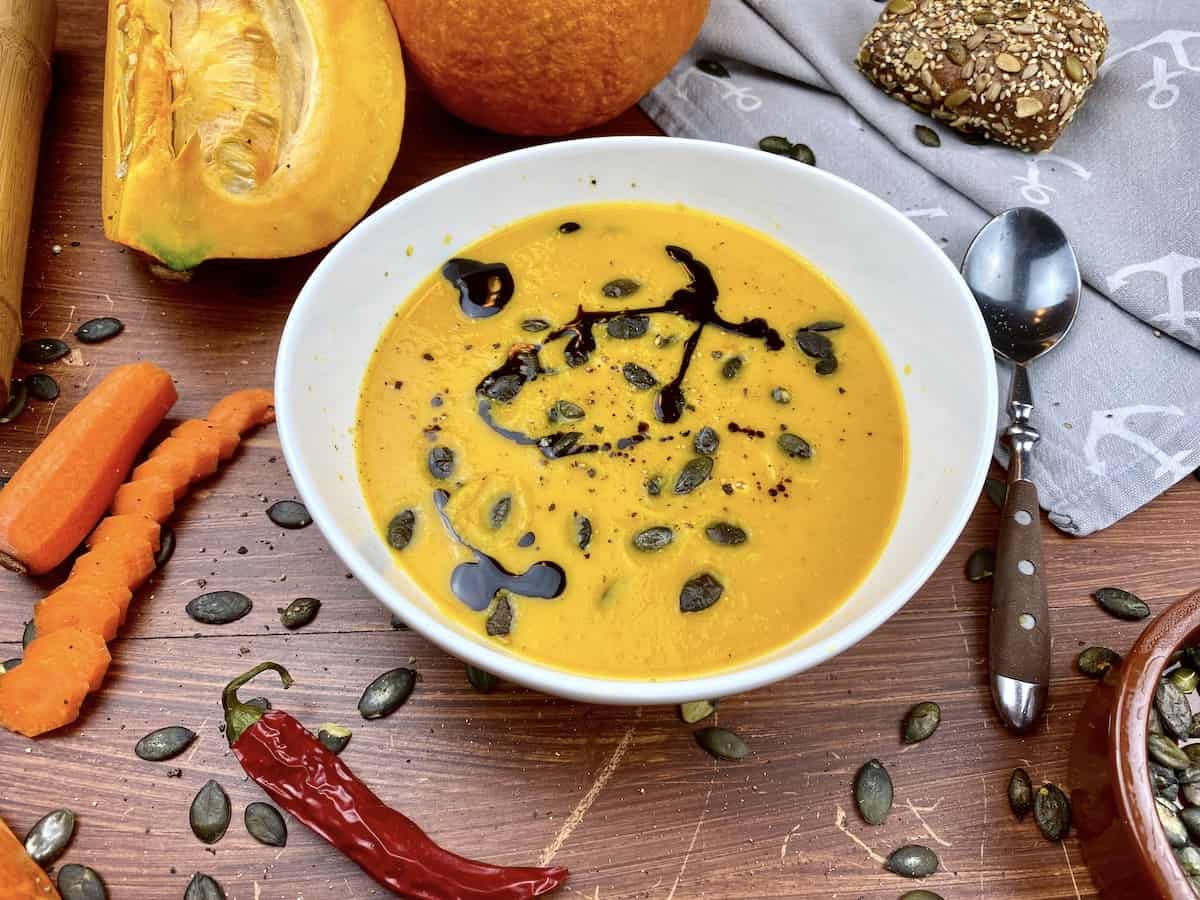 What do we need?
First, we obviously need a pumpkin for this soup. I always like to use a Hokkaido pumpkin here. But a butternut squash should work too. In addition, we need: carrots, coconut milk, ginger, onion, some chili, half a lemon, a little coconut oil, pumpkin seeds, and of course salt and pepper.
Are all the ingredients ready? Great, then let's get started right away.
Pumpkin-Carrot-Soup with Coconut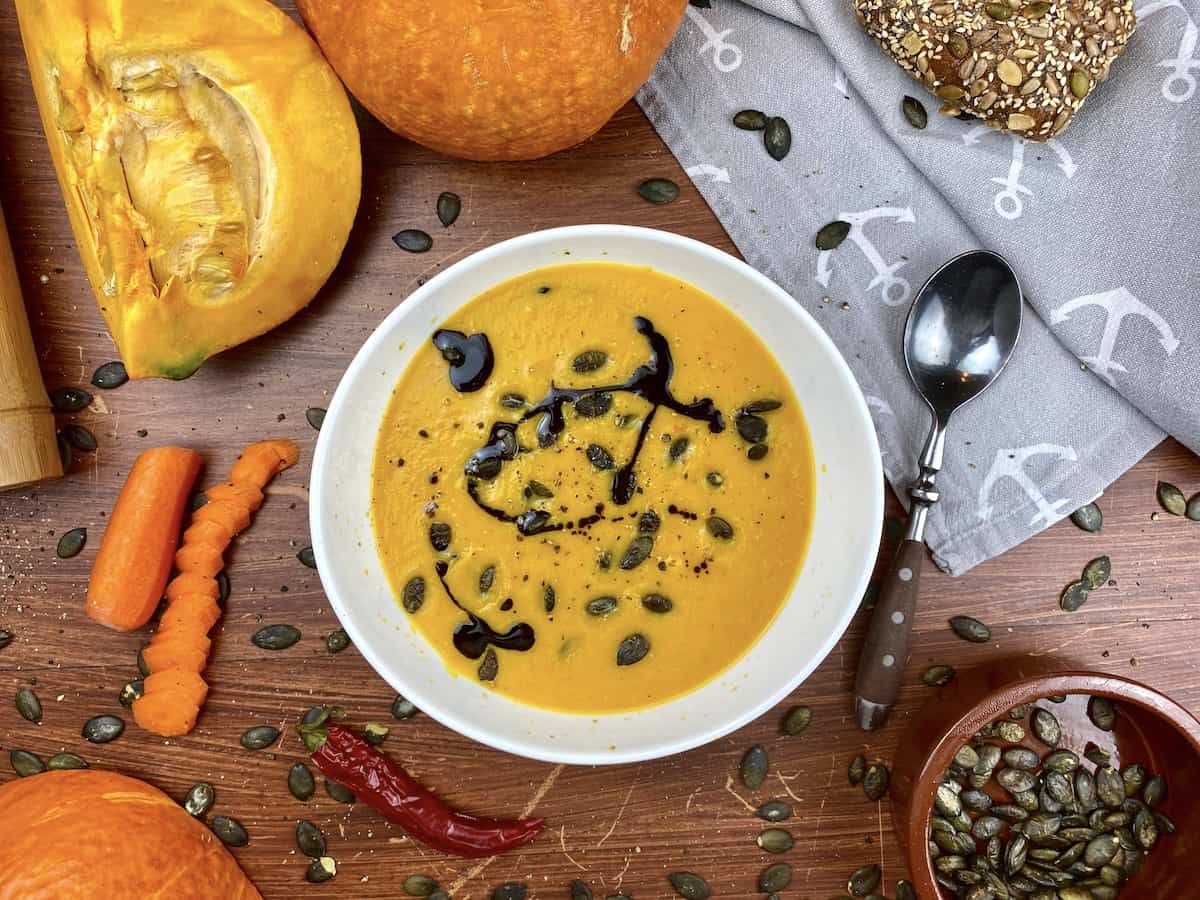 This delicious and healthy pumpkin soup will make you look like a professional chef. Made with a lot of love and delicious ingredients, this soup simply tastes great.
Print
Save for later
Ingredients
600

g

pumpkin

250

g

carrots

20

g

ginger

1

onion

1

chili

1

teaspoon

coconut oil

250

ml

vegetable stock

200

ml

coconut milk

light

20

g

pumpkin seeds

20

ml

lemon juice

some

salt

some

pepper
Instructions
Cut the pumpkin, carrots, onion, ginger, and chili into small pieces.

Heat coconut oil in a saucepan.

Put the vegetables in the pot and let everything simmer.

Deglaze with the vegetable stock and let everything simmer for about 15 minutes.

In the meantime, roast the pumpkin seeds in a pan without fat until golden brown.

Puree the cooked vegetables.

Add the coconut milk.

Season to taste with lemon juice, salt, and pepper.

Scatter the roasted pumpkin seeds on top.

Bon Appetit!
Nutrition
Calories:
276
kcal
|
Carbohydrates:
29
g
|
Protein:
7
g
|
Fat:
13
g
My tip for this recipe:
If you use canned coconut milk, I recommend filling the contents in a saucepan beforehand and stirring with a whisk. This will ensure that the coconut meat and coconut water mix well.
I think it is unnecessary to mention, but as always you will find this and many other recipes in my healthy recipe app.
Your opinion on the recipe
We are already at the end of that! As always, I'm interested in your feedback. It's best to try the recipe and leave me feedback. Simply leave me a comment here on this blog.
You might also like