My Vegetarian farmers pan! Today I bring you my healthy vegetable pan recipe. Oh Yes, I know a farmers pan is a real classic Recipe, especially here in Germany. So I though such a delicious potato and vegetable pan is just perfect for this fitness recipes blog.
Usually these veggie pans come with a lot of sausages and meat. But today we simply do one without. Instead, we'll add a few beans and broccoli to have a little extra protein. Which makes this Vegetarian farmer's pan recipe a perfect healthy vegetable pan.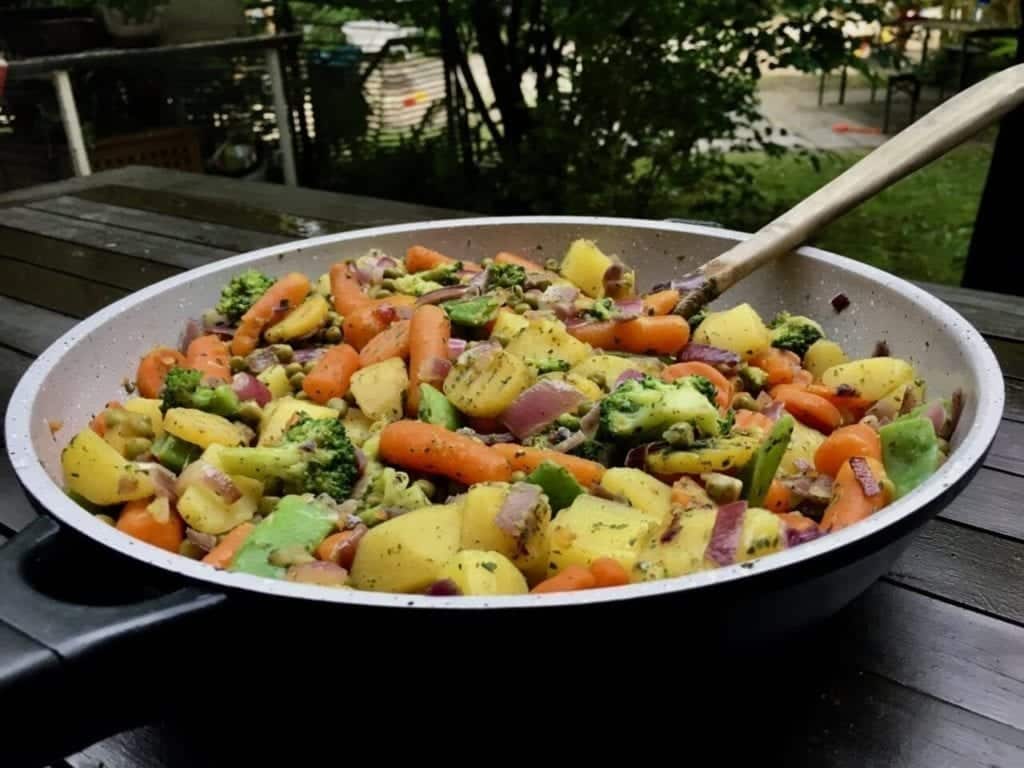 The recipe for my delicious vegetable pan.
Veggie farmer pan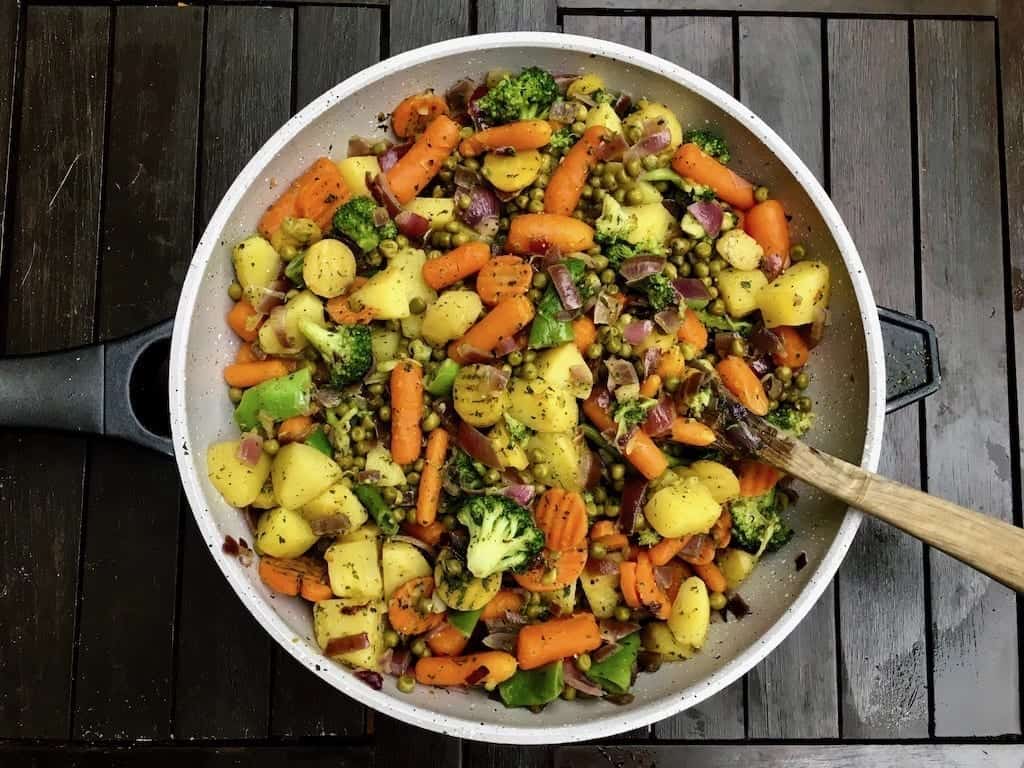 My Vegetarian farmers pan! With this Recipe, I bring you my healthy vegetable pan, which is a real classic recipe, especially here in Germany.
Print Recipe
Pin Recipe
Ingredients
250

g

Onion

200

g

Broccoli

200

g

Green beans

400

g

Potato

530

g

Peas & Carrots (Canned)

14

g

Butter

1

Tbsp.

Pepper

1

Tbsp.

Parsley

1

Pinch

Salt
Instruction
Heat the butter in a pan.

Peel the potatoes, cut them into small pieces and cook for about 15-20 minutes.

Cut onion, broccoli & green beans into pieces.

Cook the broccoli and green beans in a saucepan (about 10 minutes).

Fry the onions in the hot butter and season.

Drain the peas & carrots and add them to the pan.

Add potatoes, steamed broccoli and green beans and mix everything together.

Continue to fry for about 3-4 minutes.
Nutrition Facts
Calories:
378
kcal
|
Carbohydrates:
60
g
|
Protein:
15
g
|
Fat:
7
g
Related Posts
Your opinion about this vegetarian farmer's pan.
That's it to my healthy vegetable pan! However, I would be interested to know your feedback on the vegetarian farmer's pan recipe! So if you've tried this recipe, I'd love to see your feedback or photos. Simply comment here or message me on Instagram at @fitnessrezepte_app.
You want this and other recipes for healthy weight loss, fast and easy on your phone? No problem, just download my free Fitness Recipes app.
Download the Fittastetic Fitness Recipes app now
Here you can find the Fittastetic Fitness Recipes app for iOS
Here you can find the Fittastetic Fitness recipes for Android
Zuletzt Aktualisiert: