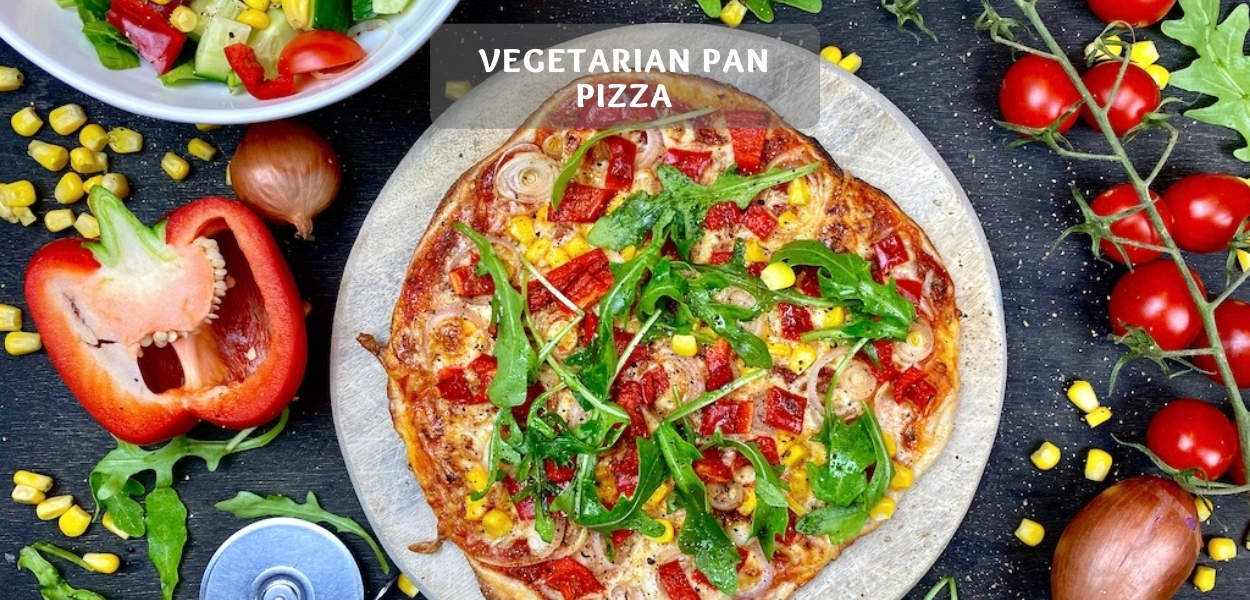 Vegetarian Pan Pizza – Quick Pizza Recipe without Yeast
Today I have another really delicious recipe for you: My vegetarian pan pizza. Some of you may already know, that I love to eat pizza. Especially in the evening.
But unfortunately, I just don't have the time to make one myself 99% of the time. For this reason, I jumped on the Quick Pizza Trend. Doing so, I thought: it's time for a Pan Pizza. But without yeast of course. Since we don't have the time for that!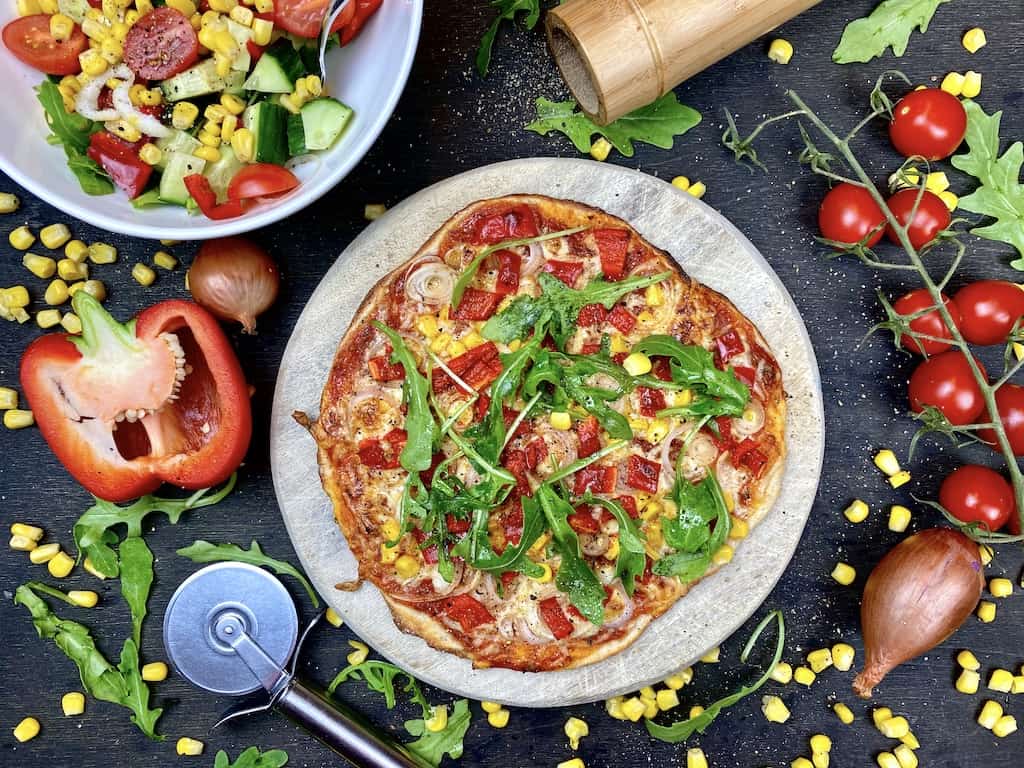 All we need is a little flour, quark, baking powder, and of course fresh toppings. In my case, I decided to make a vegetarian pizza today. Of course, you can also just put chicken breast, ham, or salami on the pizza.
So let's get started with the recipe right away
Vegetarian Pan Pizza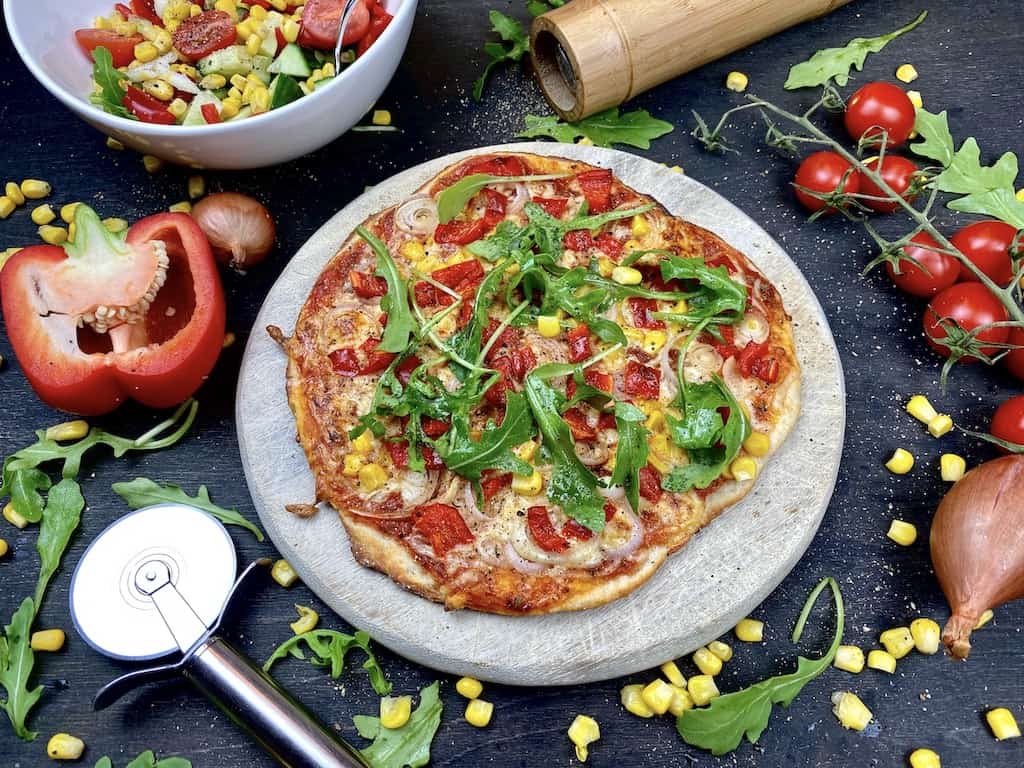 Pizza of the quick kind. All we need is a pan, a little flour, cottage cheese, and baking powder. Add a few fresh toppings and your own pan pizza is ready.
Print
Save for later
Ingredients
60

g

spelled flour

60

g

low-fat Greek yogurt

5

g

baking powder

30

g

diced tomatoes

30

g

onions

50

g

paprika

20

g

corn (caned)

25

g

grated cheese

some

pizza spice mix

some

olive oil
Instructions
Chop the bell pepper and onion.

Mix the tomatoes with the spices in a bowl or mug.

Brush the pan with oil and heat.

Mix the flour, low-fat Greek yogurt, and baking powder together and knead into a ball.

Roll out into a pizza with a rolling pin.

Put the batter in the pan.

As soon as the dough is a little baked, spread the tomato sauce on top.

Sprinkle cheese over it.

Then top with paprika, onion, and corn.

Cover the whole thing with a lid and fry for 10-15 minutes on medium heat.

Bon Appetit!
Notes
⟩ I use this  Pizza-Cutter* *
⟩ If you have problems kneading the pizza dough, just use a little more flour.
* The links marked with an asterisk are affiliate links.
Nutrition
Calories:
439
kcal
|
Carbohydrates:
56
g
|
Protein:
24
g
|
Fat:
13
g
Tip #1 to the recipe: Use a lid for your pan
As already described in the recipe, the recipe works best with a lid for the pan. This way you can be sure that enough heat develops on top and the cheese melts.
I would even go so far as to recommend that you do not remove the lid too often or, ideally, not at all, otherwise the heat will quickly escape.
Tip #2: The Right Pan
I can only recommend a good Pan, otherwise, the pizza tends to stick to the pan. Which is definitely not desirable. If you are interested, I use this frying pan.
If you're interested in more vegetarian recipes, I recommend you to just browse here on the blog. I am sure you will find something delicious for yourself.
Your opinion counts
That's all for my Pan-Pizza-Recipe! However, I would be interested in your feedback on the vegetarian pizza from the pan! Please contact me on Instagram at @fitnessrezepte_app or directly here with a comment.
Download my free fitness recipes now
You want this and other healthy recipes, quickly and easily on your mobile phone? No problem, just download my free healthy Recipe App.
Fittastetic Recipe App for iOS
You might also like