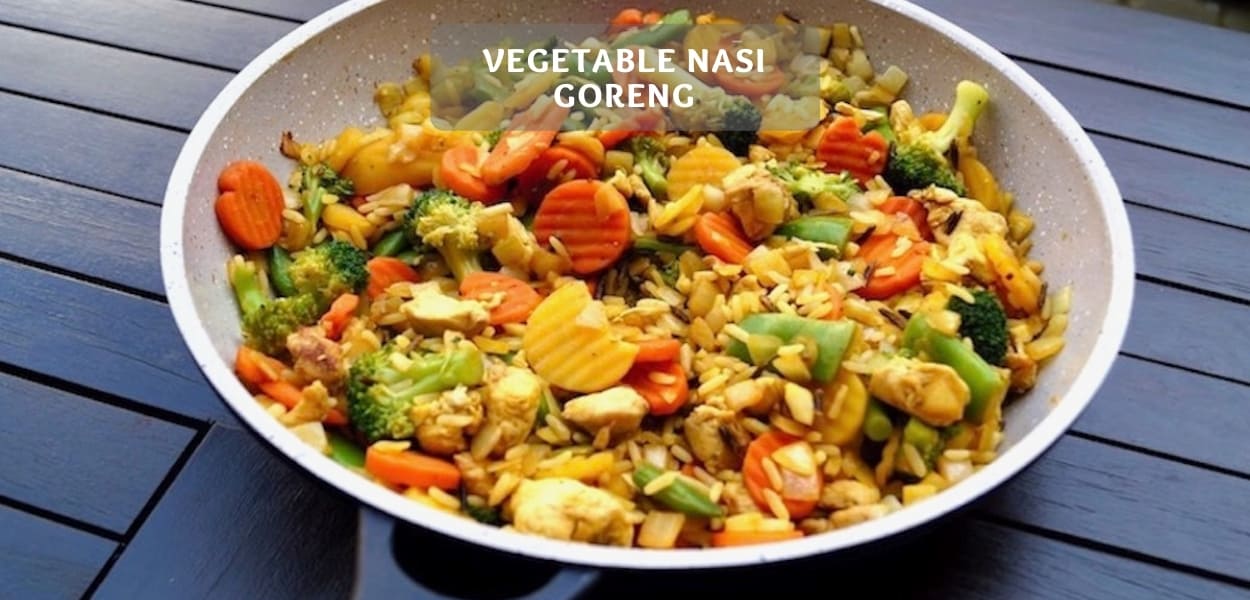 Vegetable Nasi Goreng – Fitness fried rice with vegetables
Vegetable Nasi Goreng. The Indonesian classic Nasi Goreng, spiced up with an extra portion of vegetables. That's how you create your own fitness fried rice with vegetables. At the same time, you save a lot of calories thanks to the vegetables in the fried rice, without sacrificing taste.
During my semester abroad in Bali I also learned that Nasi Goreng means nothing else than fried rice. That's why there's no such thing as the one and only recipe as far as the ingredients and vegetable contents are concerned!
If, you would want to include even more vegetables and you are willing to completely relinquish rice. I warmly recommend you to try my healthy vegetarian farmer's pan. For everyone else, just stay with me!
Vegetable Nasi Goreng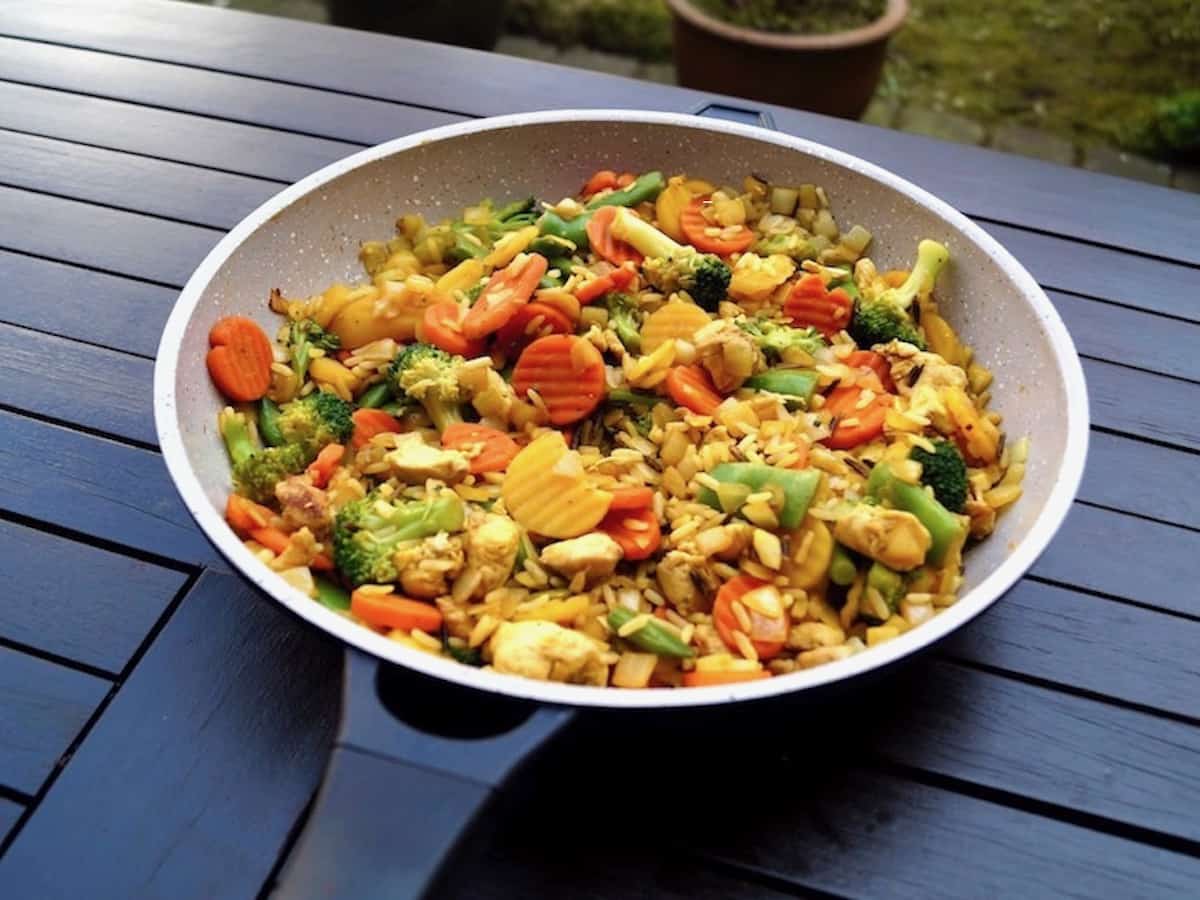 Vegetable Nasi Goreng. Nasi Goreng a little spiced up with an extra portion of vegetables. Create your own Fitness fried rice.
Print
Save for later
Ingredients
200

g

Onion

400

g

Broccoli

400

g

Carrots

colorful, if possible

200

g

Green beans

400

g

Chicken

200

g

Rice

20

g

Nasi Goreng Spice Blend

Optional

2

cloves

Garlic

50

ml

Soy sauce

20

g

Coconut oil

1

Tbsp.

Pepper

1

Tbsp.

Paprika

1

Tbsp.

Turmeric

1

pinch

Salt
Instructions
Boil the rice in a pot with water.

Cut the meat into small pieces and marinate it together with soy sauce, pepper, salt, turmeric and paprika powder in a plastic bag.

Heat oil in a pan.

Cut the onions into small pieces, mix with the meat and fry for 5 min.

Chop broccoli, carrots and green beans and steam in a pot (for about 10 minutes).

Put everything together in a large pan and mix it well.

Fry the whole thing for a few minutes and serve!
Notes
---
* The links provided with an asterisk are affiliate links.
Nutrition
Calories:
436
kcal
|
Carbohydrates:
57
g
|
Protein:
33
g
|
Fat:
8
g
If you want to save even more calories, I recommend you try my Low-Carb fried rice! It's just as delicious and you'll save carbohydrates thanks to the healthy rice alternative.
Your opinion about the fried rice with vegetables
That's it for my vegetable Nasi Goreng! But I would be interested in your feedback on the Fitness fried rice recipe! If you tried the recipe, I would be very happy about your feedback or photos. Leave it as comment on here or on Instagram to @fittastetic_app.
My free recipes app
You want this and other recipes for healthy weight loss, fast and easy on your phone? No problem, just download my free Recipes app.
Here you can find the Fittastetic Fitness Recipes app for iOS
Here you can find the Fittastetic Fitness Recipes for Android
You might also like