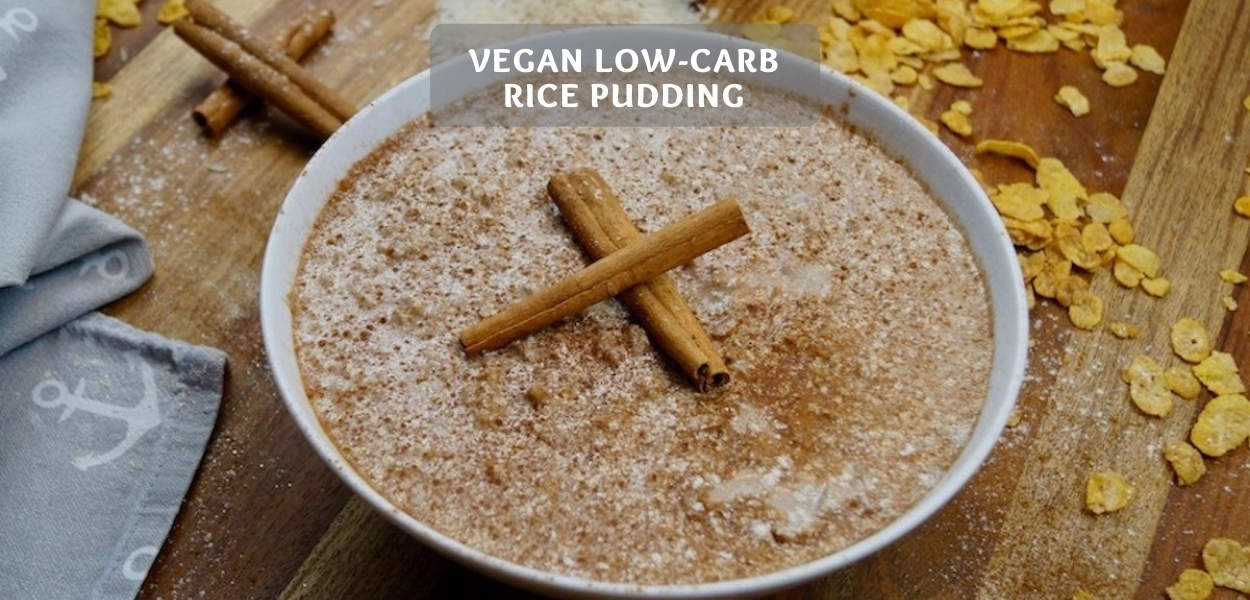 Vegan Low-Carb Rice Pudding – Healthy Rice Pudding Recipe
Vegan low-carb rice pudding, my vegan rice pudding recipe. This title probably makes most people shake their heads. Rice pudding without carbohydrates should not actually be possible, since we all know that rice has a lot of carbohydrates. In addition to that, a vegan rice pudding sounds impossible. Because milk is not vegan, right?
However, this recipe really delivers on the title's promise! It is vegan and it is low-carb. That means we need 0 ml of milk! In addition, it even tastes incredibly delicious, is super low in calories and it is very filling.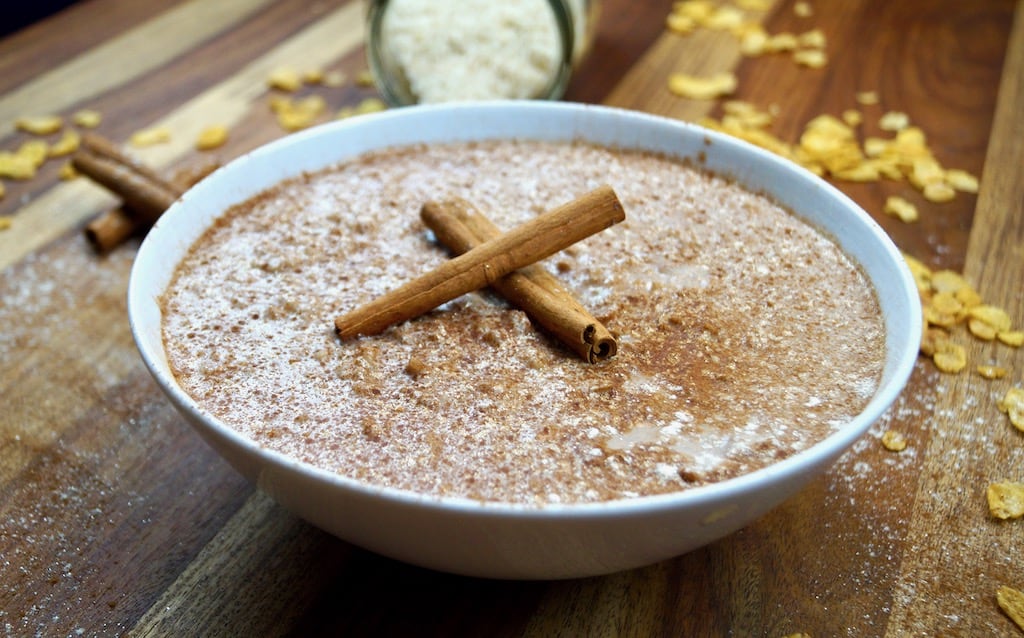 So how can it be that this recipe works, you wonder? It is quite simple, we use cauliflower as a rice alternative and soy yogurt as a milk alternative. This way the rice pudding is low-carb and vegan at the same time. It also means every ml of milk we used in, for example, my protein rice pudding recipe, can be substituted by the same amount of soy yogurt.
The same goes with the rice, that is substituted by our cauliflower-rice.
Along with delicious spices and some sweetener or agave syrup, it tastes just as delicious, if not better, than normal milk rice. We promise ;)! If you're still not convinced, just try this one out for yourself.
The rice pudding recipe:
Vegan Low-Carb Rice Pudding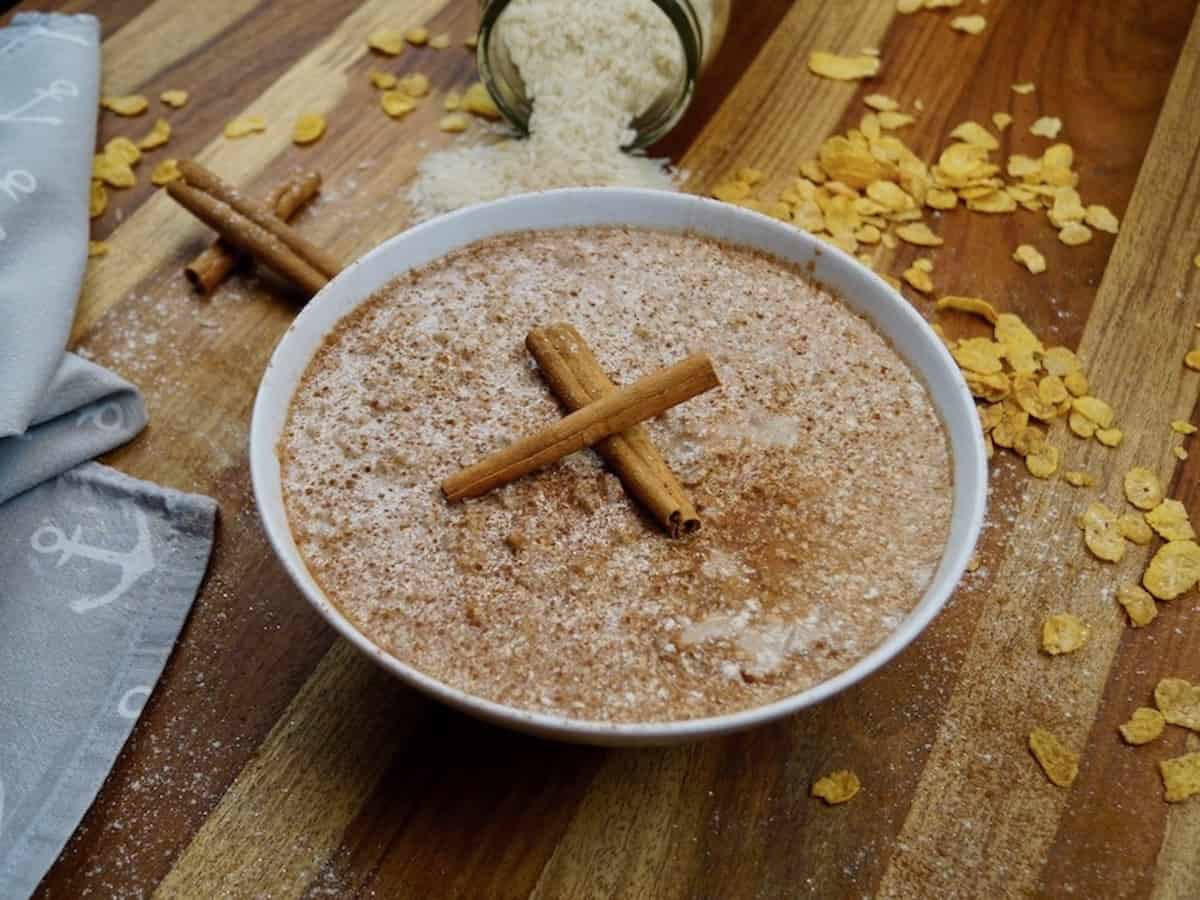 Vegan Low-Carb Rice Pudding. Rice Pudding and low-carb are actually possible and on top of that also really healthy and delicious!
Print
Save for later
Ingredients
1

large

cauliflower

100

ml

almond milk

400

g

soy yogurt

Unsweetened

25

g

protein powder

Vegan

some

sweetener

5

g

flavor Powder

1

pinch

cinnamon
Instructions
Boil water in a saucepan.

Wash the cauliflower and cook it in the same saucepan for approx. 5 min.

Dry the cooked cauliflower with a kitchen towel and cut it into florets.

Now put the individual florets into a mixer or food processor and roughly chop them with the Pulse function.

Mix almond milk together with the protein powder in a blender.

Put the soy yogurt and almond milk in a bowl and place it in the microwave for 5 minutes.

Now add the cauliflower-rice and the remaining ingredients.

Stir, decorate and serve.
Nutrition
Calories:
261
kcal
|
Carbohydrates:
16
g
|
Protein:
27
g
|
Fat:
6
g
I personally love to refine the whole thing with a little cinnamon. As you can see on the recipe picture :). Because cinnamon not only provides a very good taste, it also ensures that your blood sugar level does not rise so much.
That way you can easily prevent one or other ravenous hunger attack. That's why cinnamon is also super good for any diet and to lose fat!
At the same time cinnamon does not really make the preparation more complicated. So no problem at all!
You generally eat low-carb and are still looking for some delicious recipes? Nothing easier than that! For example, I still have a super delicious recipe for a low-carb noodle bolognese that you must try!
Your opinion about this Rice Pudding Recipe
That's it to my vegan rice pudding! However, I would be interested in your feedback on the healthy low-carb rice pudding! So if you tried it, I'd love to receive your feedback or photos. Just leave me a comment here or email me at jonas@en.fittastetic.com.
Download the Fittastetic Fitness Recipes app now
You want this and other recipes for healthy weight loss, fast and easy on your phone? No problem, just download my free Fitness Recipes app.
Here you can find the Fittastetic Fitness Recipes app for iOS
Here you can find the Fittastetic Fitness recipes for Android
You might also like