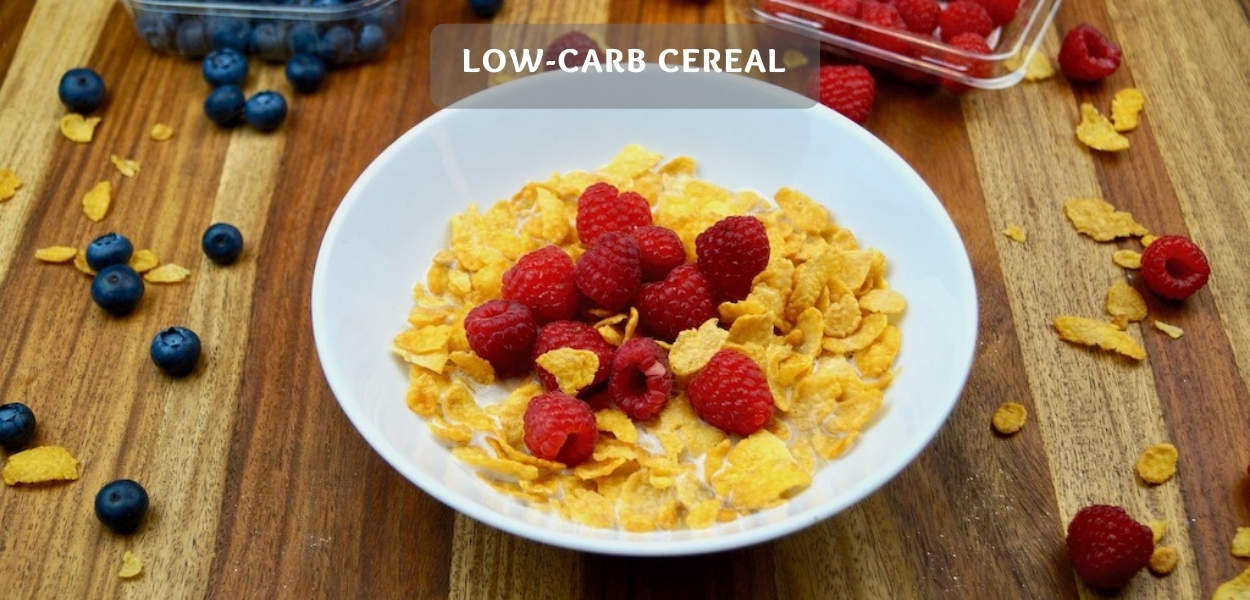 Make your own Low-Carb Cereal – Low-Carb Cereal Recipe
A really tasty and healthy low-carb cereal to make yourself. Today I will show you a really simple but still incredibly delicious fitness cereal recipe with hardly any carbohydrates!
Even though this recipe is super simple, I think many people out there have never heard about a low-carb cereal alternative for breakfast. Since cereal recipes should be quick and easy! I mean: Who has much time in the morning?
What do we need for the recipe?
For my delicious muesli we use super simple ingredients. Because we use soya flakes, berries, milk and protein powder! That's actually the whole secret. So you can make your own cereal with almost no carbohydrates! That's why we'll just dive into the muesli recipe.
As always, I don't want to keep you in suspense any longer and we'll start with the recipe right away! After the recipe I will go back to frequently asked questions about low-carb cereal.
Low-carb cereal
Healthy low-carb cereal to make yourself! This easily made muesli recipe takes less than 5 minutes and is also super low in carbohydrates! Low-carb & delicious!
Print
Save for later
Instructions
Put all ingredients together in a bowl.

Put the bowl in the microwave for about 1-2 minutes.

Done.
Nutrition
Calories:
495
kcal
|
Carbohydrates:
16
g
|
Protein:
43
g
|
Fat:
23
g
Which muesli is best for losing weight?
To lose weight you should eat a muesli with few calories and carbohydrates, so far so good. A protein-rich or a low-carb cereal would be perfect for this. These will keep you full for a long time and make sure that you will automatically eat less, which in turn makes sure that you will lose weight!
Which fruits are not allowed at low-carb?
If you try to eat low-carb, you should make sure that the carbohydrate content of fruit is low. Therefore, berries like raspberries or blueberries are very good fruits for a low-carb diet. You may want to avoid bananas and apples, since they are richer
What is low-carb?
Low-carb in a meal stands for "low-carbohydrates", this means the meal contains rather few carbohydrates. Generally speaking, low-carb refers to various forms of nutrition or diets in which the proportion of carbohydrates in the daily diet is reduced. This is often done to save calories and to lose weight more easily. Since carbohydrates are less filling than fats and proteins. In addition, there is also the belief, that you'll burn fat much faster this way.
Should you prepare your own muesli or just buy it?
If you like to start the day with a muesli in the morning, you should make your own muesli and not buy it in the supermarket! Why? It's easy – the cereals from the supermarket contain far too much sugar and are often real calorie and carbohydrate bombs. But if you make them yourself, you can easily determine the carbohydrates per portion yourself! This way you can save a lot of calories and carbohydrates. Sounds good, right?
Your opinion about Low-Carb Muesli
That's it to my low-carb cereal recipe! But I would be interested in your feedback on the muesli! If you have tried it, I would be very happy about your feedback or photos. You can just leave me a comment under this recipe or contact me on Instagram: @fitnessrezepte_app.
Download the Fittastetic Fitness Recipes app now
You want this and other recipes for healthy weight loss, fast and easy on your phone? No problem, just download my free Fitness Recipes app.
Here you can find the Fittastetic Fitness Recipes app for iOS
Here you can find the Fittastetic Fitness Recipes for Android
You might also like