Chocolate Greek Yogurt Recipe – Healthy Chocolate Yogurt
My healthy chocolate Greek Yogurt. The perfect Greek Yogurt recipe to lose weight.
A chocolate greek yogurt recipe to lose weight? Is there such a thing as a healthy chocolate yogurt? Even if the words chocolate and fitness, let alone weight loss, are likely to be rare in one sentence. Here I have a super light chocolate yogurt recipe that will help you lose a few kilos.
The recipe to my beloved healthy chocolate Greek Yogurt:
I am sure that most of you are simply looking for the recipe for my weight loss secret. So let's get started right away with the chocolate Greek Yogurt.
Healthy chocolate yogurt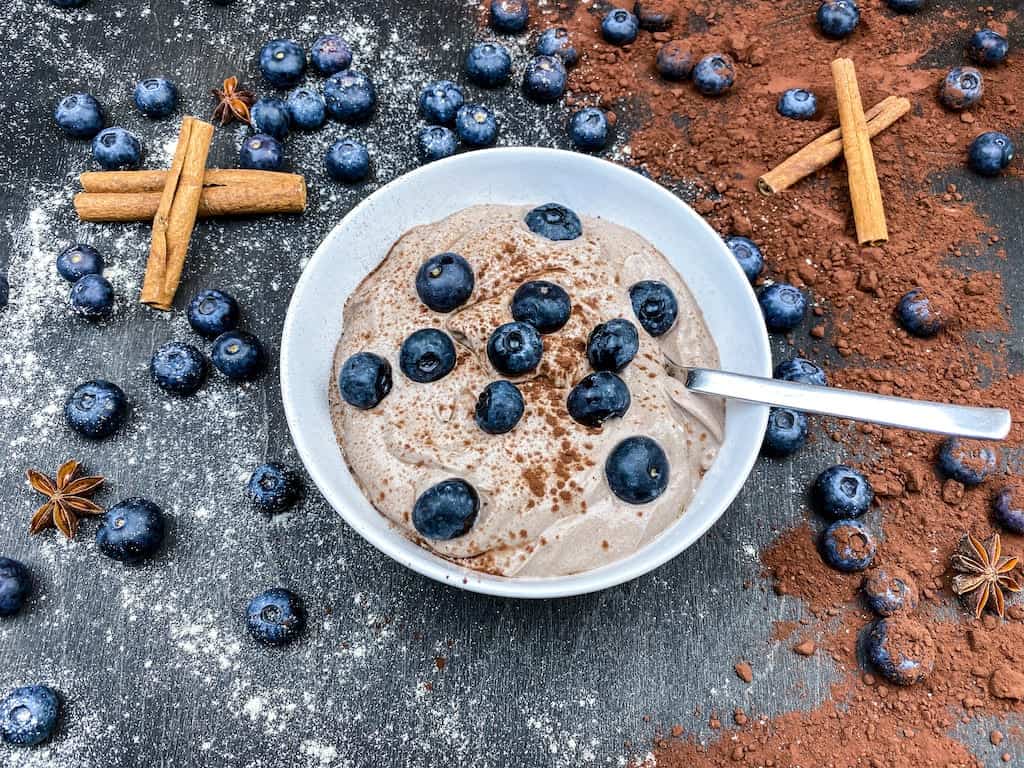 A chocolate yogurt recipe to lose weight? Is there such a thing as a healthy chocolate yogurt? My chocolate yogurt recipe for losing weight! Enjoy a delicious and healthy yogurt
Print
Save for later
Ingredients
500

g

Greek yogurt (Low Fat)

50

g

blueberries

15

g

cocoa powder

Unsweetened

1

tsp.

cinnamon

optional

sweetener

optional

calorie free chocolate syrup
Instructions
Put the greek yogurt together with the cocoa powder, a little water and the sweetener in a blender and mix for about 30 seconds.

Put the greek yogurt in a bowl and mix with the cocoa shake.

Refine with a teaspoon of cinnamon.

Optional: pour in some zero chocolate syrup and enjoy.
Nutrition
Calories:
436
kcal
|
Carbohydrates:
27
g
|
Protein:
63
g
|
Fat:
5
g
The finished chocolate yogurt:
Is Greek Yogurt healthy?
Many of you might now wonder: Is low-fat Greek Yogurt actually healthy? And my simple answer is: YES! Particularly in the evening I am a huge fan of eating something sweet. This greek yogurt recipe is just perfect for this! Nonetheless it is also great as a breakfast recipe.
Especially if you try to keep the carbohydrate intake in the morning a little lower in the morning, the low-fat Greek Yogurt is rather great. It is rich in protein and thus keeps full for a long time and at the same time supports muscle building. Which allows you to see long-term benefits.
More Greek Yogurt recipes
If you are just like me a yogurt and cereal lover, I can only recommend my homemade apple cinnamon fitness oatmeal! Because this one is also so quickly made and a fantastic protein-rich breakfast! You might also fancy my protein rice pudding?
For all those chocolate fans out there, I also have this very delicious Kidney Bean Chocolate Cake.
This has already been all to my healthy mandarin cheesecake! However, I would be interested in your feedback on the healthy cheesecake! So if you've tried this recipe, I'd love to see your feedback or photos. Simply comment here or message me on Instagram at @fitnessrezepte_app.
You want this and other recipes for healthy weight loss, fast and easy on your phone? No problem, just download my free Fitness Recipes app.
Download the Fittastetic Fitness Recipes app now
Here you can find the Fittastetic Fitness Recipes app for iOS
Here you can find the Fittastetic Fitness recipes for Android
*The links with an asterisk are affiliate links where I am remunerated as an advertising agent by a small commission. There are no additional costs for you or disadvantages, you only take some money out of the pocket of Amazon and put it in mine, as long as you order via the link.
You might also like