Turkey Sandwich Baguette. Homemade Subway Sandwich Recipe. Today I have a real lunch snack classic recipe for you. My homemade sandwich baguette. This taste just as good as a Subway Sandwich. However, of course, much healthier!
My healthy Sandwich Baguette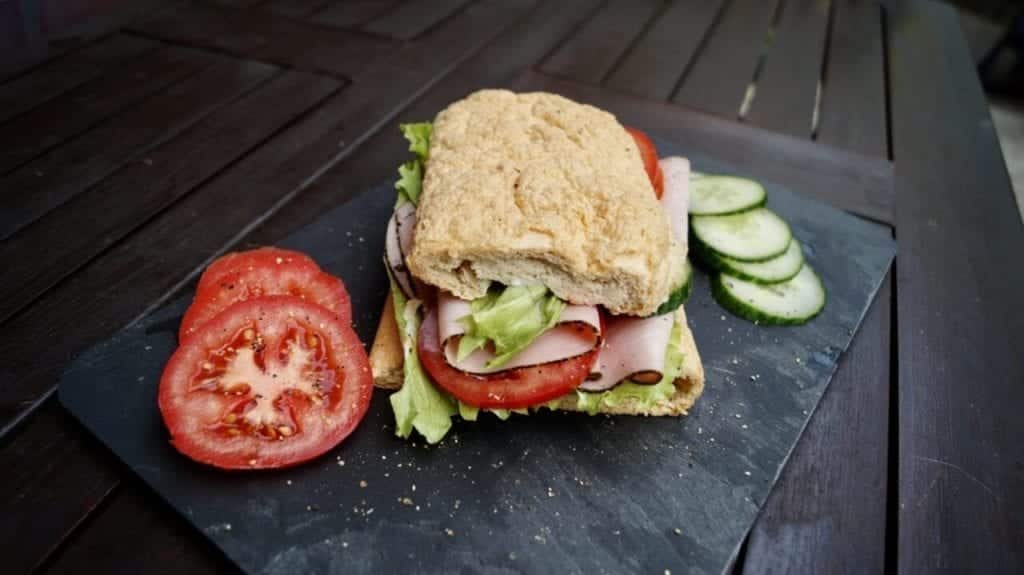 Special about this healthy turkey Sandwich baguette recipe is, that even the Buns are homemade! Since, we know homemade always tastes best!
The Subway Sandwich Recipe:
Turkey Sandwich Baguette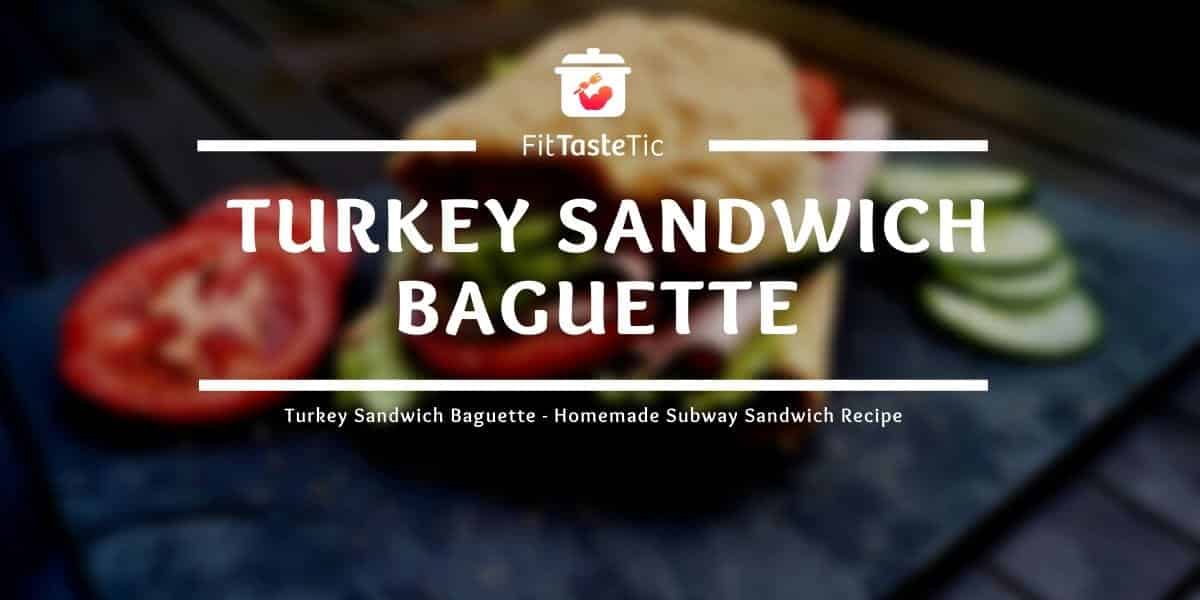 Turkey Sandwich Baguette. Homemade Subway Sandwich Recipe. Today there is once again a real lunch snack classic recipe
Print Recipe
Pin Recipe
Ingredients
300

g

soy yoghurt (unsweetened)

100

g

egg whites

50

g

oatmeal

Instant Oats

10

g

linseed flour

3

g

bread spice

2

g

salt

100

g

turkey breast sliced

30

g

Ketchup (light)

100

g

cucumber

100

g

tomato

2

Lettuce

leaves

Some

pepper
Instruction
Preheat the oven to approx. 160 °C (recirculation air).

Stiffen the egg in a high bowl.

Mix oatmeal, linseed, bread seasoning and salt in a separate bowl.

Carefully fold in the stiffed egg white.

Put the whole thing in a lightly greased baking dish or silicone baking dish.

Bake at 160 °C for about 30 minutes.

Slice cucumber & tomatoes.

Remove the finished bread, allow to cool briefly, cut in half and slice.

Sprinkle the halves with a little ketchup and optionally extra soy yoghurt.

Spread the turkey breast slices, cucumber, lettuce and tomatoes in half.

Add salt & pepper and enjoy!
Nutrition Facts
Calories:
472
kcal
|
Carbohydrates:
12
g
|
Protein:
58
g
|
Fat:
24
g
Matching this delicious sandwich baguette, I recommend a good dessert. My chocolate quark, it fits perfectly.
Related Recipes:
You want this and other recipes for healthy weight loss, fast and easy on your phone? No problem, just download my free Fitness Recipes app.
Download the Fittastetic Fitness Recipes app now
Here you can find the Fittastetic Fitness Recipes app for iOS
Here you can find the Fittastetic Fitness recipes for Android
Zuletzt Aktualisiert: