It's pumpkin time and that means it's time for a really tasty pumpkin recipe here on the blog. Today you get my super healthy turkey skewer with potatoes & pumpkin recipe.
As the name suggests, this is a very simple but really delicious recipe made from pumpkin, potatoes and turkey. The special thing here is that you can prepare everything very easily in the oven. So let's just start right away.
The delicious Pumkin recipe:
Turkey skewers with potatoes and pumpkin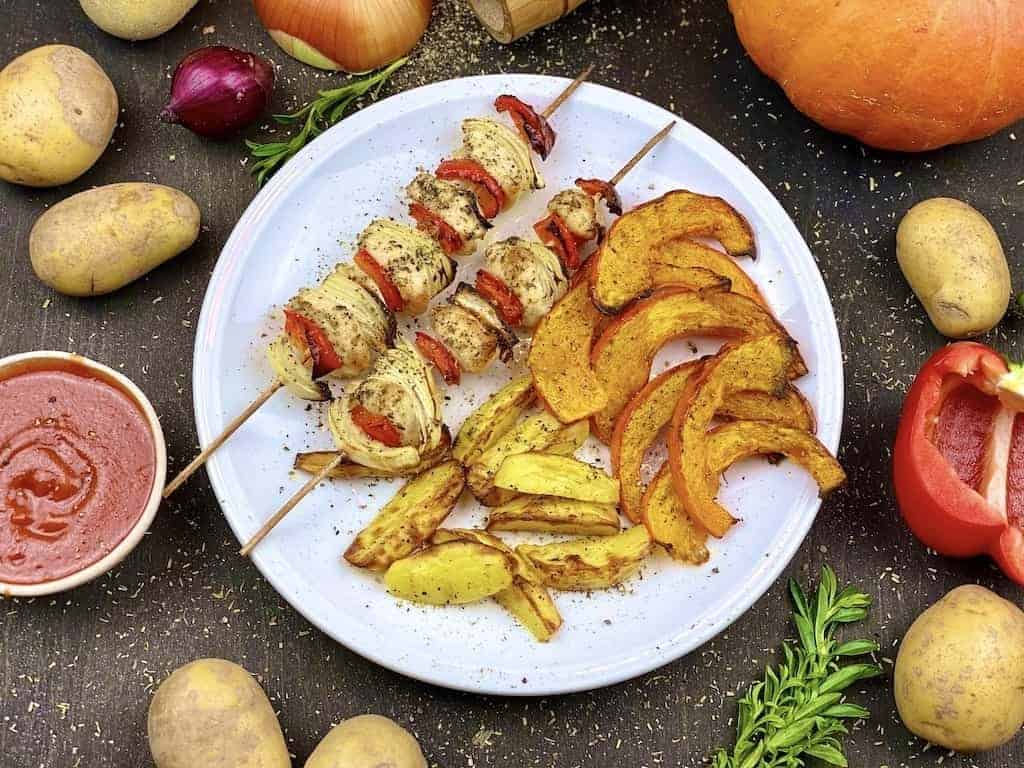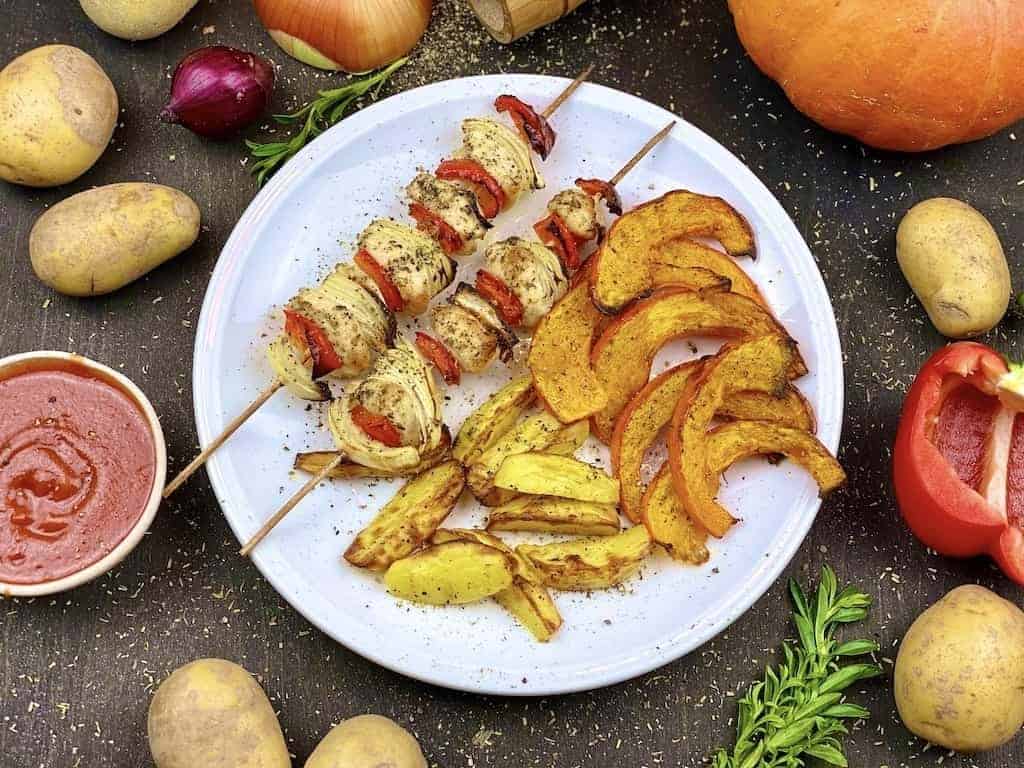 Ingredients
200

g

Turkey

200

g

Potatoes

300

g

Hokkaido Pumpkin

50

g

Paprika

50

g

Onion

2

Tbsp.

Olive oil

1

Pinch

Pepper

1

Pinch

Rosemary

1

Pinch

Salt

1

Tbsp.

Ketchup (light)

some

Wooden skewers
Instruction
Preheat the oven to 200 °C and remove the core of the pumpkin

Cut potatoes and pumpkin into slices/columns.

Cut the peppers, onions and turkey into small pieces and put them on skewers.

Cover a baking tray with baking paper and spread the potatoes/pumpkin & skewers on top.

Coat with oil, pepper, rosemary and salt.

Bake at 200 °C for at least 20 minutes.

Put everything on a plate and serve with some ketchup.
Nutrition Facts
Calories:
328
kcal
|
Carbohydrates:
37
g
|
Protein:
26
g
|
Fat:
8
g
As always, I would be very interested in how you liked this recipe. So let me know gladly you should have tried the recipe.
Related Posts
Your opinion about the healthy Pumpkin Recipe:
That's it to my healthy Pumpkin Recipe! However, I would be interested to know your feedback on the Turkey Skewers with Potatoes and Pumpkin! So if you've tried the recipe, I'd love to see your feedback or photos. Simply, here as a comment or on Instagram at @fitnessrezepte_app.
You want this and other recipes for healthy weight loss, fast and easy on your phone? No problem, just download my free Fitness Recipes app.
Download the Fittastetic Fitness Recipes app now
Here you can find the Fittastetic Fitness Recipes app for iOS
Here you can find the Fittastetic Fitness recipes for Android
Zuletzt Aktualisiert: