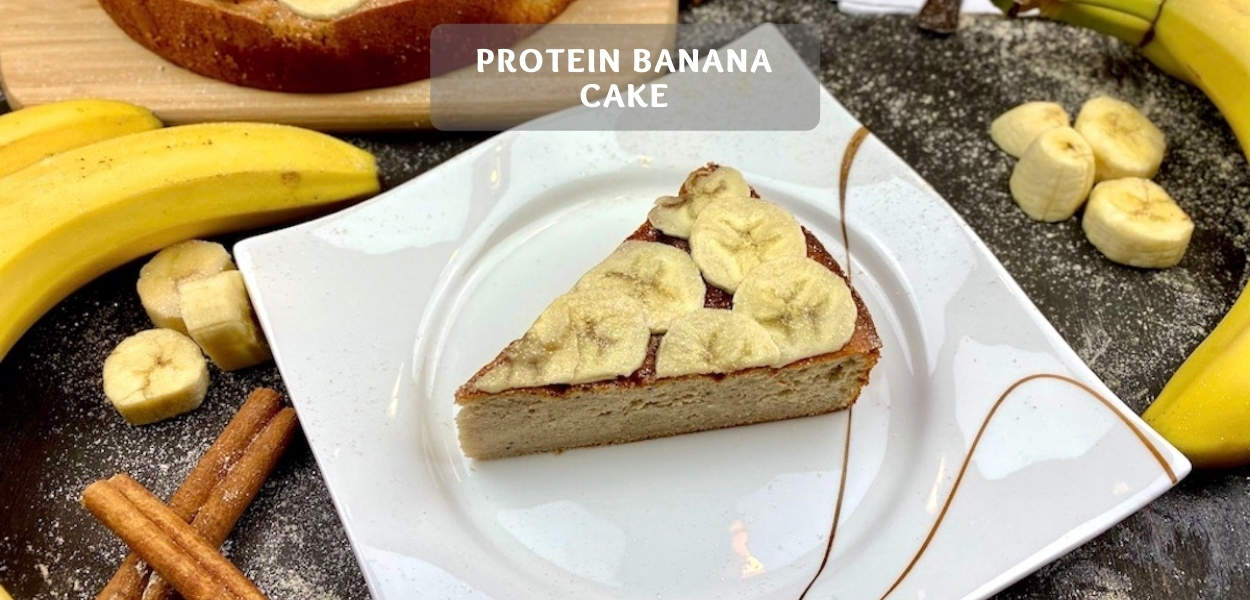 Protein Banana Cake – Healthy Banana Cake Recipe
Making your own protein banana cake has never been so easy! With this healthy cake recipe, you can make your own super delicious fitness cake from bananas in under 50 minutes!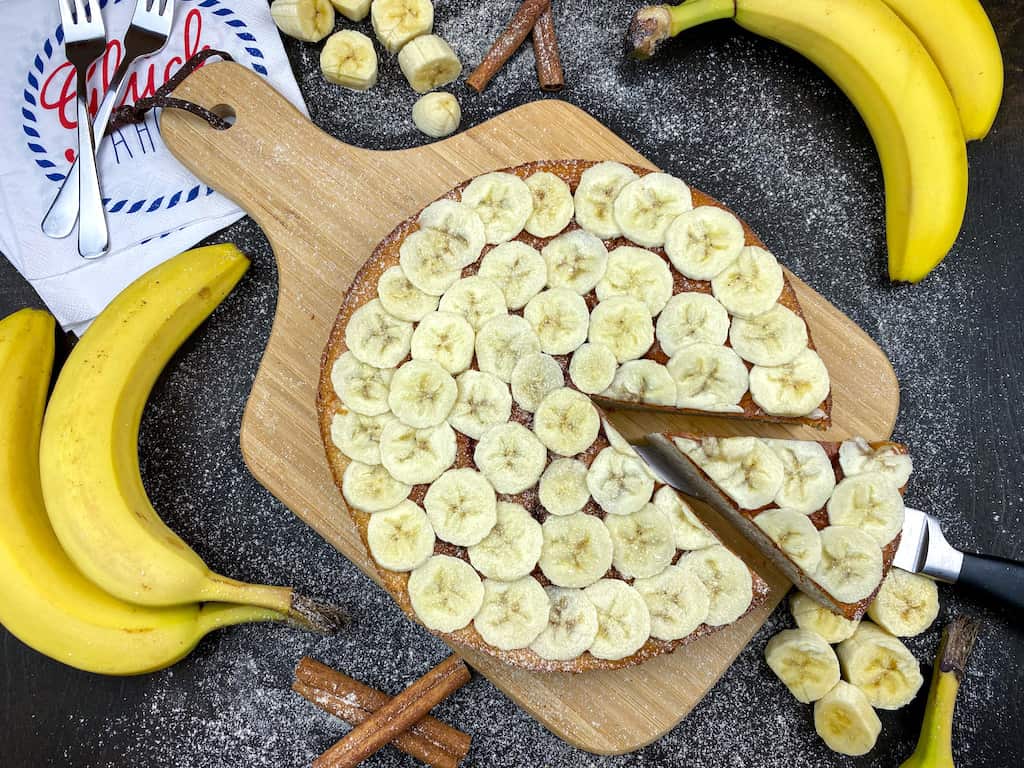 Healthy baking has never been so easy.
Healthy baking can be a real challenge. Cakes and pastries in particular are usually extremely high in calories, pumped full of refined sugar and not healthy at all. But that does not have to be the case! Bananas are an easy way to make a cake healthy. Of course, the other ingredients have to be a little bit adjusted as well but thanks to bananas we don't have to worry about sugar and butter anymore!
The bananas in the cake make the cake extremely juicy. If we bake the whole thing at no higher temperature than 180 °C (360 °F), we're making surwe that we'll have a super delicious and healthy cake. I recommend using a silicone baking form or a baking form lined with baking paper. Since juicy cakes often like to get stuck on the form.
The best about high protein banana cakes
This cake is not only healthy and excellent in taste (in my opinion), but also impresses with its nutritional values. Which is why it is also a real protein banana cake, as stated in the title. In addition, bananas are, as already mentioned, super healthy. That way this cake becomes a healthy meal. Which is a rather unusual attribute for cakes!
But even better than the nutritional and health benefits of this cake, is the fact that we don't need additional sugar. Because bananas already have a very strong sweetness. Together with the protein powder in the cake, this is completely sufficient. Especially if we use overripe bananas, because they are even sweeter!
Of course you are free to add some sweetener or flavor drops. But you certainly don't need sugar.
What do I need for the fitness cake made out of bananas?
So what do we need, if not sugar? For this delicious cake we need, as the name suggests: bananas. We also need egg whites, oatmeal and 1 egg. But to reach the promised protein content, we add protein powder. But you can also replace this with normal flour.
The cake is baked in the classic way, in the oven at 180 °C (360 °F) air circulation for about 35 minutes. However, I recommend you to take a look at it from time to time, because we don't want to have a dried-out cake at the end!
After you took the cake out of the oven you should let it cool down a bit. I recommend a cooling time of about 30 minutes. After that you can dive right in! Now let's start with the recipe!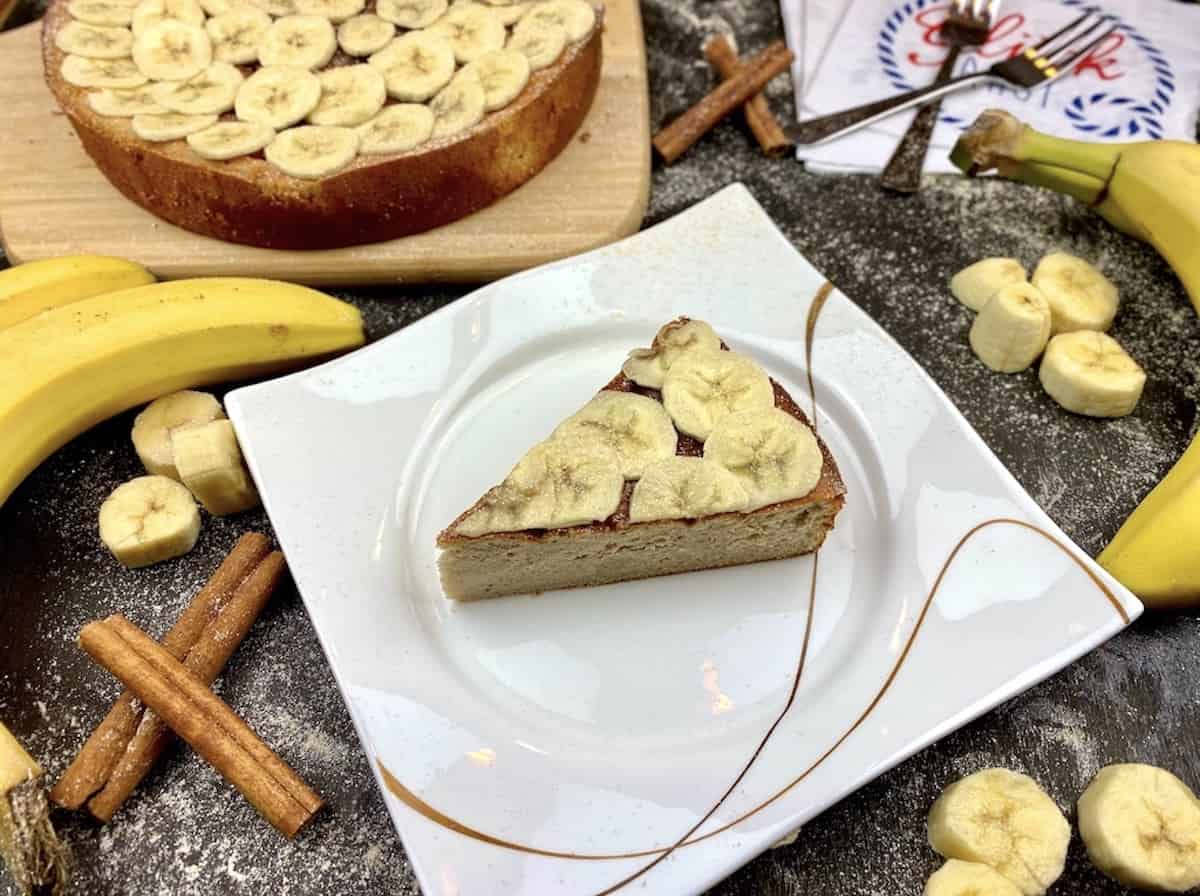 Making protein banana cake yourself has never been so easy. With this healthy banana cake recipe it's super light and fast! No sugar added.
Print
Save for later
Ingredients
150

g

egg whites

approx. 5 eggs

1

whole

egg(s)

4

ripe

bananas

approx. 500g

75

g

oatmeal

75

g

protein powder

Banana
Instructions
Preheat the oven to 180 °C.

Separate the egg and add egg whites to the egg whites.

Beat egg-whites till they are stiff.

Mash the bananas with a fork or mixer.

Add oatmeal and protein powder together with the egg yolk to the banana pulp and mix with a blender.

Place the finished mix in a lightly greased baking dish or silicone baking dish.

Bake the cake for about 35 minutes at 160-180 °C.
Nutrition
Calories:
145
kcal
|
Carbohydrates:
22
g
|
Protein:
12
g
|
Fat:
2
g
You want even more healthy banana cakes?
If you like bananas as much as I do. I can only recommend you to try my chocolate banana protein cheesecake! It is just as easy to prepare and has a lot more protein.
Your opinion about the healthy protein cake
That's it for my protein cake recipe! But I would be interested in your feedback on the cake! So if you tried it, I would be very happy about your feedback or photos.
Download the Fittastetic Fitness Recipes app now
You want this and other recipes for healthy weight loss, fast and easy on your phone? No problem, just download my free Fitness Recipes app.
Here you can find the Fittastetic Fitness Recipes app for iOS
Here you can find the Fittastetic Fitness Recipes for Android
You might also like