Apple Cinnamon Protein Oatmeal – Healthy Fitness Oatmeal Recipe!
Oatmeal is already really delicious, but protein oatmeal with apples and cinnamon taste even better! A healthy fitness oatmeal like this in the morning drives away hunger and worries!
You've never tried that before? Well, then you definitely have to try this incredibly delicious Fitness oatmeal with apple-cinnamon taste.
This is how I eat my healthy oatmeal: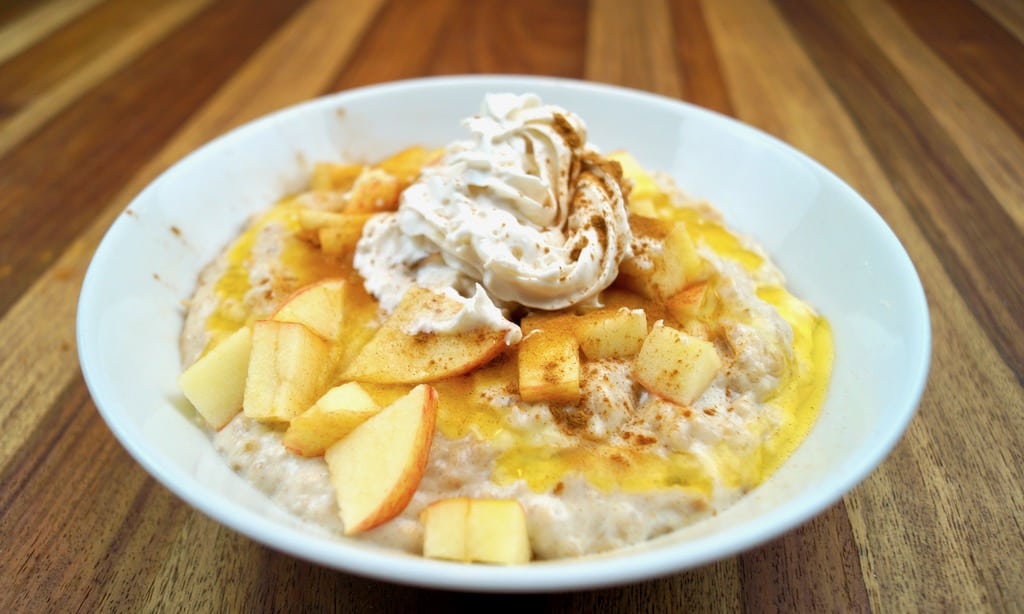 I personally love my delicious healthy porridge in the morning with a little zero-syrup and some extra cream. Just a little bit, but enough to provide that extra flair.
For the fitness effect, we add the Greek Yogurt to our classic oatmeal. This way you not only get a good carbohydrate supply, but also a tasty protein bowl. Just right for every fitness motivated person.
With more than 30g of protein, the porridge is also very rich in good protein and perfectly suited for every athlete.
But my protein porridge offers even more than that! Thanks to the micronutrients contained in apple and porridge, this porridge is also a real vitamin and mineral bomb. So super healthy!
But enough for now, let's start with the actual recipe.
The recipe for my fitness oatmeal:
Apple Cinnamon Fitness Oatmeal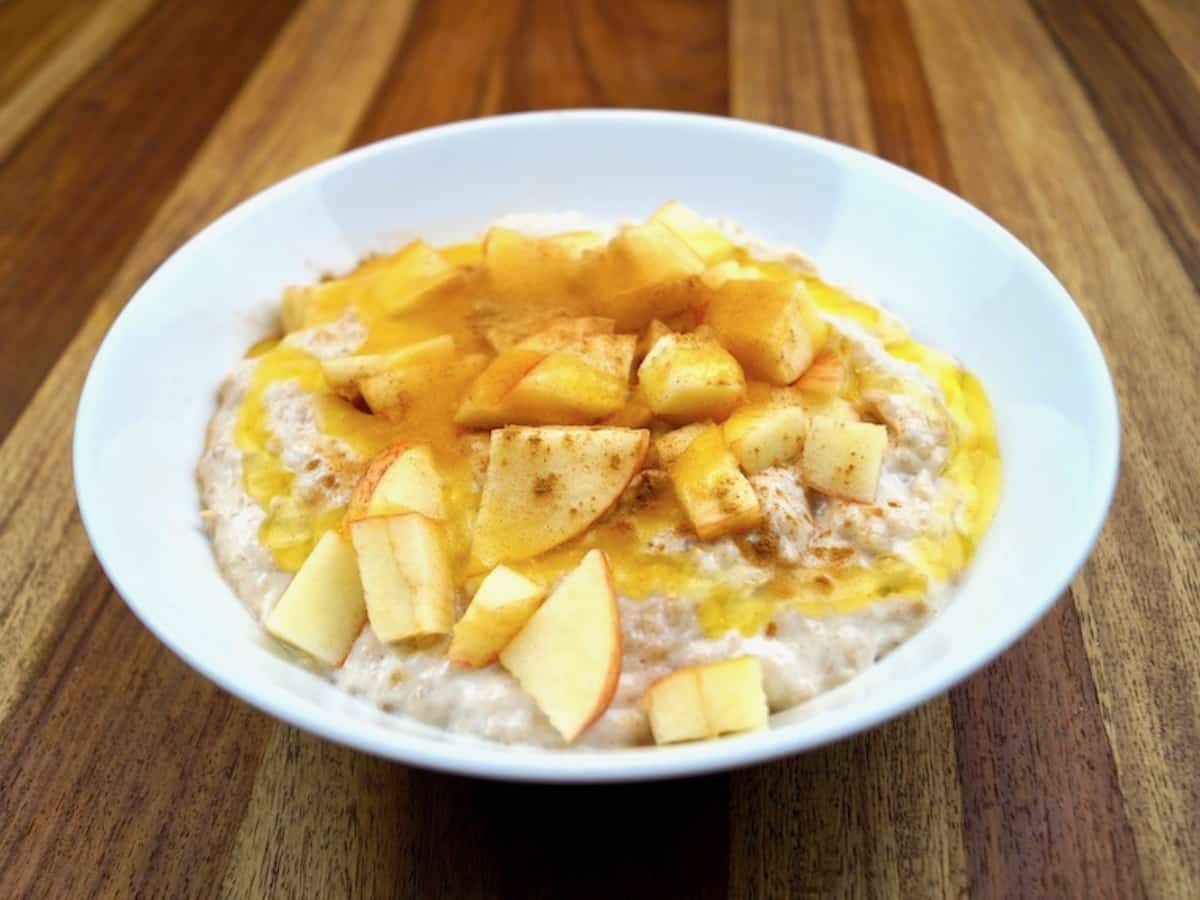 Oatmeal is already delicious, but protein oatmeal with apples and cinnamon tastes even better. My healthy fitness oatmeal.
Print
Save for later
Ingredients
1

whole

apple

200

g

Greek Yogurt (low fat)

50

g

oats

150

ml

water

1

pinch

cinnamon

optional

Sweetener

optional

Zero-Syrup
Instructions
Boil water for the oatmeal.

Add the oatmeal to the boiling water and cook for about 5-10 minutes (stir occasionally).

Mix 200g Greek Yogurt together with optionally some sweetener/flavdrops

Put oatmeal outside for about 10 minutes to cool.

Mix oatmeal and yogurt together in a bowl.

Cut the apple into small cubes and add to the porridge.

Decorate and enjoy with a little cinnamon and Zero Syrup if desired!
Nutrition
Calories:
389
kcal
|
Carbohydrates:
63
g
|
Protein:
31
g
|
Fat:
4
g
A recipe with many possibilities!
It probably goes without saying, but of course you can also make oatmeal with other fruits than apples! In my opinion, blueberries taste great in the Fitness oatmeal. So just try my healthy oatmeal recipe! Leave me feedback or your own variations of the recipe.
You want more protein porridge?
If you are a huge oatmeal fan, like me, I recommend you try my healthy oatmeal pudding.
Your opinion about this Apple Oatmeal Recipe
That's it for my easy fitness oatmeal recipe! However, I would be interested to know your feedback on the protein Oatmeal! So if you tried it, I'd love to receive your feedback or photos.
Download the Fittastetic Fitness Recipes app now
You want this and other recipes for healthy weight loss, fast and easy on your phone? No problem, just download my free Fitness Recipes app.
Here you can find the Fittastetic Fitness Recipes app for iOS
Here you can find the Fittastetic Fitness Recipes for Android
You might also like