Sweet potato cheesecake? That doesn't fit, do you think? Well, then let yourself be surprised! This sweet potato cheesecake recipe will blow you away!
Vanilla sweet potato cheesecake yourself!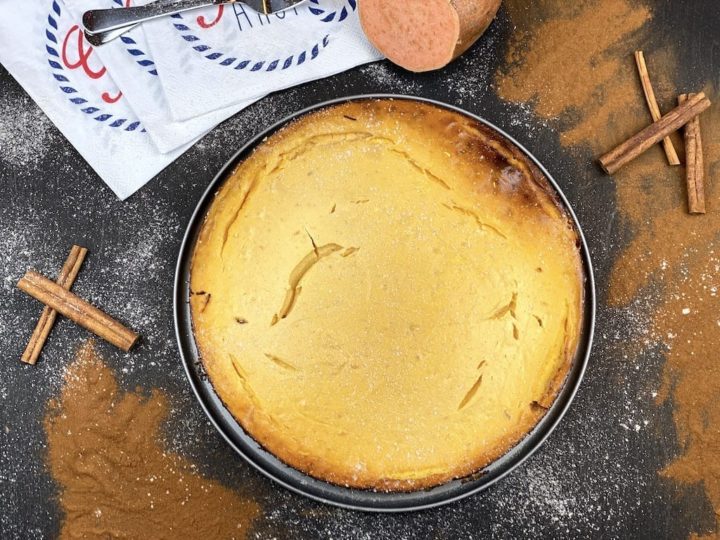 Finally, it's time for CHEESECAKE again! As you might already guess from the various cheesecake recipes on my blog, cheesecake is simply one of the best and lightest cakes on earth in my opinion! That's why there's a cheesecake of a special kind in this recipe.
Sweet potato cheesecake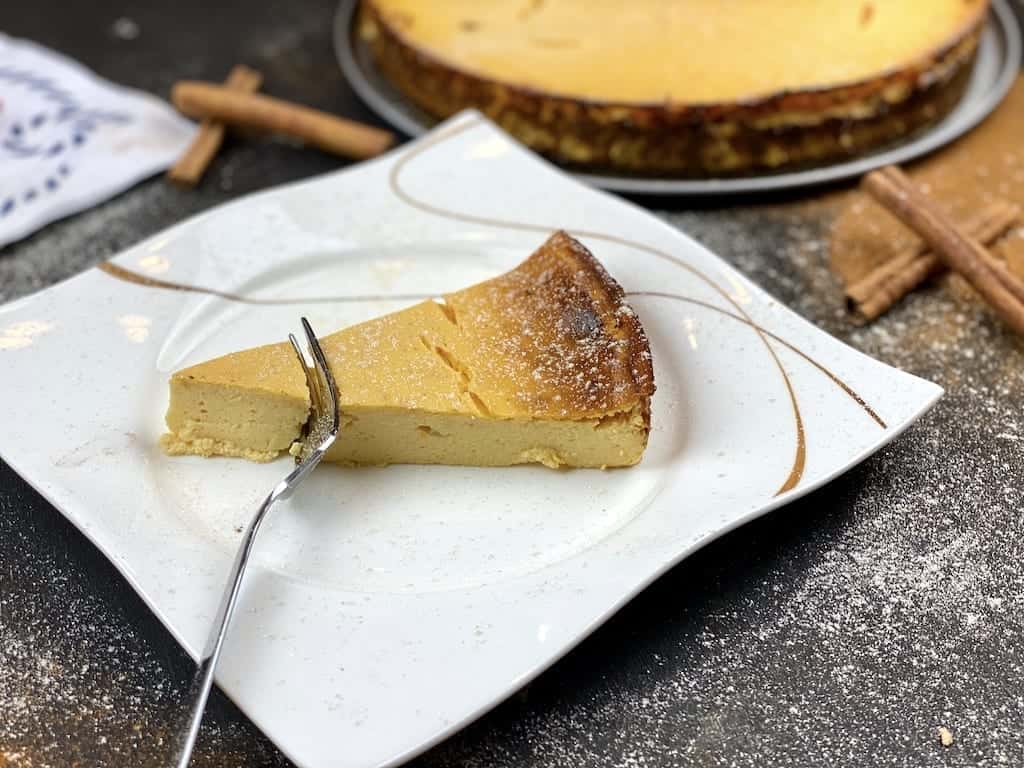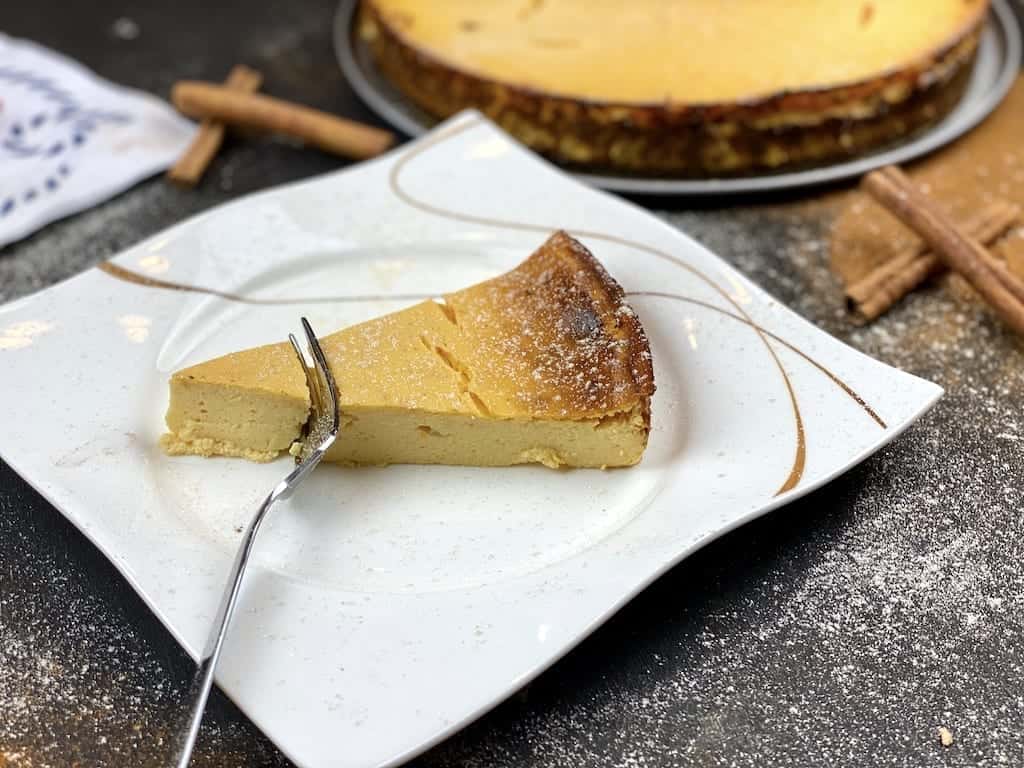 Sweet potato and cheesecake? That doesn't fit, you think? Let yourself be surprised! This sweet potato cheesecake recipe will blow you away!
Print Recipe
Pin Recipe
Ingredients
1050

g

Greek yogurt (low fat)

Vanilla

100

g

Cream cheese (low fat)

0.2%

50

g

Oatmeal

1

Pinch

Baking powder

1

Egg

250

g

Sweet potato

optional

Sweetener

e.g. Royal Flavour, Flavdrops
Instruction
Preheat the oven to 220 °C

Peel the sweet potato and wrap it in the damp paper towel

Place the sweet potato in the microwave for about 6-8 minutes until softly cooked.

Chop the cooked sweet potato with a blender and mix until it has a porridge-like consistency.

Add the Greek yogurt and oatmeal.

Add the egg and optional sweetener/flavdrops to the dough and continue mixing

Fill the dough into a suitable baking dish.

Bake the cake in the oven for about 20 minutes at 220 °C.

Set the oven down to 150 °C and leave to bake for another 20 minutes.

Let the cake cool down for at least 2 hours and enjoy it cold.
Nutrition Facts
Calories:
139
kcal
|
Carbohydrates:
17
g
|
Protein:
15
g
|
Fat:
2
g
---
More healthy cake recipes:
If you're looking for more ideas for a delicious cheesecake, then I can only recommend this super simple strawberry fitness cheesecake recipe. It has not only great nutritional values, but also a really tasty fresh strawberry taste! I'm also happy to have feedback or your own variations of the recipe.
Your opinion about the Sweet Potato Cheesecake
That's it to my healthy cheesecake! However, I would be interested to know your feedback on the fitness Cheesecake! So if you've tried this healthy Sweet Potato Cake recipe, I'd love to see your feedback or photos. Simply comment here or message me on Instagram at @fitnessrezepte_app.
You want this and other recipes for healthy weight loss, fast and easy on your phone? No problem, just download my free Fitness Recipes app.
Download the Fittastetic Fitness Recipes app now
Here you can find the Fittastetic Fitness Recipes app for iOS
Here you can find the Fittastetic Fitness recipes for Android
---
*The links with an asterisk are affiliate links where I am remunerated as an advertising agent by a small commission. There are no additional costs for you or any disadvantages, you just take some money out of Amazon's pocket and put it in mine, as long as you order via the link, seem legit.
Zuletzt Aktualisiert: