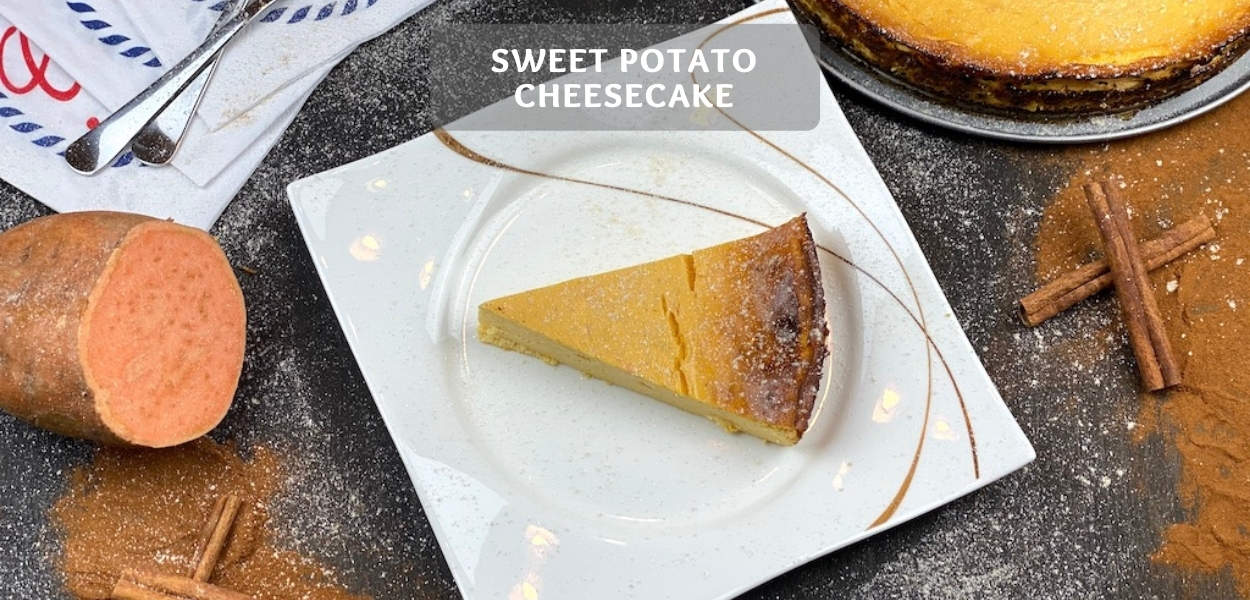 Sweet Potato Cheesecake Recipe – Healthy Sweet Potato Cake!
Sweet potato cheesecake seems odd? You must be surprised then! This healthy sweet potato cake recipe will blow your mind! Because this healthy cheesecake also works without sugar! My healthy sweet potato based cheesecake.
Healthy cheesecake without sugar!
Finally, it's CAKE time again! As you can probably guess from the various cake recipes on my blog, cheesecake is, in my opinion, one of the best and lightest cakes on earth! Since a lot of people still have difficulties to make a healthy cheesecake without sugar and a cake base, I started thinking: I must bake such a cake!
What makes this recipe so special is that we use actual sweet potatoes and no sugar for our cake. Adding the spelt flour ensures that the texture of the cake remains just right and juicy. Even if it may sound a bit strange at first, but believe me. This cake is simply super delicious! As you might have already guessed.
So let's start with the sweet potato cake right away.
Sweet potato cheesecake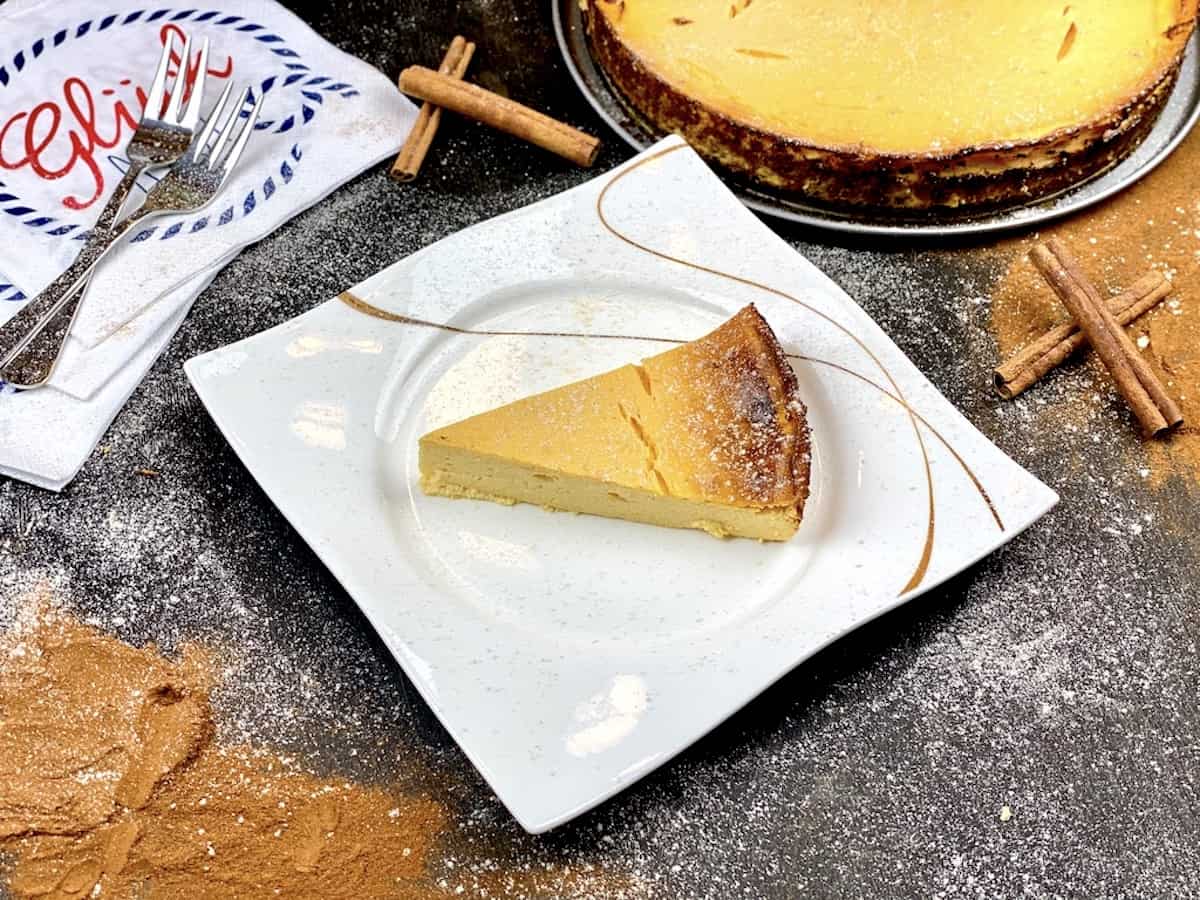 Sweet potato and cheesecake? A rather unusual combination you think? Let me surprise you then! This sweet potato cheesecake recipe will blow your mind!
Print
Save for later
Ingredients
1200

g

Greek yogurt (Low Fat)

Vanilla

50

g

spelt flour

1

egg(s)

250

g

sweet potato

optional

sweetener

e.g. Royal Flavour, Flavdrops
Instructions
Preheat the oven to 220 °C (430 °F).

Peel the sweet potato and wrap it in a damp paper towel.

Place the sweet potato in the microwave for about 6-8 minutes until they are softly cooked.

Put the cooked sweet potato in a blender and mix it until it has a porridge-like consistency.

Add the Greek yogurt and spelt flour.

Add the egg and optional sweetener/flavdrops to the dough and continue mixing.

Fill the dough into a suitable baking dish.

Bake the cake in the oven for about 20 minutes at 220 °C (430 °F).

Set the oven down to 150 °C (300 °F) and leave to bake for another 20 minutes.

Let the cake cool down for at least 2 hours and enjoy it cold.
Nutrition
Calories:
139
kcal
|
Carbohydrates:
17
g
|
Protein:
15
g
|
Fat:
2
g
---
My tip for the perfect cheesecake:
Personally, I find such a healthy cheesecake is best served with a delicious protein smoothie or after a healthy dinner, making you feel healthy and full. It's perfect during the cooling time. I recommend to let the cake cool down for at least 2-3 hours to get the perfect consistency.
If you're also looking for more cake recipes, have a look here!
More to this recipe:
Since I am often asked why I don't put eggs in the cheesecake, I decided to write a little addendum to the recipe regarding eggs.
Of course you can also put eggs in the cheesecake. I for one have simply made the experience that eggs are not a necessity for baking. But since eggs would add a lot of calories I deliberately did not add eggs, of course you can do that anyway. But when baking it with eggs you should leave it in the oven a little longer.
Greek Yogurt or Skyr?
For all those who prefer to use Greek Yogurt instead of Skyr, I recommend replacing Skyr with Greek Yogurt in the ratio of 1:1. That is e.g. 100g of Greek Yogurt for 100g of Skry. This way the cake will however have a little more calories. The baking process won't differ though.
Not yet convinced by the recipe?
If you're looking for even more ideas for a delicious cheesecake, then I can only recommend this super simple strawberry fitness cheesecake recipe. It not only has great nutritional values, but also a delicious fresh strawberry taste!
Your opinion about the Sweet Potato Cheesecake
That's it for my healthy cheesecake! As always, I would be interested to receive your feedback on the fitness Cheesecake! So if you've tried this healthy Sweet Potato Cake recipe, I'd love to see your feedback, photos or variations of your own cheesecake. Simply comment here or message me on Instagram at @fitnessrezepte_app.
You want this and other recipes for healthy weight loss, fast and easy on your phone? No problem, just download my free Fitness Recipes app.
Download the Fittastetic Fitness Recipes app now
Here you can find the Fittastetic Fitness Recipes app for iOS
Here you can find the Fittastetic Fitness recipes for Android
You might also like