Strawberry Fitness cheesecake, made easy! In this article I will introduce you to my Healthy Strawberry Fitness cake recipe. For the recipe of the cheesecake you don't need any special ingredients or other gadgets. All you need is a little protein powder, strawberries and Greek Yoghurt!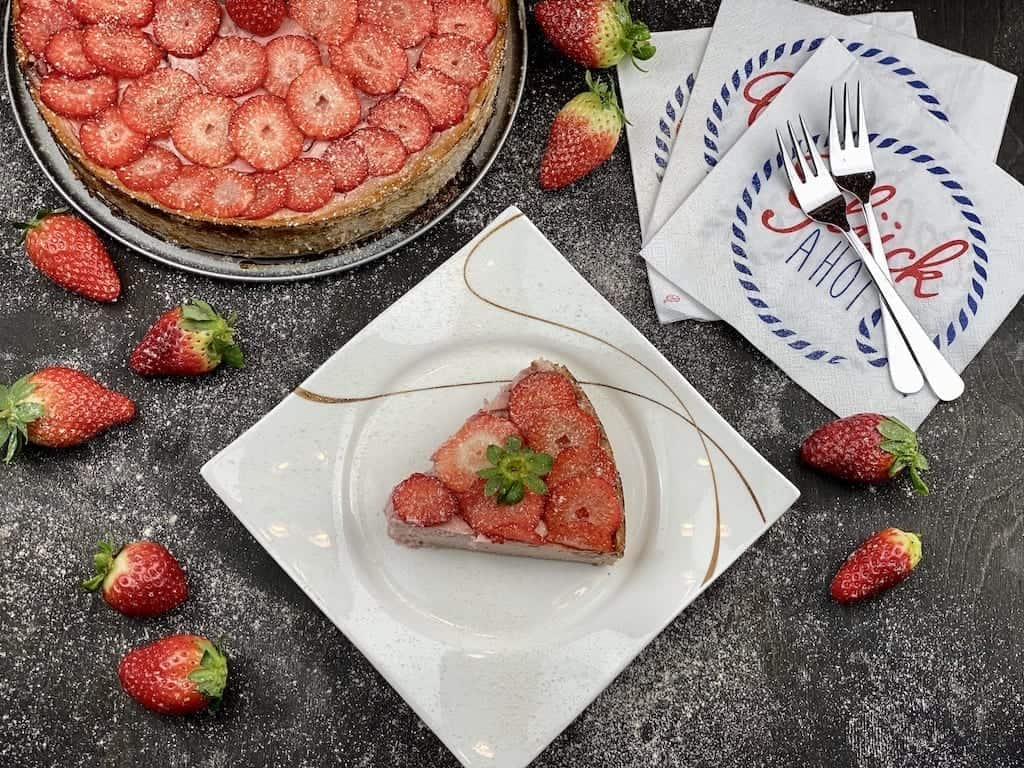 The finished strawberry cheesecake is also very rich in protein and low in fat, with a total of just under 1,200calories and just under 170g of protein. Which makes this fitness cake just too perfect as a post-workout dessert. I mean, who doesn't love a nice piece of cheesecake after a strenuous workout?
Make healthy cheesecake yourself!
Strawberry Fitness Cheesecake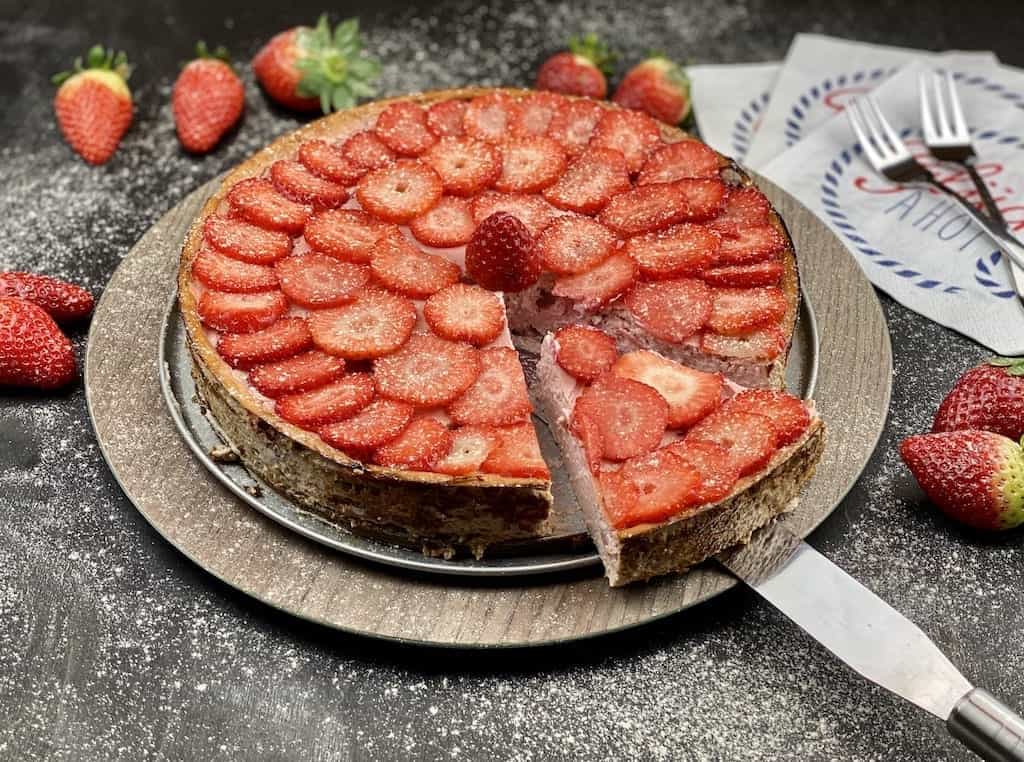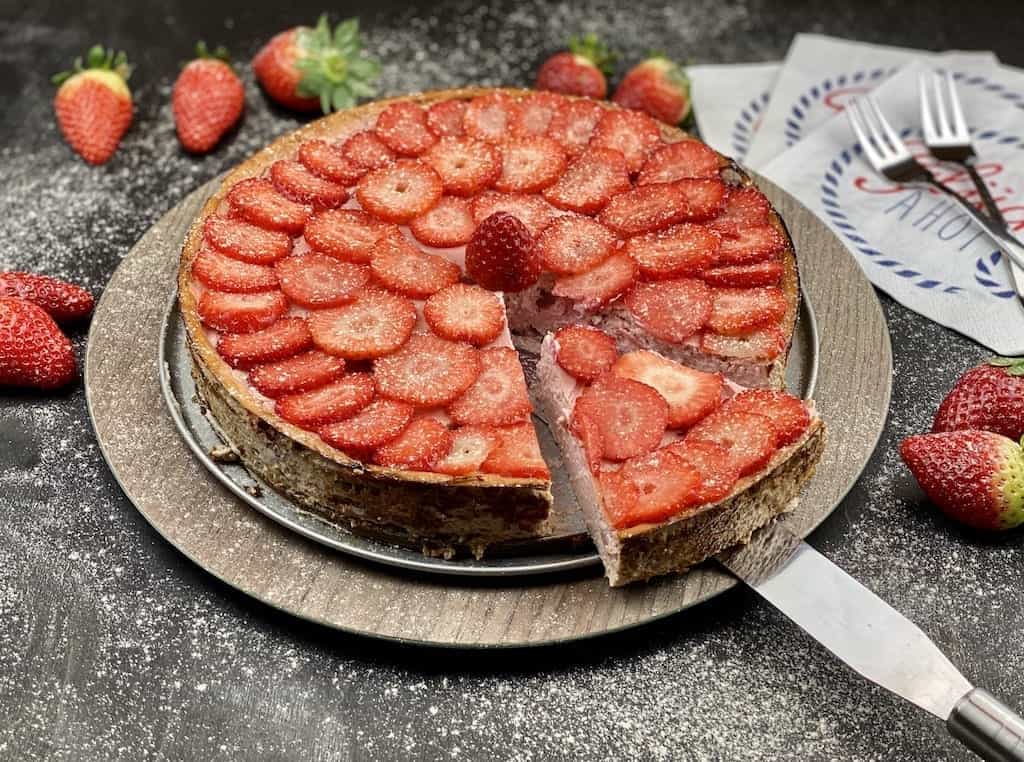 My healthy Strawberry Fitness cheesecake recipe made easy yourself! With more than 170g protein and very little fat. #Proteincake
Print Recipe
Pin Recipe
Ingredients
1400

g

Greek Yogurt (low fat)

Strawberry

60

g

Protein powder

Strawberry

2

whole

Eggs

400

g

Strawberries
Instruction
Preheat the oven to 220 °C.

Mix Greek yogurt together with the protein powder.

Add eggs to the dough and continue mixing.

Cut strawberries into small pieces and add slowly. (Leave a few strawberries for decoration).

Fill the dough in a suitable baking dish.

Bake the cake in the oven for about 20 minutes at 220 °C.

Set the oven down to 150 °C and leave to bake for another 20 minutes.

Remove the cake from the oven, allow to cool down and decorate with the remaining strawberries.

Then let the cake cool down in the fridge for at least two hours before eating.
Nutrition Facts
Calories:
156
kcal
|
Carbohydrates:
12
g
|
Protein:
16
g
|
Fat:
1
g
---
Of course, this recipe can also be varied with other fruit varieties, as I did for example for my protein banana cheesecake! But enough of the words. Try my Strawberry Fitness cheesecake recipe yourself. I'm also happy to have feedback or your own variations of the recipe.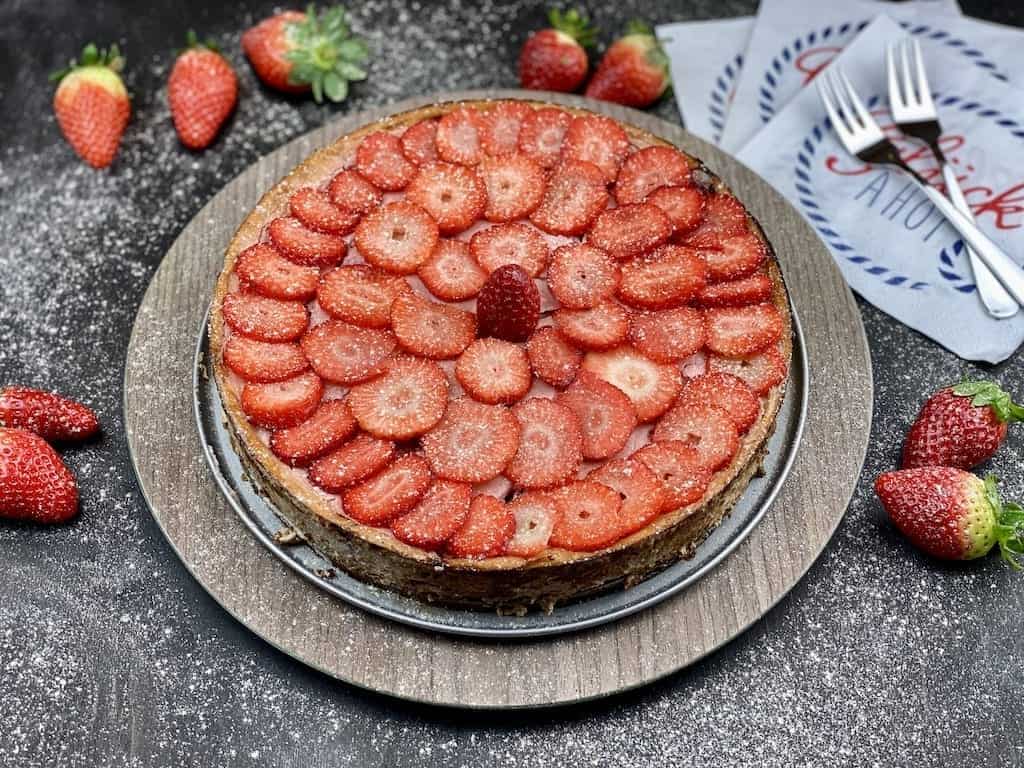 ---
Related Recipes:
You want this and other recipes for healthy weight loss, fast and easy on your phone? No problem, just download my free Fitness Recipes app.
AD:


Download the Fittastetic Fitness Recipes app now
Here you can find the Fittastetic Fitness Recipes app for iOS
Here you can find the Fittastetic Fitness recipes for Android
*The links with an asterisk are affiliate links where I am remunerated as an advertising agent by a small commission. There are no additional costs for you or disadvantages. You just take some money out of Amazon's pocket and put it in mine, as far as you order via the link.
Last edit: