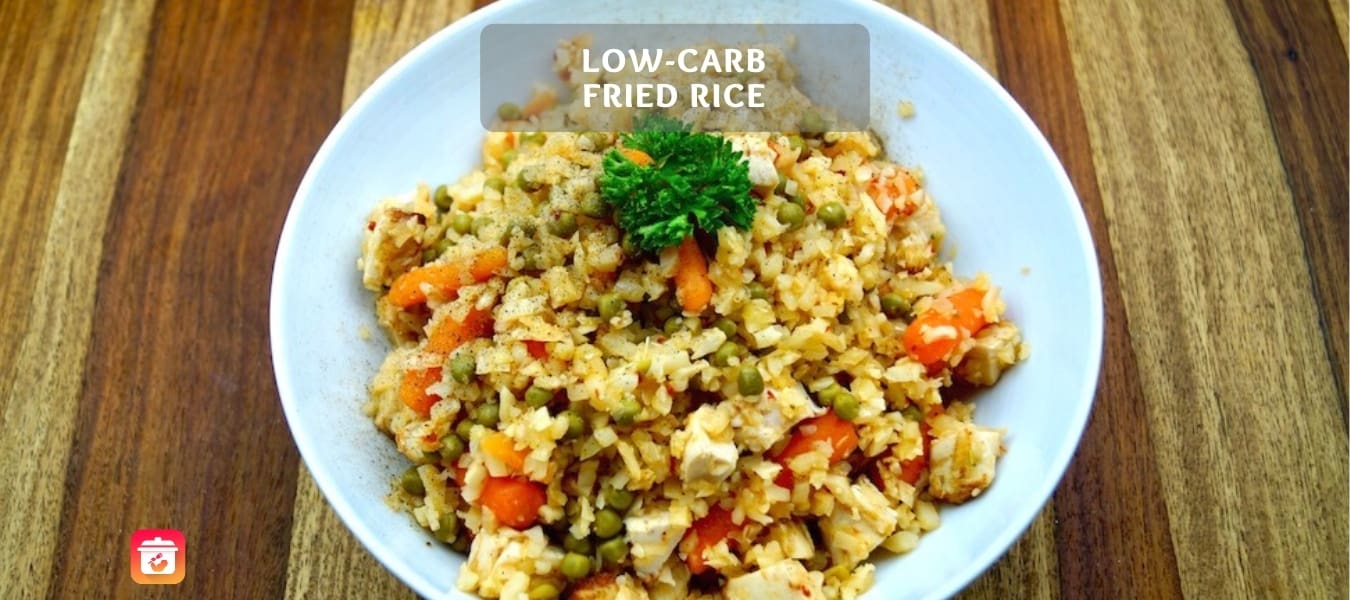 Low-Carb Fried Rice – Healthy Low-Carb Rice Recipe

Low-carb fried rice, yes that really exists! Some of you may have already figured that in this recipe you can hardly use normal rice. Because rice has just a lot of carbohydrates.
But with a small trick, which you may already know from my low-carb rice pudding recipe, we create a healthy low-carb rice alternative. And this is with the help of cauliflower! Yes, exactly cauliflower rice as a low-carb rice alternative.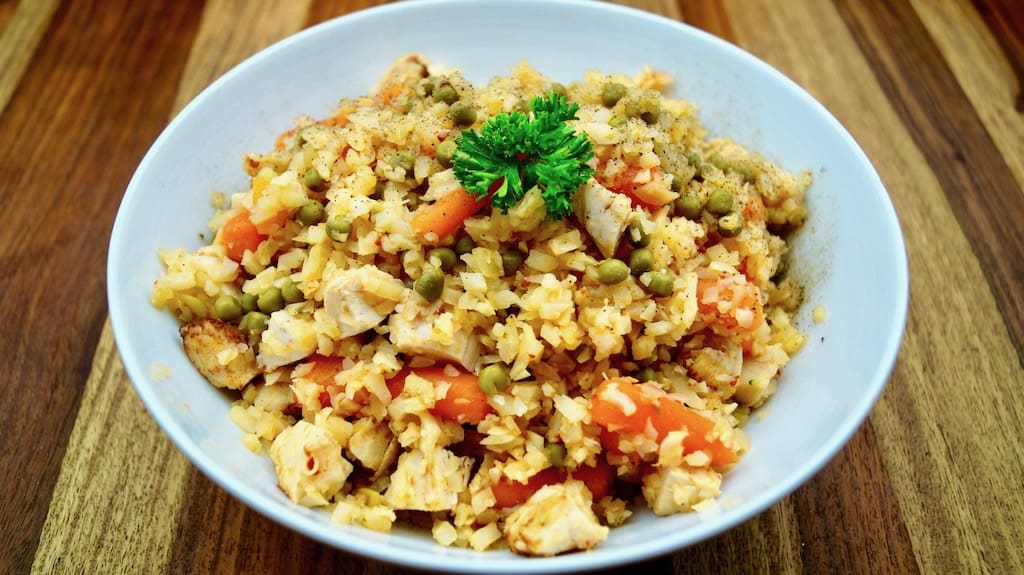 Low Carb fried rice
Since my Low-Carb Bolognese recipe was so well received here, I thought we should make a second Low-Carb recipe. My low-carb fried rice recipe. If you have never tried low-carb rice before, I definitely recommend you to try this recipe! I also use it in my healthy Low-Carb Fitness recipe.
The recipe for the low-carb fried rice:
Low-Carb fried rice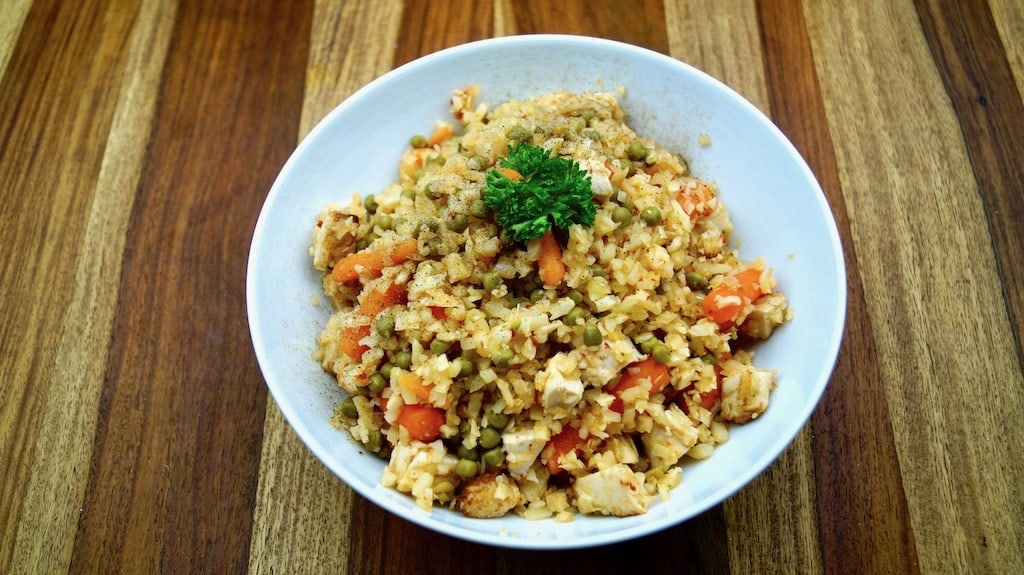 Low-carb fried rice. Healthy low-carb rice recipe. My low-carb fried rice recipe. You must try this low-carb recipe!
Print
Save for later
Ingredients
400

g

cauliflower

150

g

chicken filet

100

g

carrots

100

g

peas

1

shallot

0.5

bunch

parsley

1

tbsp.

rapeseed oil

1

tbsp.

ginger

1

clove(s)

garlic

1

tbsp.

pepper

1

tbsp.

paprika powder

1

tbsp.

turmeric

1

tsp.

salt
Instructions
Boil water.

Wash the cauliflower and boil it in salted water for about 5 minutes.

Dry the cooked cauliflower a little bit with a kitchen towel and cut it into florets.

Now add the individual florets with a Veggie Ricer or in a mixer/food processor and crush them with the Pulse function.

Cook the carrots and peas briefly in boiling water.

Finely chop the ginger, parsley and garlic clove.

Heat the oil in a pan and fry the ginger and garlic.

Cut the meat and shallot into small pieces, add to the spices in the pan and fry briefly (2-3 minutes).

Now add the peas, carrots, cauliflower rice and the remaining spices.

Fry for 5-6 minutes, stirring occasionally.

Decorate with some parsley and serve.
Notes
⟩ I have used this
Veggie Ricer *.
⟩ Tipp: If you don't want to make the cauliflower rice yourself, don't be worried because most grocery stores have frozen cauliflower rice in the frozen food section.
---
*The links marked with an asterisk are affiliate links.
Nutrition
Calories:
261
kcal
|
Carbohydrates:
16
g
|
Protein:
27
g
|
Fat:
7
g
Your opinion about the low-carb rice recipe
That's it for my low-carb fried rice! But I would be interested in your feedback on the healthy fried rice! If you have tried it, I would be very happy about your feedback or photos. You can leave me a comment here or just contact me on Instagramm: @fitnessrezepte_app.
Download the Fittastetic Fitness Recipes app now
You want this and other recipes for healthy weight loss, fast and easy on your phone? No problem, just download my free Fitness Recipes app.
Here you can find the Fittastetic Fitness Recipes app for iOS
Here you can find the Fittastetic Fitness recipes for Android
You might also like