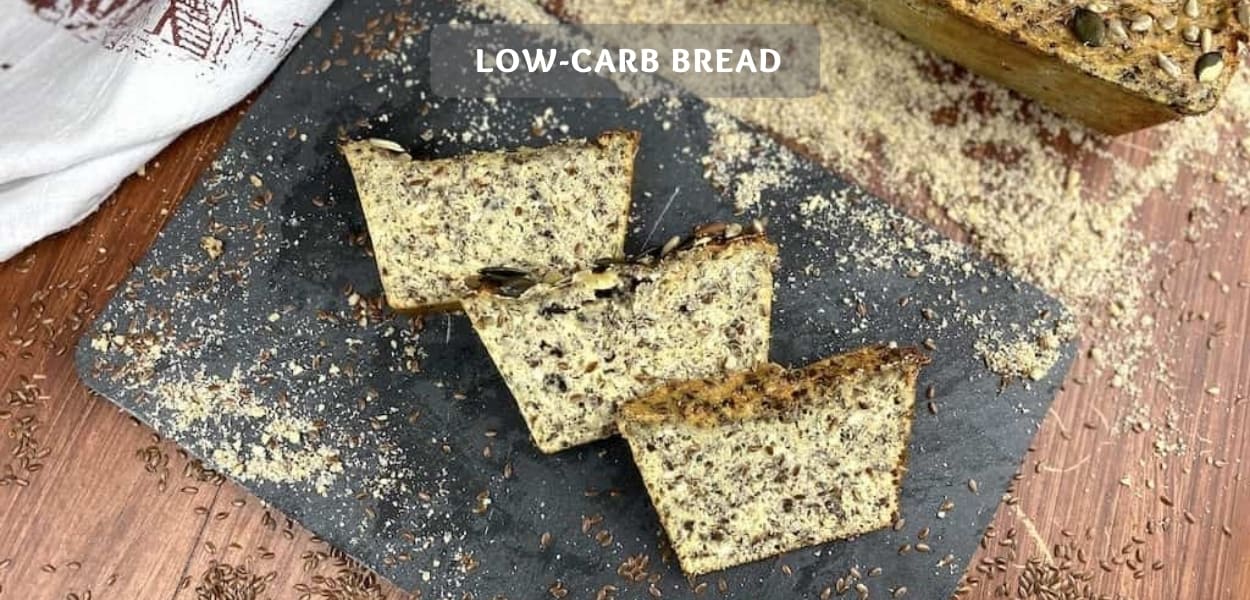 The Number #1 Low-Carb Bread – Healthy Low Carb Protein Bread Recipe
My recipe for the best low carb protein bread you will ever eat: My number #1 low carb bread recipe.
Today I'll introduce you a super easy recipe for a healthy protein bread that does not contain any flour at all! A low carbohydrate bread for your breakfast, lunch or dinner.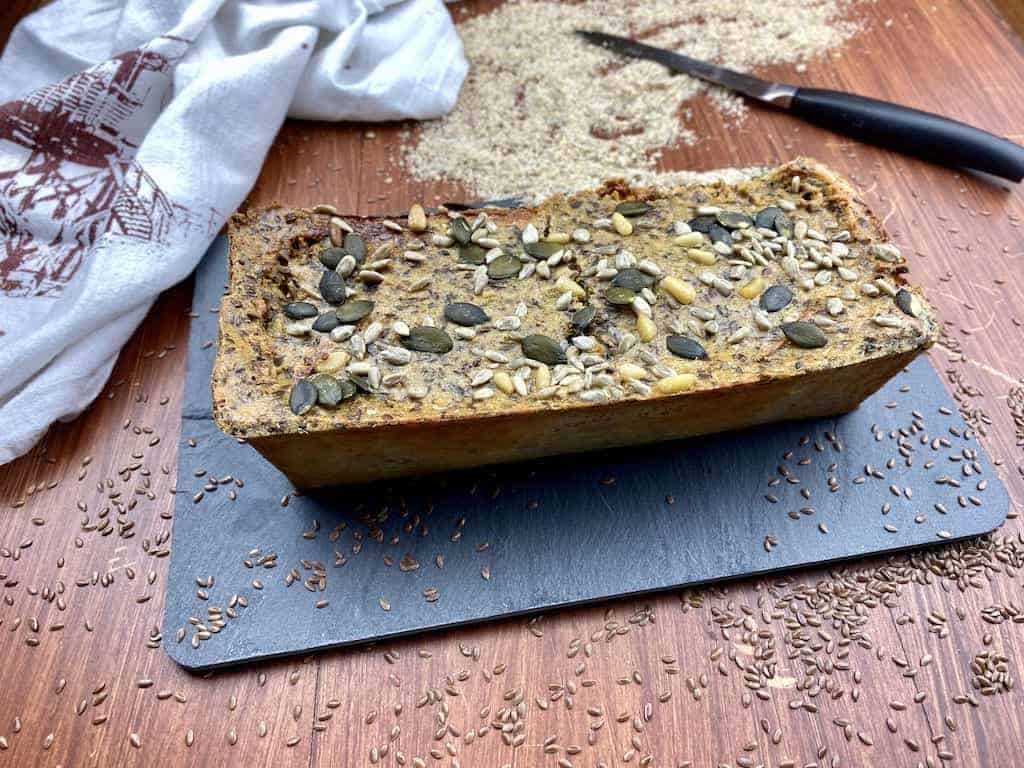 The Story behind this recipe
The supermarkets show a clear picture: protein bread is becoming more and more popular! Meanwhile you can buy it in almost all supermarkets and for a good reason! Protein bread only has a few carbohydrates, but a lot of protein. Since protein is a way to lose weight for many people, many supermarkets offer it, as a kind of weight-loss product for a healthy breakfast.
Unfortunately, the bread available in grocery stores does not really live up to its promise. Because protein bread from the supermarket often contains significantly more calories than regular bread. As a result, many people who live exclusively on it tend to gain weight rather than lose it. As a result, the reputation of reduced bread as a carbohydrate suffers.
Homemade protein bread
Now most people will probably think: No thanks, I'd rather take normal bread then. But this is exactly what I want to avoid with this recipe! Because there is a serious difference between bought and homemade bread! All those of you who have ever baked bread themselves will agree with this!
With the right recipe, the low carb alternative is really healthy and delicious. At the same time, protein bread keeps you full much longer, so you will eat less!
My promise to you: With my healthy low-carb protein bread recipe, you will not only create a healthy and low-carb bread! At the same time you will get a bread with fewer calories than anything you can get in the shops! Just the number #1 low carb bread!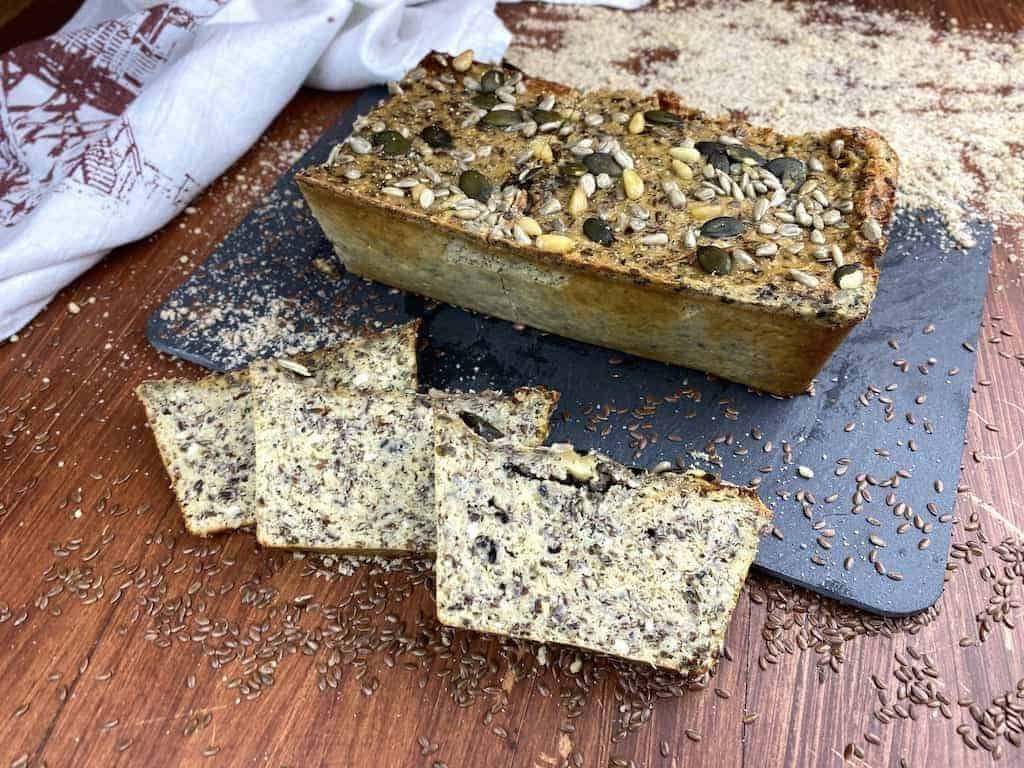 The recipe for the healthy low-carb bread!
As already mentioned, this recipe does not require any flour at all. Therefore we need some other ingredients. We will need: quark, eggs, ground hazelnuts, ground linseeds, oat bran, salt and some baking powder. As a topping we need a few salad seeds and that's it. You've already got your self-baked low-carb protein bread!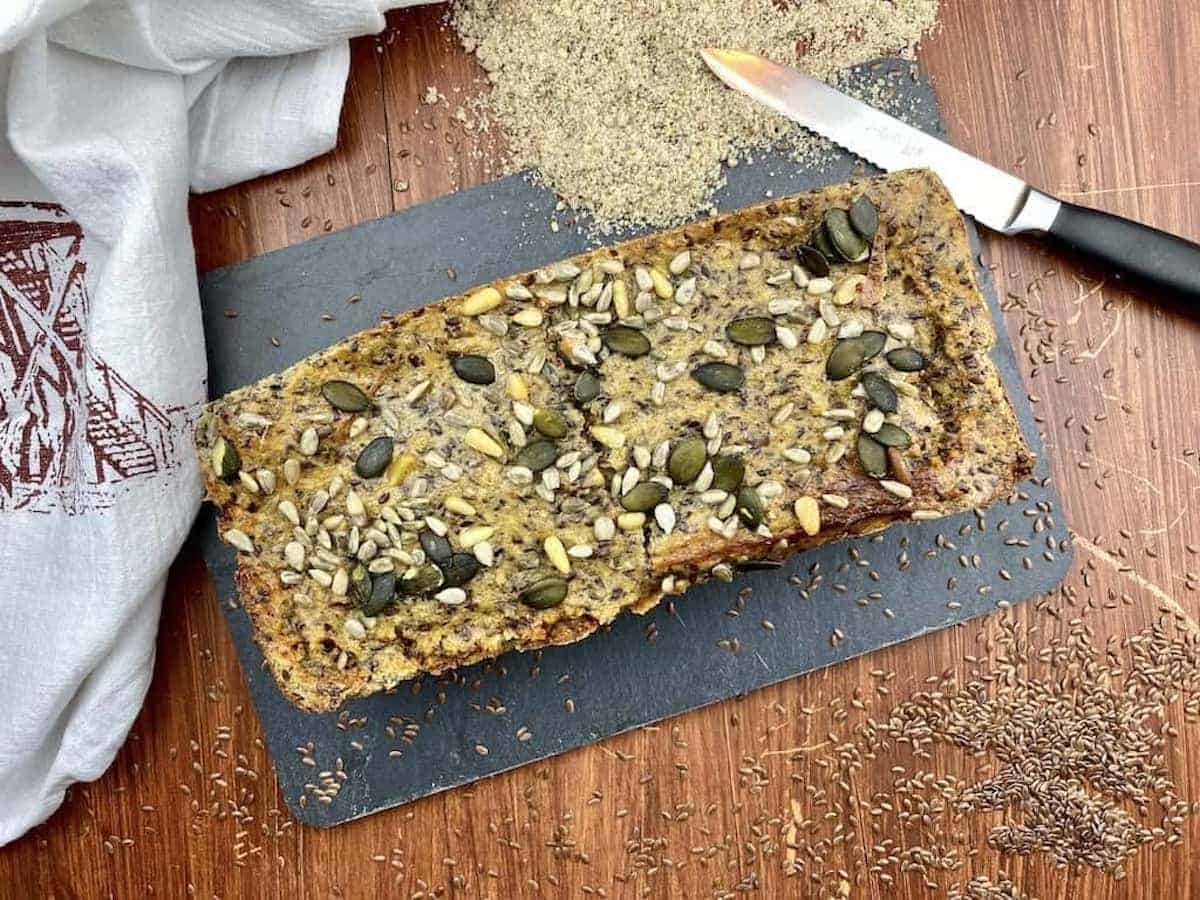 The best low-carb bread that's out there: My number #1 low-carb protein bread recipe. The recipe for a healthy low-carb bread, without flour! #lowcarb
Print
Save for later
Ingredients
300

g

Greek yogurt

4

Medium

eggs

4

eggwhites

100

g

hazelnuts (ground)

100

g

flaxseed (scraped)

65

g

oat bran

1

pck.

baking powder

1

tsp.

salt

15

g

salad seeds mix
Instructions
Preheat the oven to 160 °C. (320 °F)

Mix the greek yogurt, eggs and baking powder well in a bowl with the hand stirrer, then add the other ingredients and stir it again well.

Put the mixture in a silicone bread baking dish or a slightly greased baking dish.

Sprinkle with the salad seeds and bake in the oven at 160 °C for at least 100 minutes.

Remove the finished bread and leave to cool.
Notes
Info: The recipe is for a bread weighing about 950g and the nutritional values refer to a 47.5g slice (20 slices in total)
Tip: The finished bread should be kept in the refrigerator in a non-closed bag. It can also be frozen well.
"I used this salad kernel mix *
"This baking dish, I use *
---
* The links provided with an asterisk are affiliate links.
Nutrition
Calories:
106
kcal
|
Carbohydrates:
3
g
|
Protein:
7
g
|
Fat:
7
g
That's it with my low-carb bread recipe. I hope that I was able to take away some of your fear of the evil protein bread. Because the low carbohydrate bread alternative is just too tasty and healthy for that.
Personally I love to eat my bread with some cream cheese and fresh herbs for dinner. And of course there is always a pair of healthy snacks to go with it, like a delicious Bruschetta bread spread or some nuts.
FAQ's:
Does low-carb bread make you gain weight?
A comparative test of the consumer center shows, that most protein breads have a calorie content of about 265 calories per 100 grams, this is 20% higher than conventional multigrain bread. In addition, the fat content in bread was three to ten times higher than in normal bread. However, this does not mean that low carb bread makes you fat. Because low carb bread also makes you full much longer due to the fat content.
Does protein bread keep you satiated longer?
Thanks to the high protein content in bread, protein bread usually fills you up longer. However, I think that it varies from person to person, so I recommend that you just try a homemade protein bread yourself and see how it tastes and if it will keep you satiated longer!
What is Low-Carb?
Low Carb stands for a type of diet where you try to eat less carbohydrates. In general, a low carbohydrate diet (low carb) is considered a good way to reduce overweight. For this reason, most people also see low carb as a diet or synonym for losing weight. That's why delicious low-carb meals are the perfect recipe for losing weight.
What is a Low-Carb Bread?
Low Carb Bread is bread that provides less carbohydrates than regular bread. Most of the time these breads are made without flour and contain more fat and more protein, which is why they are often called protein breads.
Does protein contain a lot of carbs?
In general, protein bread has relatively few carbohydrates compared to normal bread, as greek yogurt or nuts are often added to the dough instead of flour.
Your opinion about the protein bread recipe
I bet that the protein alone will keep you full longer. But the high fat content will also ensure that you will be full longer. I would be interested to hear what your experiences are like. Tell us what you're thinking by writing a comment here. Alternatively you can also write me on Instagram. (@fitnessrezepte_app.)
My recipes app
You want this and other recipes for healthy weight loss, fast and easy on your phone? No problem, just download my free Fitness Recipes app.
Here you can find the Fittastetic Fitness Recipes app for iOS
Here you can find the Fittastetic Fitness recipes for Android
You might also like