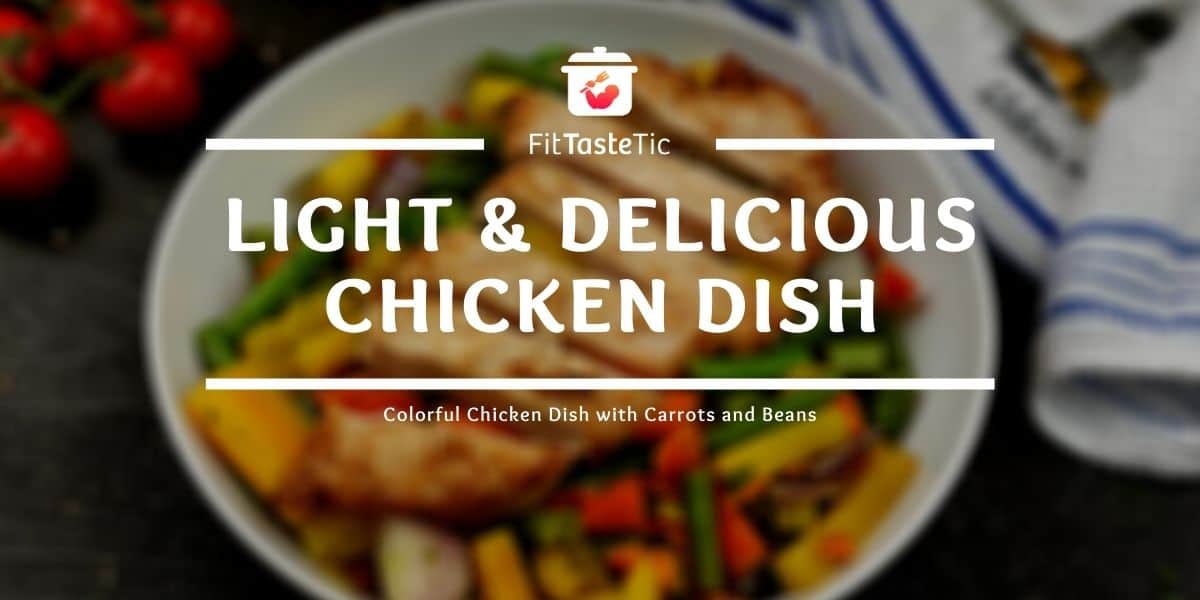 Light & Delicious Chicken Dish: Colorful Chicken
Today there is a really delicious chicken dish. My latest creation: Chicken motley. That not only sounds super funny and varied, it is also really healthy and low in calories. So similar to my vegetable pan for weight loss. Perfect for the diet.
But, even outside of a diet, I love to pay attention to the calories every now and then. Eating too much is no fun at all, especially in the heat. Since we've posted a lot of vegetarian recipes here on the blog lately, I thought it would be time for a recipe with chicken.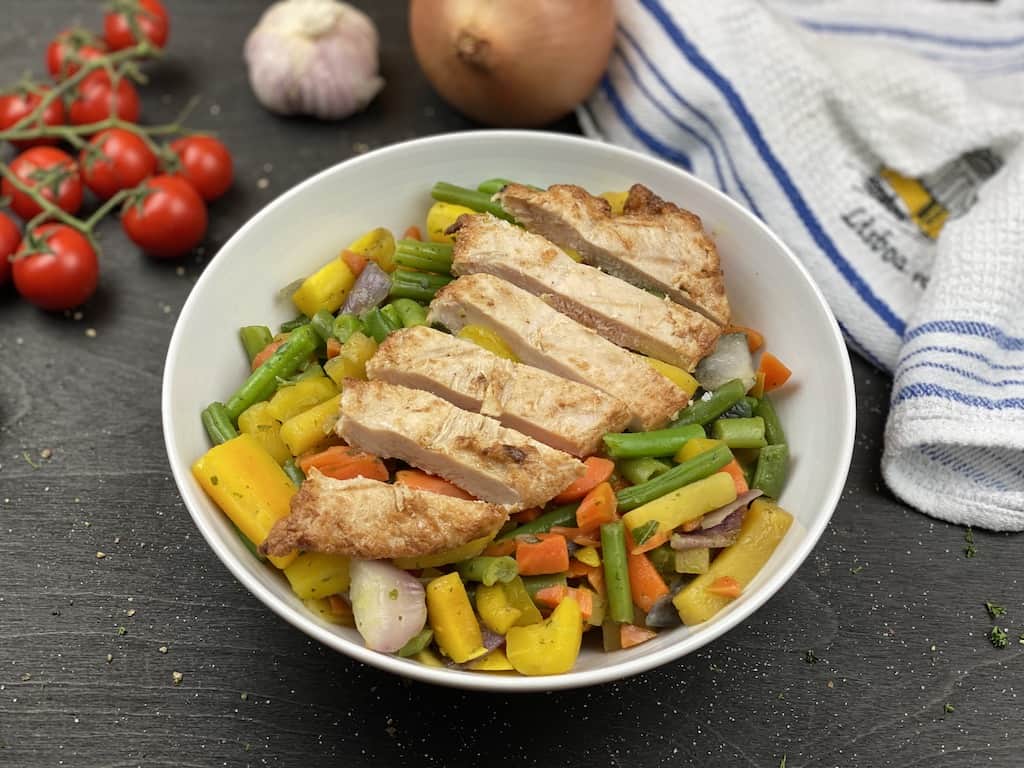 Even if I am firmly convinced that we should be careful with our meat consumption. Specially about the quality of the meat. I am nonetheless a real chicken fan. For all of you who are screaming out now and saying oh god, I recommend you to try my veggie stir-fry instead.
But I keep talking too much about myself. You are definitely there because of the court and not to find out more about me. So let's get started.
Chicken with carrots and beans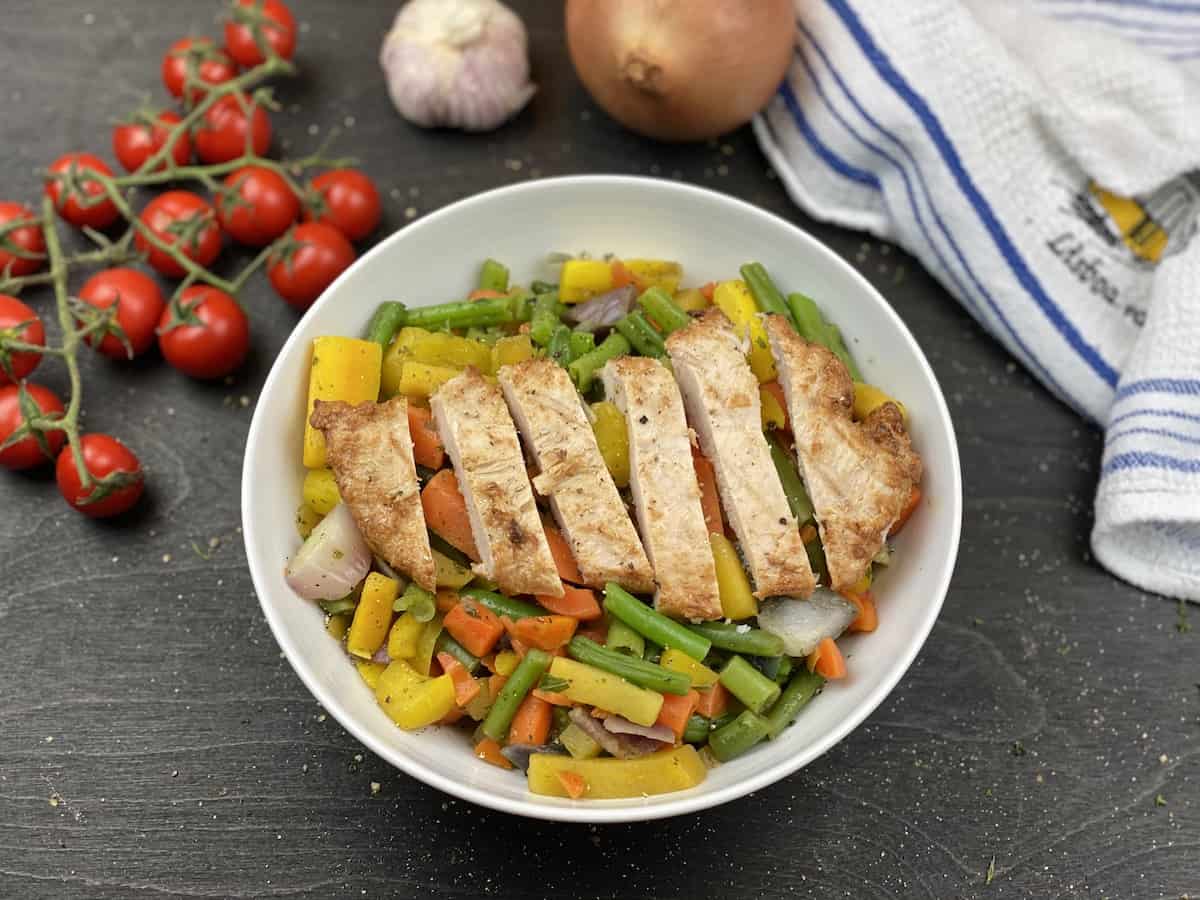 My favorite recipe when you want it to be quick and tasty. This healthy chicken dish impresses with its extreme elegance and excellent taste. Simply add some carrots, onions and green Beans and your good to go. So try it out now!
Print
Save for later
Ingredients
200

g

onion

400

g

carrots

colored if possible

200

g

green beans

250

g

of chicken

1

clove

garlic

1

teaspoon

butter

1

tbsp.

pepper

1

pinch

Salt
Instructions
Cut the carrots and runner beans into small pieces and cook in a saucepan (for about 10 minutes).

Heat the butter in a pan.

Fry the chicken in the pan until it is golden brown. Then the best place on a plate and cover.

Cut the onions into small pieces and leave for 2-3 min. Sear them together with the garlic.

Now add the carrots and beans, add salt and pepper, and heat briefly.

Then just cut the chicken into slices, spread over it, and enjoy.
Notes
Tip: The whole thing looks best when you use yellow and orange carrots, as shown in the picture. But that doesn't change the taste.
⟩ I used this Garlic Cutter* to cut Garlic
* The links marked with an asterisk are affiliate links.
Nutrition
Calories:
270
kcal
|
Carbohydrates:
5
g
|
Protein:
30
g
|
Fat:
7
g
My tip about the recipe:
Personally, after I've seared it, I always like to put the chicken in a saucepan and keep it warm. Otherwise, you can also fry the chicken directly with the onions and garlic and not take it out at all. I actually only do that for the eye. That doesn't change the taste.
Your opinion on the chicken motley recipe
That's it again! As always, I would be interested in your feedback! So try it out, take a photo and let me know how you liked it. It's best to do that here as a comment or directly on Instagram (@fitnessrezepte_app).
My own recipe app
Receive healthy recipes directly on your mobile phone for free! You want this and other healthy recipes, quickly and easily on your mobile phone? No problem, just download my free healthy recipe app.
The Fittastetic Fitness Recipe App for iOS
You might also like