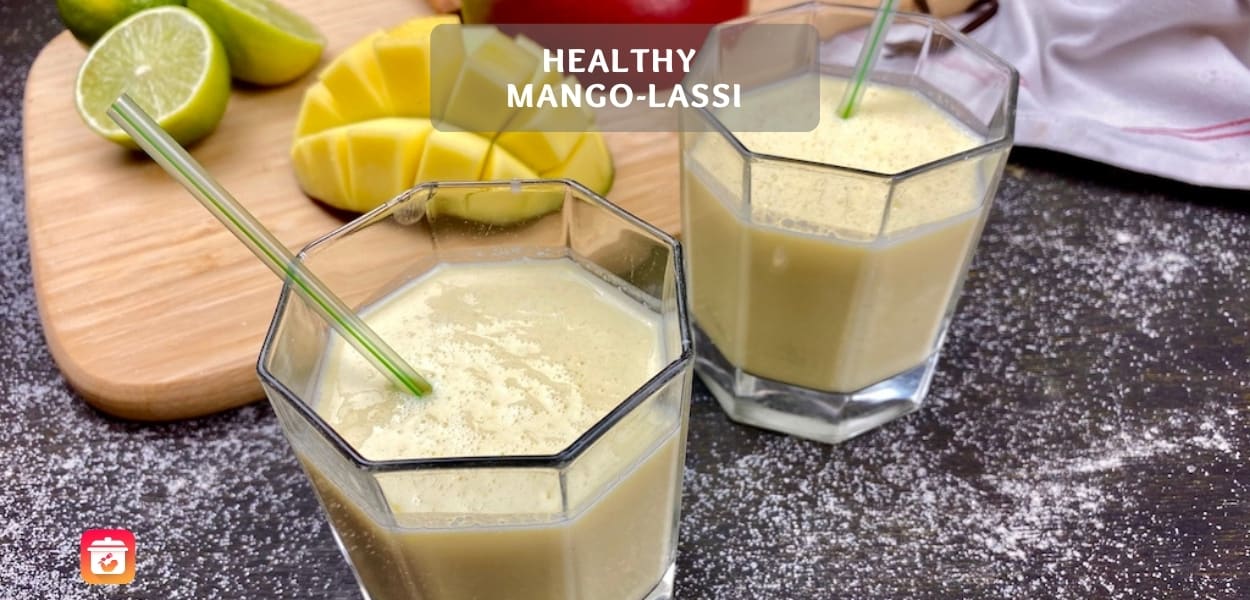 Healthy Mango-Lassi – Make your own refreshing Lassi
Today I prepared something special for you. My Healthy Mango-Lassi. The perfect summer smoothie for a little refreshment on a hot summer day. A Lassi with Mango, Greek Yogurt, Lime, and Cinnamon.
Obviously this Lassi isn't limited to a sweet and refreshing summer drink. I personally love to drink a nice Lassi around Christmastime and especially around new years, since it's filled with a lot of good vitamins. Which makes me feel just a little healthier. Especially after lots of cakes and cookies around Christmas.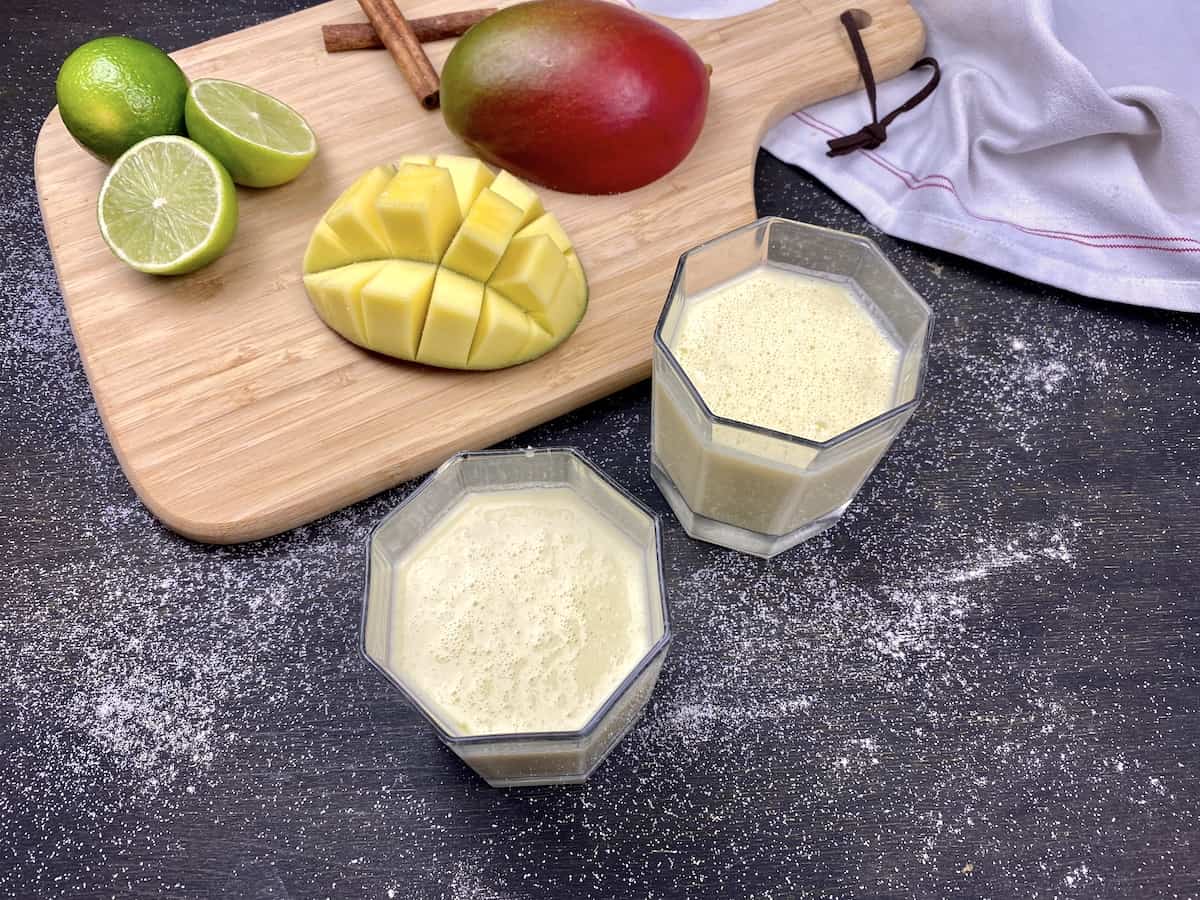 I thought that, since summer is coming soon and we all want to start eating a little better these days, it was just the right time for another smoothie.
But since we already have a blueberry smoothie, a kiwi-banana smoothie, and a strawberry smoothie, I wanted to try something with Mango.
But quickly it occurred to me: Actually, a Lassi goes much better with a mango than a smoothie. So this recipe turned out to become a Lassi recipe.
But I'm talking too much again, let's get started with the recipe.
Healthy Mango-Lassi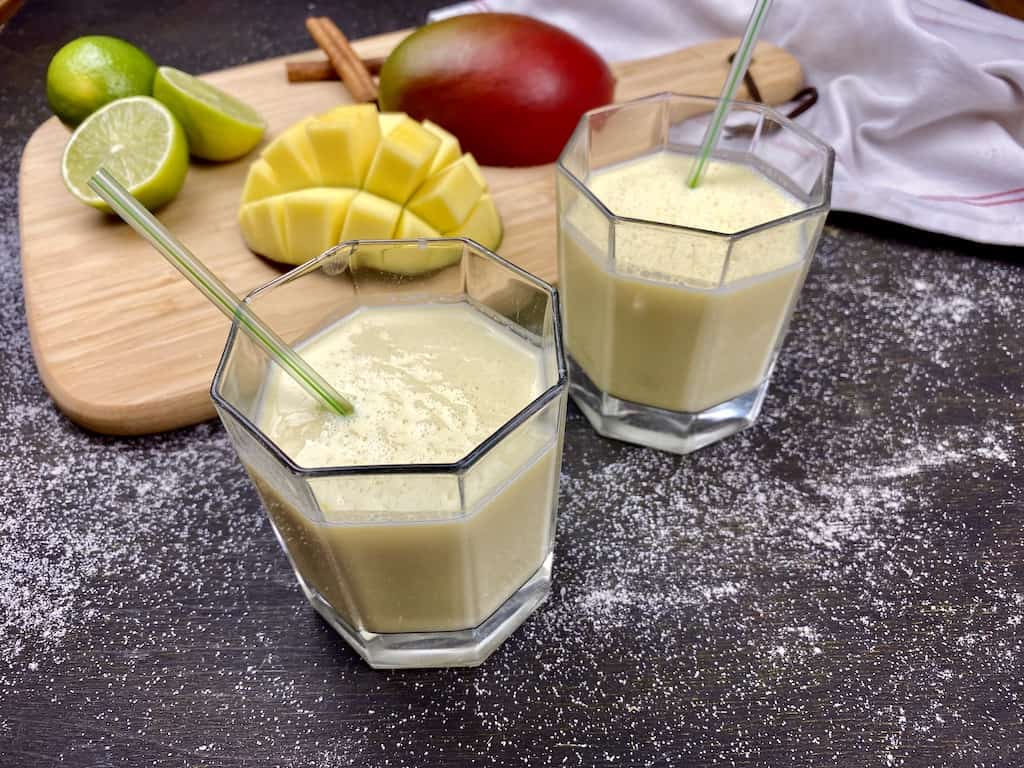 The perfect drink for the summer: My healthy Mango-Lassi. A fresh Mango, Low-fat Greek Yogurt, a little Water, Lime, and a pinch of Cinnamon. The Indian freshness kick for the Summer is ready.
Print
Save for later
Ingredients
1

whole

mango

150

g

Greek yogurt (Low Fat)

100

ml

water

1

pinch

lime juice

1

pinch

of cinnamon

15

g

xylitol (sweetner)

optional

sweetener
Instructions
Carefully peel the mango and cut the flesh around the core in the middle.

Squeeze the lime.

Put all ingredients in a blender.

Mix for about 2-3 minutes.
Notes
Tip: If you have problems cutting mango, you should try this mango cutter*
⟩ For the sweetness, I use xylitol*
* The links marked with an asterisk are affiliate links.
Nutrition
Calories:
107
kcal
|
Carbohydrates:
17
g
|
Protein:
9
g
|
Fat:
1
g
My Tip for the Recipe:
As one or the other connoisseur might have noticed, I use cinnamon in my lassi instead of the classic cardamom, as it is the case with the Indian Culture Drink. I just do that because I like cinnamon a lot better. Hence my tip for you: Try both and decide for yourself.
Why do I use Low-fat Greek Yogurt?
If you already know Lassi's, you should have noticed that I use low-fat quark instead of yogurt. There are two reasons for it:
Reason 1: Greek Yogurt has much better nutritional values ​​and makes you feel full much longer than normal milk. Which automatically makes this Lassi good for losing weight.
Reason 2: Low-fat Greek Yogurt is very cooling, which makes it the perfect ingredient for a fruity summer drink.
Your Opinion on the Healthy Mango Lassi Recipe
That was it! As always, I would be interested in your feedback on Healthy Lassi! Feel free to leave me a comment or text me on Instagram (@fitnessrezepte_app).
You might also like